Welcome to our TV Fashion column, where TV Ate My Wardrobe's Emma Fraser discusses the trends in television apparel. This week: The Americans, Girls and Broad City can dress for any occasion. 
When writing about costuming throughout the year, especially in the case of talking about trends and style inspiration, seasons can dictate what kind of thing gets pushed to the forefront. March tends to be a time when the weather can flip-flop and within a matter of days, you might be reaching for your best Jon Snow inspired look to protect against the elements, then shedding the layers just as quickly. The important thing to remember is to not store your cold weather attire away until next month at the earliest and this is the time of year when the notion of winter and summer shows as a mood or wardrobe definer comes into play. The Americans, Girls and Broad City don't necessarily scream having a whole lot in common with each other (well the latter two do), but traditionally they all occupy a premiere date around this end of winter period with all three getting pushed back from their January window over the last few years.
Rules are not set in stone, but in general, the things that decide whether something falls into either of these categories are costume, tone and the actual time of year when the episodes are set. Quite often summer shows such as Girls and Broad City will premiere during the colder months, taunting us with cut off shorts and vest tops aplenty. And this isn't a case of everything getting ascribed a 'winter' or 'summer' moniker as I'm defining it; some are a mix of both because they shoot for most of the year (see network procedurals like Elementary) or there's not a whole lot of exterior filming. Location shooting plays a big part and it isn't a coincidence that New York is where the three shows up for discussion shoot most of their scenes.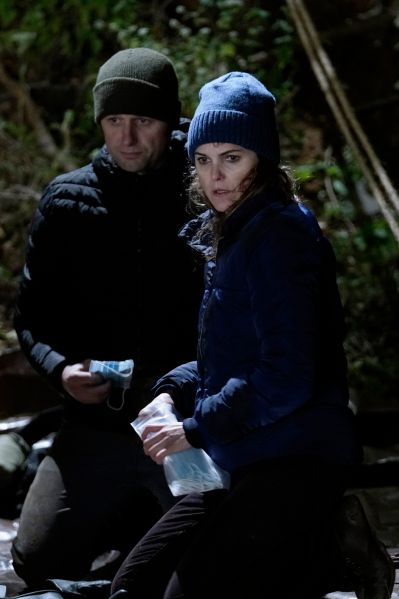 Let's start with what kick-started this whole idea for me and that's The Americans, which returns this week with knitted beanies in place, acting not only as light disguises but ear warmers for characters and actors alike. When I spoke to Americans costume designer, Katie Irish recently the subject of weather came up including the recent snow. In terms of costume prep it helps that The Americans tends to be set during the winter months and Irish mentions how "we're not trying to dress someone like it is June in January." There are also plenty of items on hand for colder outdoor days and Irish told me about the ones we can see on camera such as "'80s appropriate snow boots, '80s appropriate puffer coats and heavier winter coats" and undergarments the camera can't see that protect against the chill including "those fabulous body warmers you open up and expose to air then they're nice and warm for the next 12 hours."
On occasion there will be times where there isn't a whole lot that can be done if part of the scene has been shot in lighter attire but the weather has changed, as it often does; Irish recalls this happened during season 5 saying "There was one day specifically I'm thinking of this season so far where I did just go to Keri (Russell), Matthew (Rhys) and Holly (Taylor) 'Guys, I'm really sorry. I can't do anything' and they're such troopers. 'No, no of course. We know, we know.' Sometimes all you can do is grin and bear it. Or in the case of the Jennings family, look steely and bear it.
In terms of tone The Americans benefits from gray skies, snow slush backdrops and hands shoved in pockets as this only enhances the darker and chillier aspects of their work. Also, it would probably be a nightmare wearing a disguise in the summer in Washington D.C. (or New York City where they shoot The Americans) and any kind of fake facial hair would be susceptible to sweating off. No one wants that. Although now I'm thinking about it, I would love to see an episode in the height of summer just to see how much it would impact the tension levels and disguise decisions.
When Girls ended season 4 with a time jump that included a brief scene of snow and joy, it was incredibly jarring; we are used to seeing Hannah in New York during the warmer months. Plus she looks genuinely happy with new boyfriend Fran (this did not last). Because Girls shoots in the summertime the wardrobe for each character revolves around this season so seeing Hannah all bundled up and in love was a double visual surprise. It is moments like this that show just how much a season change can have an impact and snow doesn't always have to signify a chill in the air. Here it gives a reason to reveal just how snuggly Hannah is with Fran.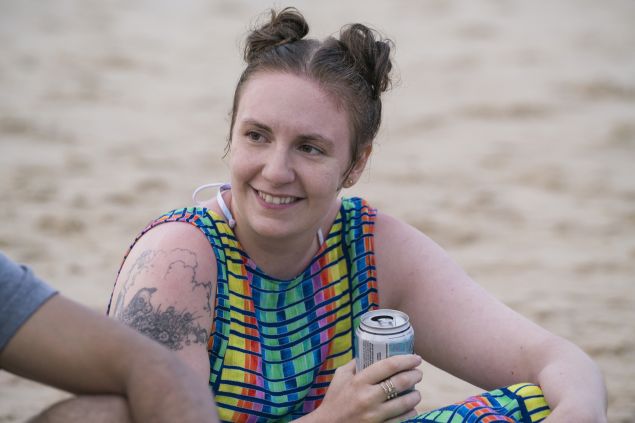 Summer on Girls gives plenty of opportunities for Hannah to make some potentially questionable clothing choices such as wearing a bikini on a bike into town or going hiking in a bathing suit. There's also the maxi dresses that defined Jessa's early look, which would have been a terrible idea come winter. The color palette of the Girls wardrobe like a lot of comedies is bright and bold and when better to wear hot pink than July. This isn't to say you can only wear black in November without a primary color in sight, but it very much plays into the whole feel of a sunny backdrop. And while walking around barefoot on the streets of New York is probably always a bad choice, if Marnie had just been wearing that red dress in February she could've got frostbite. Instead, she only got a case of street feet (which can also happen when wearing flip flops, FYI).
Another comedy set in New York that shoots during the summer is Broad City. Jorts are as much as Ilana's wardrobe as they are Hannah's. This is going to change this year and Broad City is going against their traditional January/February premiere date and instead season 4 will air in August this year. This flips things for a couple of reasons including turning a summer show which airs in winter to the opposite. Tights make winter short shorts wearing a possibility so I don't think this will be the last we'll see of Ilana's signature look and Abbi seems like a character that will have excellent layering and boots game.
The season aspect is not lost on co-creator Abbi Jacobson and this was something she brought up while talking to Elle at Sundance on what happened to be Inauguration Day:
"We want to do a winter season—it's pretty much always summer on the show. It's happening at a good time, too, because during the winter it tends to be a little more sad. I think we are going through an interesting time in our country starting from today, and I think the show will reflect that."
A hint of how much Broad City will reflect the current political climate can be seen in the video they released on Inauguration Day and costume wise there will be beanie hats worthy of light spying. Elizabeth and Philip Jennings would approve of this winter knitwear choice.
Emma Fraser is the creator of TV Ate My Wardrobe and spends most of her time writing about TV, fashion and costuming; Abbi and Ilana's Broad City style, the wigs on The Americans and Mindy Lahiri's pajamas are just as vital as talking about '90s, '00s teen shows. Emma has a MA in film and television, and she probably holds Angela Chase responsible for this path. You can find her on Twitter @frazbelina.