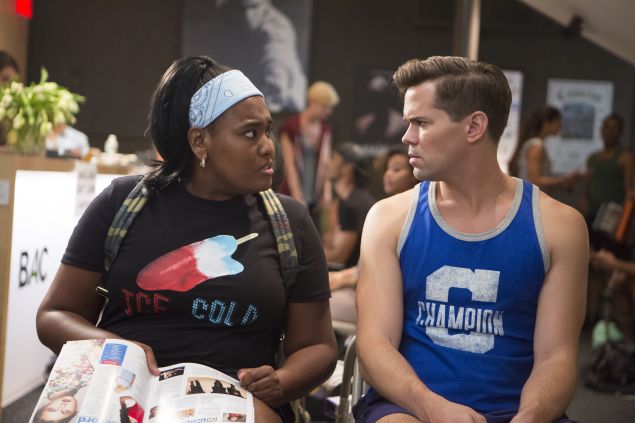 Welcome to our TV Fashion column, where TV Ate My Wardrobe's Emma Fraser discusses the trends in television apparel. This week: How the characters of HBO's Girls fake it until they make it. 
Considering Marnie still can't tell when someone is high it doesn't come as a surprise that she fell for the Wild West story her mom cooked up to go along with the locket she got for her sweet sixteen. Or that Marnie still refers to it as her sweet sixteen. The sixth and final season of Girls is very much about growing up and accountability, the former being something I discussed a few weeks ago in terms of the clothes these characters have worn and are now wearing.
There was a big aspect of faking it when Elijah proved he has the ideal outfit in his closet for any kind of role. While his basketball ensemble might read more gym-adorable than street-baller it is good to see him back on the auditioning track after some recent examples of stretching his acting muscles.
Confrontation and acceptance are on the menu this season and in "The Bounce" Hannah tells Paul-Louis he's the father of her baby and he has no obligations to her or the child. Paul-Louis takes the path of least disruptive to his life and single motherhood beckons for Hannah. Suddenly, everything seems far more real and the episode closes out with a solo Hannah out of her comfy clothes and dressed for an OBGYN appointment.
Lacking any self-awareness is part of why Marnie is so gullible, particularly when the lies are romantic or give her an out for her shitty behavior or the terrible decisions she continues to make. In a desperate move after her mom won't loan her any money (but does offer her a place to stay) she visits a pawn shop to sell her most precious item; something that turns out isn't so precious or from as long ago as the 1870s and is actually less than twenty years old. Awkward.
The original bad guy in this twisted fairy tale is the very real "Wild Bill" Hickok and he also happened to be a spreader of fictitious stories about himself. It makes sense that Marnie's mother picked such a tall storyteller as the person who gifted this locket to Marnie's great-great grandmother as it plays into Marnie's taste for the grand and the ridiculous. Just look at the most Marnie of sentiments that she said to Ray a couple of weeks ago "I wanna die inside the mouth of a lion with you. And that way we can be together forever, even in the moment of our own death. Your death and my death." But instead of being something she was telling Ray in the throes of passion, this was is something she wants someone to say to her.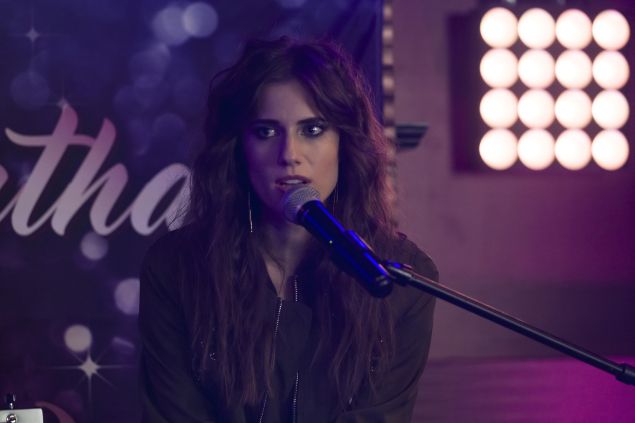 So not only does this piece of jewelry justify to Marnie why she picks terrible men – side note only some of them were terrible – but it also then allows her to place blame back on her parents for the giant lies they told her about the gifts they gave. The levels of bullshit she believes is high; she thinks the reason for the plating of her locket was because it was a common practice to hide the more expensive metal (in this case platinum) with something less precious (in this case plated gold). It is to the credit of this pawn shop owner that doesn't laugh in her face and instead he goes for the other appropriate response to a meltdown of this sort.
She's incredulous that this guy might roll his eyes at her outburst, but he's just the person to tell Marnie the home truths that others have tried (see Ray in season 3, drunk Shoshanna at the beach house, Charlie last year and Hannah on numerous occasions) and failed to do so in the past. Recently she has made Desi's addiction about her and lacked any kind of compassion to Ray's grief when Hermie died while pointing out "I'm a good person by the way." There is nothing good about the way Marnie has behaved with Ray going way back to their hook-up origins when she was super embarrassed to even be seen with him and when she told Hannah about their break up last week in the same sentence she mentions that Ray was meant to break the bad guys cycle and also he should "be grateful I even wanted to talk to him."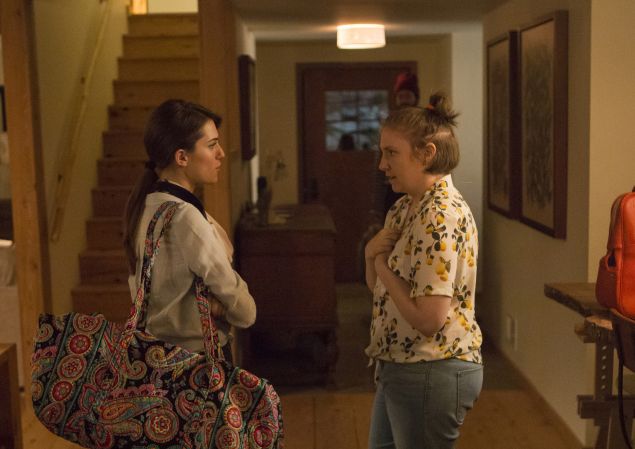 It doesn't matter that half her wedding theme was a lie because everything about Marnie is a sham until she takes some responsibility rather than blaming every single other person in her life for her failures and where she has ended up. Being told that the liar in her life is not her mom/dad/husband, but is in fact her by a complete stranger is just the push Marnie needs to realize that most of the time she is just as fake as her diamond earrings.
Going home to her mother is the only option and as she packs up her apartment she places a call to Desi telling him he doesn't owe her anything. My fear here is she is too late considering the state he was in last week and it would be surprising if Desi survives this season of Girls and his relationship with Marnie. It's all a little neat and quick considering how much Marnie has been the Queen of Denial in the past, but now that she is at her bottom (the prospect of the Michaels Sisters becoming a thing is definitely rock bottom in a series of rock bottoms of Marnie's own making) and someone who gives no fucks about her or this level of bullshit is the wake-up she needs. Just how much of it will stick as we head into the final stretch of episodes is unclear.
Marnie and her current wardrobe matches her financial situation; gone are the Michael Kors sequin sweats and her sparkly pineapple shirt is from H&M. Topshop has been a constant source for Marnie this year too including the wolf print cigarette pants she wore for her performance last week and the leopard print mini the week before. Finding out that a TV character is wearing something that fits their budget (and mine) is always a delight because often someone with a low-income job is wearing a $200+ sweater. It happens more than it should. So kudos, Jenn Rogien and team, for this costume reality price point moment for Marnie.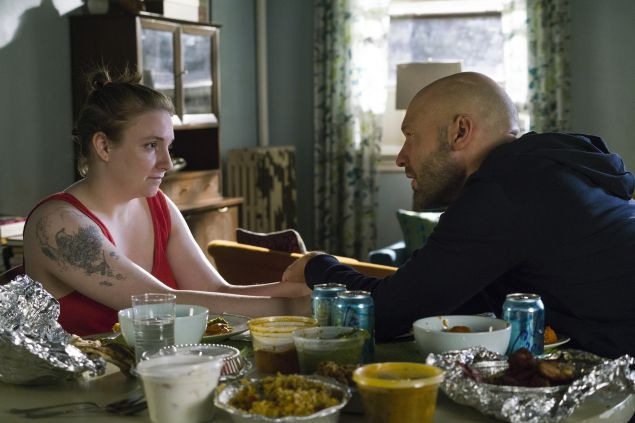 In a repeat piece of costuming (another detail I am also always a fan of) Hannah is wearing the same red dancing girl Wildfox tank top that she had last season and it makes sense during this time of uncertainty she is wearing the things that are comfortable. Plus she is spending the day waiting to tell Paul-Louis this life impacting news and what better clothes to do it in than ones that are pajama adjacent. Reactions have been across the spectrum to Hannah's big news with a lot of negativity including Elijah lashing out with harsh words and yet Marnie was incredibly supportive after her initial shocked reaction. She points out to Hannah that "on the spectrum of human beings you basically have your shit together" and on the spectrum of the characters on Girls this seems about right even if most are edging toward some form of enlightenment.  
Despite their very different reactions to the Hannah news, Elijah and Marnie have a lot in common and not just because they have both been Hannah's roommate. In fact, Elijah is like a more self-aware version of Marnie that bats away his fears about putting himself out there with quips about how he can "fuck my way to the middle" and the reason why he doesn't audition is because he's scared he'd get too famous. Instead, he has that thing that most of us do and he's terrified he'll get laughed at or rejected. If all else fails may I suggest a Risky Business remake after his underwear and shirt pairing when he made up with Hannah in the previous episode "Full Disclosure." Failing that, an Elijah spinoff, please.
While his basketball attire is more Everybody Wants Some!! (if they played basketball and not baseball) than White Men Can't Jump and he can't dance or do tricks with a basketball for shit – Andrew Rannells yelling "WHY?" at the circle exercise had me in pieces – there is something in his performance that makes him stand out and get that all important phone call.
There are three big moments that all take place on the phone this week for Hannah, Marnie and Elijah; Marnie's is the only one that goes to voicemail which is part of why I'm worried Desi is in a far worse place than when we last saw him. This also works in Marnie's favor (not the Desi maybe being dead thing) as she gets to say everything she needs to without getting interrupted and this is probably all the closure she needs. While she might be realizing new things, she is still Marnie after all and if she was to be gifted more jewelry with a daring romantic backstory you know she'll still believe it.
For Hannah and Elijah their calls also open up the future wide with Hannah finally going from a place of uncertainty to knowing exactly where she stands in terms of Paul-Louis' involvement or lack thereof; it is no longer just as abstract concept. Elijah exposed himself for long enough to get a callback and this has much better career prospects than being coerced into pretending he's Shoshanna's assistant. Things are mostly looking up for everyone and with just three episodes left it can't all be a happy ending for the women and guys of Girls. Or can it?    
Emma Fraser is the creator of TV Ate My Wardrobe and spends most of her time writing about TV, fashion and costuming; Abbi and Ilana's Broad City style, the wigs on The Americans and Mindy Lahiri's pajamas are just as vital as talking about '90s, '00s teen shows. Emma has a MA in film and television, and she probably holds Angela Chase responsible for this path. You can find her on Twitter @frazbelina.