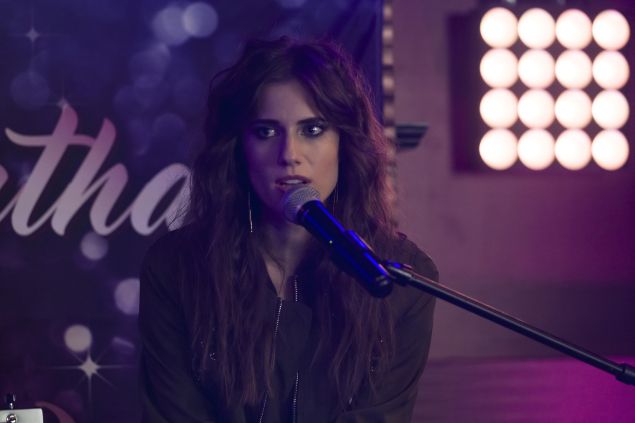 Hannah tells Marnie the big news. At first she, like Elijah, doesn't believe her: "Not a joke, just what's going on in my uterus." But once she realizes Hannah is serious, she is supportive. "On the spectrum of human beings, you basically have your shit together." Hannah is of course surprised by this: "I can't believe how supportive you're being, this is a shock, it kinda makes me wanna do it less." Marnie takes back what she said when she realizes Hannah is planning on not telling the father.
At sound check, Marnie and Desi are attempting to get their set list together for the evening, but Desi is entirely uninterested in being a part of it. She lets him know they also agreed to perform at her mother's friend's birthday party in New Jersey, and he is even more upset.
Elijah asks Hannah if she wants to come to a taco-dog party, but Hannah is still hurt by the comments he made last week. He apologizes and notes that she will be a better parent than their own parents were, and that great parents are overrated anyway. She agrees: "Remember that guy Steve I dated freshman year? He loved his parents so much he couldn't even get an erection."
Adam is obsessively calling Hannah, begging her to watch the movie he made about their relationship. She walks out of her apartment to find him standing there, and he continues to push her to watch it. "I need you to tell me if it's real. I made a movie about what we went through, I need you to tell me if I got it right. That my memories are your memories. Did I lie about anything? I want to know we felt the same things." Hannah refuses to watch, and he tells her she should so she can finally move on and stop being angry with him. She tells him she has moved on and uses her pregnancy as proof. This scene, if only to finally see Hannah and Adam alone together again, was easily the best part of the episode.
Desi shows up high out of his mind to the party in New Jersey, and Marnie still somehow doesn't realize he is high – not just tired. Marnie blames her mom for her obsessive need for male approval, which she claims is why she even married Desi.
Hannah meets with her dad and his new partner, Keith, and discusses how she has decided not to tell Paul-Louis about the baby. Her dad agrees with Hannah's choice, but Keith, as a one-time sperm donor, thinks the father deserves to know – claiming she doesn't know enough about him to know if he might want a child. "I mean I have a pretty good sense of who he is, he wears like a puka shell necklace and his days off are Thursday and Tuesday."
Elijah suddenly has a job at a leather glove shop for some reason, and he practices a scene with his coworker, who has an audition the next day. She is floored by his talent: "Jesus man, you're fucking good."
Back at Hannah's, Jessa shows up at her door after finding out through Adam that Hannah is pregnant. She claims that she still considers Hannah her dear friend, which Hannah points out is absurd. She admits she is a sociopath, but calls Hannah a psychopath for being able to so easily detach from her, as though she didn't completely detach from Hannah first when she decided to end that friendship and be with Adam.
Back at the gig, Marnie's mom takes Desi's place on stage, and the crowd is entirely unimpressed. Desi notices that he has been replaced and attempts to drive home, but instead knocks over his motorcycle. This entire B-story could have been cut and replaced with Ray and Shosh, and the episode would have been stronger for it.
Elijah rants at Hannah about how much his coworker complimented his acting abilities, without asking her about her day. She silently walks into her room and attempts to contact Paul-Louis. When that doesn't work out, she finally decides to watch Adam's film. Her expression leads us to believe she is witnessing just how much he still loves her.
While that's the end of the episode, the credits show a scene from Adam's film where he first met Hannah, finally showing us how they came to be. He forcefully writes his number on her hand, and in a classic Adam line, says "If it hurts, you'll always remember."