Eccentric supermarket mogul John Catsimatidis has continued to list toward another bid campaign for the Republican line for mayor—but he still insisted that Mayor Bill de Blasio is a "friend" and tried to play up his Democratic ties at a St. Patrick's Day event this morning.
The Greek-American businessman ran for mayor on the Republican line in 2013 but lost the primary. Although he is a Republican, Catsimatidis—a former Democrat—has donated to candidates from both parties, and gave heavily to both Hillary Clinton and President Donald Trump last year.
He also contributed to de Blasio's now-defunct political nonprofit, the Campaign for One New York, an organization now at the center of a federal investigation into a potential pay-for-play scheme at City Hall.
"Look, Bill de Blasio's a friend of mine and it's all about—it's not running as a Democrat or Republican, it's running as a New Yorker," Catsimatidis told the crowd at Congresswoman Carolyn Maloney's St. Patrick's Day breakfast on the Upper East Side. "I'm a Democrat, yes. Am I a liberal? I had the Liberal Party line. Yes, I am a liberal, you know."
In January, an assistant to Catsimatidis sent a quasi-anonymous poll asking New Yorkers their thoughts on de Blasio and his potential rivals.
Today, Catsimatidis tried to play up his Democratic roots, attempting to portray himself as someone who appeals to all New Yorkers.
"Listen, you're wrong, I'm not just a Republican," Catsimatidis said, when Maloney, his friend, acknowledged him as a Republican in attendance. "I've been a Democrat almost all my life, too. Who ran Bill Clinton's operations in the 1990s…it was me, you know. About running for mayor, we haven't made up our mind."
Dan Levitan, campaign spokesman for de Blasio, declined to comment for this story. But he has always pointed to de Blasio's record of a decline in overall crime, an increase in high school graduation rates and affordable housing being built at a record pace.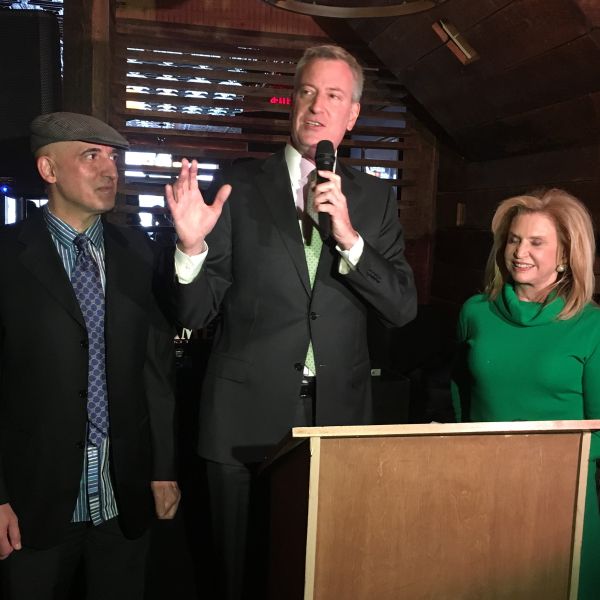 De Blasio himself attended the St. Patrick's Day breakfast, hosted by Democratic Congresswoman Carolyn Maloney, and addressed the crowd. He praised the Irish community for its contributions to the city and the country and noted that New York City is a city of immigrants and people of all backgrounds.
He also said that there may not always be "perfect harmony," but that people have learned how to get along and "how to make it work." And he appeared to take a jab at Trump over his incendiary rhetoric and immigration policies.
"Meanwhile, there are very negative voices that have been raised, trying to divide us and trying to put down the very concept of immigration that we celebrate today," de Blasio said. "If we're gonna talk about St. Patrick's Day and the extraordinary contributions of the Irish, we have to remember because people were able to flee persecution, flee famine, come here, start a new life and then have dreams for your children and grandchildren that were realized."
Catsimatidis, for his part, told the Observer that while he considers de Blasio to be a "friend," he does not agree with his assessment.
"I think Donald Trump, he wants to have honest people, he doesn't wanna have killers, he doesn't wanna have terrorists, he doesn't wanna have burglars, doesn't wanna have people that are preying on other immigrants and preying on other people," he said. "I think that's very important."
Maloney praised Catsimatidis at the event as a friend despite his party registration. Despite having backed former City Council Speaker Christine Quinn for mayor in 2013, she declared, "I love John Catsimatidis!" at his "friendraiser" event.
Maloney received $3,500 in campaign contributions from Catsimatidis in the late 1990s and early 2000s.
But she expressed a different opinion on Trump's immigration policies. She also blasted Dr. Ben Carson, Trump's secretary of the U.S. Department of Housing and Urban Development, for referring to slaves as immigrants and extended an invitation to him to check out New York City's housing.
"Part of what makes America so great is that we really—basically, we don't care who you are, we don't care where you come from, we care, what can you do," Maloney told the Observer. "What we can we do to help other people, what can we do to make the city better, what can we do for science, what can you do for education."
This story has been updated to clarify the headline, which originally stated that John Catsimatidis said that potentially running against Mayor Bill de Blasio is personal. He said that it is not personal.