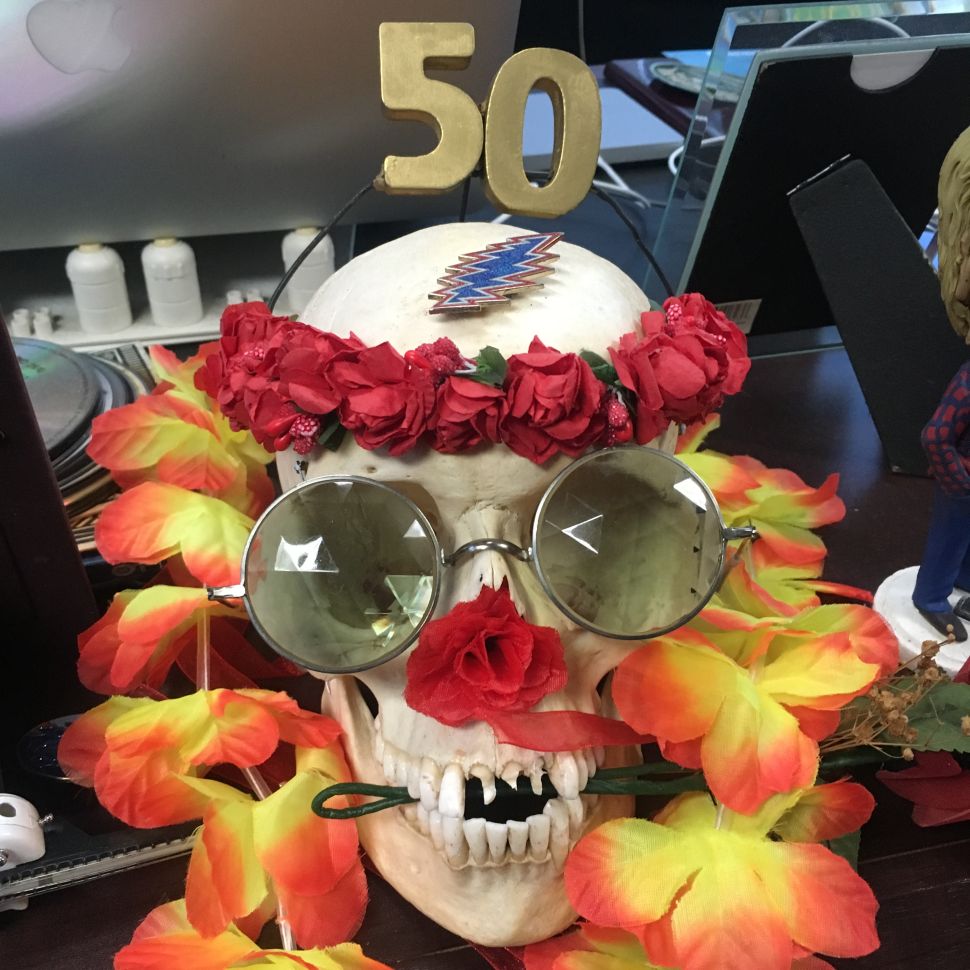 Brooklyn Bowl owner Peter Shapiro wears a mischievous grin as he picks up a skull from his desk, adorned with a lei, a lightning bolt where its third eye would be, a pair of circle-rimmed sunglasses, a crown of roses and a "50."
The head that once wore this medical skull symbolizes Bertha, one of the official mascots of an up-and-coming band called The Grateful Dead.
"Bertha, I think, is probably some vaguer connotation of birth, death and reincarnation," said longtime Dead lyricist Robert Hunter of the song for which she's named. "Cycle of existences, some kind of such nonsense like that. I wouldn't be surprised, but then again, it might not be. I don't remember."
Cycles of existences are worth considering tomorrow on March 17, the 50th anniversary of The Dead's self-titled, 1967 studio debut, as they continue to inspire a whole inclusive subculture of fans, promoters, roadies and travelers known affectionately as Deadheads.
As one of the most well-known Deadheads, Shapiro can acknowledge how the Dead came through every box in the attic of his life—his cycle started when making a touring documentary about The Dead at 20, continuing as he transitioned from patron to owner of Tribeca's late Wetlands Preserve, an activist club of Dead-acolytes and jam bands before jam bands were a thing, a year after Jerry Garcia died, in 1996.
When Wetlands closed in 2001, Shapiro took what didn't work about the venue and learned from it to create the 20,000-square-foot venue/bowling alley/restaurant known as Brooklyn Bowl, which he opened with partner Charley Ryan in 2009 before the franchise spread to London and Vegas.
Along the way, friends fed into his vision of inclusivity and vibes, working for the original Grateful Dead fanzine, Relix, which Shapiro purchased in 2009 and relaunched with the intention of spreading the word about great jam bands and other live music to the masses. More friends still joined his great rock palace, The Capitol Theatre in Port Chester, N.Y., which the Dead played a staggering number of times in their day, and even more get together each year for his Lock'n Festival in Arlington, Va.
Shapiro's cycle is an extraordinary story, but it's also just one of many tales of an inclusive, global culture of Deadheads for whom the music never stops. And Shapiro still realizes how strange the trip has been in certain surreal moments, like when he showed up for rehearsals at the final Fare Thee Well concerts he put together with The Dead to commemorate 50 years of existence in November 2015.
"We were in an unidentifiable warehouse in Marin, in an area of the country where they hatched," he tells me. "To be in that warehouse where they were playing for the first time together in many years…I was the only person in there, and you could just feel that energy. Music used to mean something, and a lot of the popular music today don't mean that much. The country, the world, the Bay is very different, 50 years on. But Nixon's back, activism's back."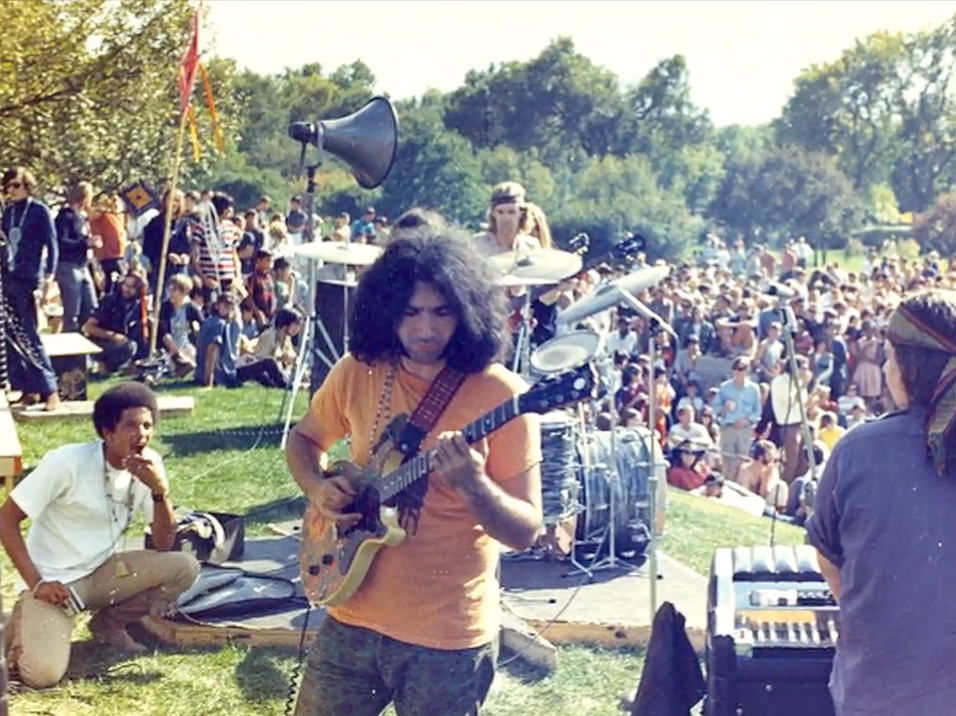 "We're seeing a lot more people coming to shows since the election. We're seeing at our venue that people at the end of the day, more now than a year ago, need to get out and go. And there was probably a bit of a similar feeling in '67, leading into the Summer of Love. These kids were in their early 20s, just teenagers, and were still in a very different experience just five years earlier in '62. More postwar suburban lives, more walls. Acid came, then the music changed, and it was a circle."
That circle, unbroken by the hands of man, came home to roost for other bands this year, too. Last month saw the 50th anniversary of another Bay-area band, Jefferson Airplane's Surrealistic Pillow, which Jerry Garcia also had a hand in producing and arranging guitar on. That's his high guitar lead you're hearing on "Today," and though producer Rick Jarrard denies Garcia had a heavy hand in the album taking shape, he's definitely listed as "spiritual advisor" in the credits.
But what made that year leading up to The Summer of Love so special? Was it just the acid, or was it the San Francisco scene?
"The San Francisco music scene is unique in some aspects, socially," Jerry Garcia said in an interview from March 1967. "For example, there isn't any competition going on; the bands don't compete with each other. The bands do things to help each other. The managers don't do things the old cigar-chewing-manager way. When our managers go someplace, they go just the way they are around the house. They have long hair, wear outlandish clothes and beads, and they talk like people on Haight Street do. Because that's the way they are.
"That's the way we all are, and we're not sacrificing any part of ourselves to do business. When we go into the business part of things— when we talk to lawyers, the vice presidents of Warner Bros.—we talk to them the way we talk to our friends. We're being out front. We're trying to change the whole atmosphere of music, the business part of it as well as just the way it is, just by dealing with it on a more humanistic level because it's a valuable commodity—it's an art."
[youtube https://www.youtube.com/watch?v=GgN6_crD1hY]
Change the atmosphere they did. Largely bolstered by their status as the house band at Ken Kesey's notorious Acid Tests, The Dead didn't shed their past playing popular tunes as a bar band called The Warlocks that evolved from their old band, Mother McCree's Uptown Jug Champions—they combined all of it into something completely new.
Jerry Garcia's love of bluegrass and old-timey banjo music, Ron "Pigpen" McKernan's harmonica and singing, Bob Weir's guitar and washtub bass, not to mention a whole lot of kazoo. Phil Lesh's training as a classical trumpet player came in handy when they became the Warlocks, as did Bill Kreutzmann and Mickey Hart's drumming. Robert Hunter was there for all of it, although he didn't have much to do with this first album.
By the time they went into the studio and cut The Grateful Dead in just four days, Garcia maintained they'd traded in the tripping for exploring the outer dimensions of sonic possibilities. "We've played on acid and that does do things to your time sense, and it does other things," Garcia said in the same interview. "It produces an unimaginably wider scope of ideas. More consciousness means you have more of an understanding of what you're doing, and that means you can do it better because you're doing it with that much more of your mind."
"I wouldn't do it anymore because we're in a different position than we were a year ago. At this point, the experimentation we're doing now isn't a matter of drug experimentation; we're experimenting with music."
Out of that experimentation came The Grateful Dead, containing just two original compositions to kick off a collection of covers, stylistic re-interpretations and groovy prophecies, planting the seeds of a jam band community that has flourished over the last half century with a sense of feel-good, high-vibe, tribal inclusivity.
The Grateful Dead wasn't all that popular outside of San Francisco when it was first released aside from intellectuals and select kids on the other coast who were already switched on. With their rich history of live bootlegging, Deadheads don't champion many studio recordings, let alone the Dead's debut. But many of its songs, including "Cold Rain and Snow," "Morning Dew," "Beat It On Down The Line," "New New Minglewood Blues" and "Viola Davis Blues" would become standards of The Dead's repertoire throughout their 30-year career, and long after through the millions of acolytes who continue to fill the air with their songs.
[youtube https://www.youtube.com/watch?v=qWkJM87WEZ4]
Some hear the album's opening track "The Golden Road (to Unlimited Devotion,)" written by the entire band, as a prediction that The Summer of Love was on its way. The aural invocation was only played live four times, and only that year, before it made its way into one of the Fare Thee Well set lists.
In what would become an uncharacteristic move for the Dead, its live version, at around two minutes, is roughly the same length as the studio version. The Dead would continue to focus on barebones, often skeletal renditions of their tunes in the studio, but live versions would become expansive, living and breathing documents of an evening, no two exactly alike.
"My first encounter with The Grateful Dead was at a party in April of 1967," remembers Deadhead Jay Eichler. "I was a junior at CCNY and attended a party at a Columbia University frat party where the album was played. I was extremely young [17] and shy, and was a wallflower. I was asked by a cute young lady if I wanted to dance to 'Viola Lee Blues.' Its beats and mounting intensity propelled my mind/body to react with unbridled joy, a feeling that was unique to me at that time. The disc, it seemed, stayed on the turntable the whole evening."
This was the beginning of Eichner's lifelong obsession with the Dead's music and its vibes.
"It was truly that first listen that changed my life forever," he continues. "My search for a life's work started at first track—the golden road to unlimited devotion, indeed. This passion became a guide to my dreams and in my view of reality itself, a road that lead me to working as a lighting technician in 1972, and my first gig at a Bob Weir show at a Nassau community gig in 1975. I spent the next 40 years as a career stagehand. Worked many Dead shows in the '70s on East Coast venues. Throughout the '80s and '90s I worked for NBC Brooklyn studios, and was know as the 'ranking Deadhead' there. I always knew why and how this began."
[youtube https://www.youtube.com/watch?v=3vC6ZfzIBEg]
The Dead sent fans like Eichner on the devotional road intentionally, creating an inclusive community by understanding that every aspect of the game could qualify as art. "There is a lot of creativity, but it's not always on levels you can observe because there are different trends happening in what we used to call 'the arts,' " said Garcia, who could have never predicted the pop-up marketplaces at Dead shows, called Shakedown Street after the title track on their 1978 album of the same name.
"For example, six or seven years ago, if you were a painter in San Francisco, you never sold anything, because nobody in San Francisco buys paintings and there's no place to sell them. But a guy with a light show can make money. The guys who run the light shows are the guys who were painters a few years ago, and they're finding out something new about color, and the eye, and about spontaneity. Those are all aspects the plastic arts have never had before.
"Poster design and printing, all those things are skills. These posters here are a product of a lot of people's working at something, and they're getting a return for it. The people who run the dance halls are doing a thing. The people who are being managers are doing something. There's a lot going on. People are opening stores. Not everybody is an artist or a creative person, but not everyone has to be a bookkeeper or a businessman to make it. They can get into something that turns them on a little. With our scene here, we've managed to employ just about everyone we know in some capacity, because everybody has something they can do."
"Owsley used all his LSD money from when LSD was legal, made millions, invented the soundsystem, and that's how it got going."—Concert Joe
The song that first moved Eichner to dance with a cute, young lady, The Grateful Dead's "Viola Lee Blues" perhaps best captured The Dead's past, present and future. Their first indisputably jammy studio number, "Viola Lee" begins as an organ-heavy jug band tune before slowly but surely churning into a heavy psych masterwork, then snapping back to the original tempo. Originally recorded by Gus Cannon's jug band in 1928, The Dead's rendition of "Viola Lee" became something else after being reborn from the Acid Tests.
Concert Joe, who broke the record for most concerts attended in one year at Wetlands when he saw 1,0031 shows in a single year, who gave Shapiro that skull on his desk after the final Fare Thee Well show in November 2015, says that audio engineer and chemist Owsley Stanley can't be given enough credit for feeding his acid empire back into the Dead.
"The real thing happens when Owsley takes over," says Joe. "Owsley gave them two, three million dollars to go on tour, have their album produced, and they never gave him anything back. Owsley invented the sound system. When the Beatles played Shea Stadium they had guitar amps and a P.A. for speaking. That's what people used to use all over, and nothing else. Owsley used all his LSD money from when LSD was legal, made millions, invented the sound system, and that's how it got going. I think Kesey, Owsley and [Robert] Hunter deserve 50 percent of the Dead's success."
[youtube https://www.youtube.com/watch?v=CrZHPhKY_hw]
After telling me that he has the skull and roses tattooed on his arm, and that it's older than me, Joe shares another gem—"I don't know if it's true, but somebody told me at one of the Fillmore shows if you lifted the back of your ticket stub, they were dosed."
Other standards on The Grateful Dead included "New New Minglewood Blues," written by a country blues and jug band musician named Noah Lewis, who died in poverty of gangrene brought on by frostbite just six years earlier. Another one of his tunes, "Big Railroad Blues" would also become a live Dead staple. "Sitting on Top of the World," meanwhile, was a country-blues staple so standard it had already become a traditional since being written and recorded by Lonnie Chatmon and Walter Vinson three decades earlier.
"Cold Rain and Snow," meanwhile, re-emerged as a kaleidoscopic, rollicking rendition of an old American folksong, while "Beat It On Down The Line" was a more recent country-blues number recorded by fellow Bay-area musician Jesse Fuller, who prided himself on playing as a one-man band and even invented his own instrument, a foot-operated string bass he dubbed the Fotdella.
Taken together, these standards and traditionals demonstrated The Dead's ability to channel their influences, be they modern or old-timey, into something else. The Dead's renditions were evolutions with little to no sonic precedent. Liberated by the spirit of experimentation fortified by them a year earlier in '66, the band had laid a blueprint they would follow for the next three decades.
But Concert Joe also acknowledges at least one case of appropriation among the covers on The Grateful Dead: the triumphant "Morning Dew."
"You know the story about 'Morning Dew,' right?" says Joe. "The girl who wrote it [Bonnie Dobson] only gets 50 percent of the royalties. Garcia used to play at folk festivals, she was singing at one of them and that's how he got it. Some guy [Tim Rose] just changed one line, and since women had no rights back in '63, he got half the royalties. I heard an interview with her. She wrote, 'Take a walk with me in the morning dew, my darling'. All he did was change it to, 'Walk me out in the morning dew,' and just by changing those words he got half of the royalties."
[youtube https://www.youtube.com/watch?v=wYXs8LurVVI]
A great Dead-themed radio show on New York's WBAI99.5 fm also took the name "Morning Dew," broadcasting an entire Dead show, or most of one, every Saturday night for 30 years. "Years ago when the Dead would be playing at The Garden, they'd come right after the show was over and broadcast the tape of the show on the radio," remembers Joe.
Joe remembers the last Fare Thee Well show at Chicago's Soldier Field on July 4, when Shapiro sported the shirt Joe had given him in 1990 to commemorate The Dead's 25th anniversary, featuring Owsley's 24,000-watt "wall of sound" sound system The Dead toured with in their heyday.
"I was hanging out with Sen. Al Franken, that was fun!" he remembers. "Did you ever see him on Saturday Night Live with The Dead?"
Though Joe maintains the night was perfect, he had one gripe. "Every time Trey [Anastastio] was doing a solo, Bob Weir would wave him off," he observed. "I don't know, he loves John Mayer-naise, whom I can't stand, but I think Trey is the best improvisational psychedelic guitar player on the planet, to date."
When we spoke for the anniversary of his Capitol Theatre last year, Shapiro remembered the one thing about those Fare Thee Well shows he couldn't ever have planned for—the scale.
"Every night after the show there were 40-50 shows around Chicago that we didn't put on," he said. "Every hotel had Dead music in the lobby and flags outside, it took over the whole city. Everything broke the right way—the weather, the vibe, the music. We got the museum next door to do a jazz thing. It was the whole city. I don't know if I could do that again."
"The night before the first Chicago show I was lying in a hotel room, looking at the ceiling, and was just praying that it goes well. Because it's too big to control. You can't control something that big, you can just set the table the best you can. But then the people coming to dinner need to help you out."
Now Shapiro laughs as he puts down the skull and says he looks forward to another 50 years of music, never ceasing to smile. A lot of things can loop around in 50 years and come home to roost, but some changes are inevitable. "You don't see too much acid anymore," he says wistfully, "just a lot of vaporizers."