The photo. Flip through the slides to see the memes.
Instagram
.
Instagram/extraordinaryking24
.
Instagram/extraordinaryking24
.
Instagram/mrworldwidewonder
.
Instagram/nanettefmurren
Within the last day, you may have seen a new meme involving the Grim Reaper—the skeleton in a black coat and hood representing the personification of death across cultures.
It may be too early to tell, but we're calling it now that the Grim Reaper is going to be the best meme of the year. Perhaps it won't be as hilarious as BBC dad being interrupted by his kids and wife during a Skype interview or as widespread as Meryl Steep screaming song lyrics, but it will prevail for another reason.
The Grim Reaper is the epitome of meme culture because it has made a meme of the way we create, share and indulge in memes. Let's call it a meta-meme.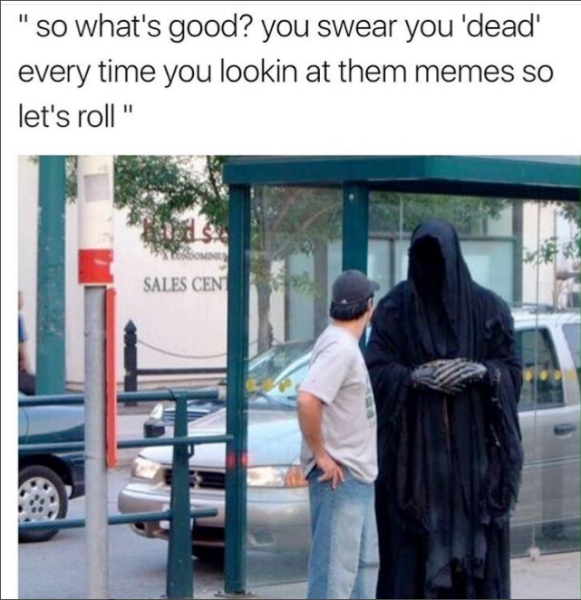 The premise revolves around one of the most common reactions and comments to a funny meme: "dead," "I'm dead," "literally dying" or simply "💀." For those who participate in meme culture in its truest forms—tagging friends (often one specific best friend or significant other) in memes on social media that are often not even relevant to them, but rather just pretty funny—tagging them with no other context other than one of the aforementioned forms of "dead" is the go-to way to express to them that this is an especially dank meme. On the flip side, if a friend tags you, replying with a form of "dead" is a courteous and friendly way to express that the meme they tagged you in was in fact entertaining and you appreciate it.
From "dead" to "YASSSSSSS" to "a;lsdkjfa;lsdkgjs" to headlines like that of this post, millennials' (and the general internet's) love for hyperbole has been scrutinized by older generations and made the subject of numerous think pieces.
A passage demonstrating this point at the beginning of a November 2015 New York Times article, titled, "OMG! The Hyperbole of Internet Speak," reads:
"Omg literally dying," she typed back, not missing a beat. She turned back to her computer.

But Jordana wasn't literally dying. She wasn't figuratively dying, either. In fact, she didn't even crack a smile.
One quote from 20-year old Jordana sums up perfectly how "literally dying" has become the new LOL.
"'It's almost like "dying" has become a filler for anytime anyone says anything remotely entertaining. Like, if what you're saying won't legitimately put me to sleep, I respond with, "OMG dying," she said.
And for that reason, the way this new Grim Reaper meme and some of its iterations perfectly parody everything about memes, the internet and millennials makes it an A+ meme.
As it's spread, the meme has taken on other forms other than "dead" as a reaction to memes. Most of these revolve around exaggeration as well.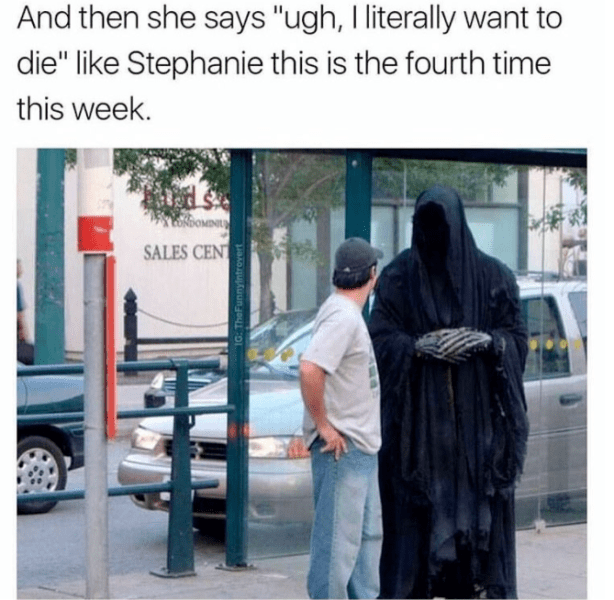 We're only a few months into the year and there will undoubtedly be plenty of memes that will have you "literally dying" (New York Magazine's 2016 meme calendar shows there can be one for every day of the year), but before writing off this early vote for meme of 2017, it's important to remember that the best memes aren't necessarily the funniest ones. Haramabe is sad story, but for very legitimate reasons that The Huffington Post explains, it is the perfect meme.
The Grim Reaper, too, is the perfect meme.
Flip through the slides above to see some Grim Reaper memes that have been shared so far.