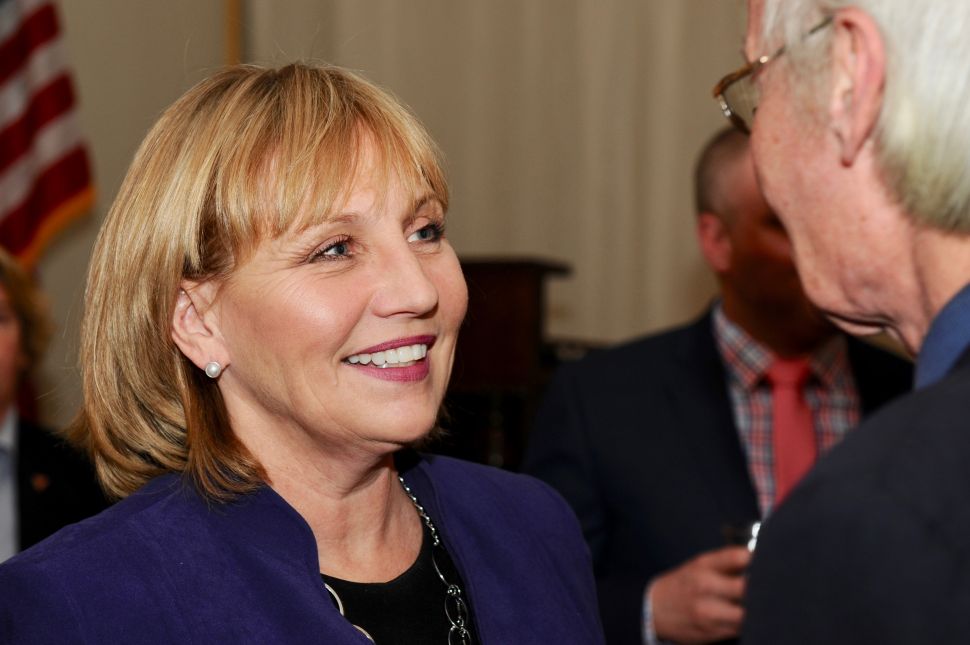 If Assemblyman Jack Ciattarelli had gathered some momentum with his wins in Middlesex and Mercer last night, Lieutenant Governor Kim Guadagno fired up her own afterburners tonight with a resounding victory in Bergen County.
The Bergen County GOP Screening Committee voted resoundingly for Guadagno, giving her 45 votes to Ciattarelli's 7. (Nutley Commissioner Steve Rogers got one vote.) The screening committee will now forward its recommendation to the county's Republican voters, who will vote a week from tonight on March 23.
Earlier in the evening, Guadagno notched a unanimous victory in Cumberland County. PolitickerNJ reported yesterday that Guadagno was the only GOP candidate to qualify for the line, which made it a fait accompli, but still, a line is a line.
Dave Huguenel, campaign manager for Kim Guadagno, was barred by BCRO rules from entering the screening itself, but he told PolitickerNJ, "We're excited. It's a clear sign that momentum is still going our way. Not only did we have a resounding vote of 85% in Bergen but we won unanimously in Cumberland and tonight we won key endorsements in Morris County."
Earlier today, the LG had announced that Morris County Republican Party Chairwoman Patti Page endorsed Guadagno. The county doesn't have a line, but she has been permitted to use the official Morris County Republican Party slogan on the June 6th primary ballot.
"I am personally endorsing Kim because she will focus on reducing taxes and creating jobs as governor," Page said in a release. "I also like that Kim Guadagno wants to reform the school funding formula and audit Trenton to save taxpayers money. That's the kind of leadership we need in our next governor to make New Jersey better."
Guadagno has demonstrated impressive strength in Morris County, which has more Republican registered voters than any county except Ocean and Bergen. She already had the endorsement of longtime former chairman John Sette and  four of the freeholders, but today announced, in addition to Page, support from Sen. Bucco, Sheriff Gannon, and GOP State Committeeman Larry Casha.
Her good news in Bergen, Morris and Cumberland allows Guadagno to head into Saturday's Monmouth GOP convention—her home county—with the wind at her back.