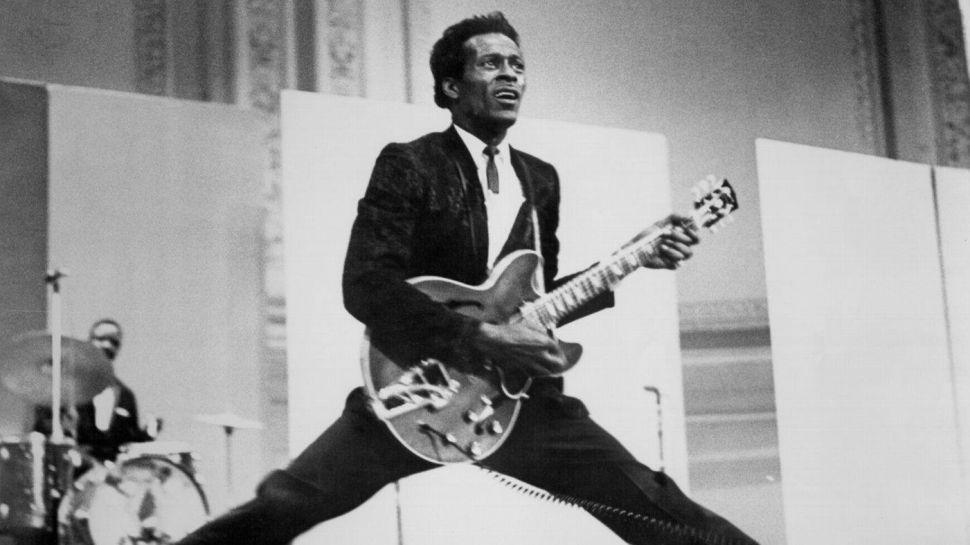 Chuck Berry, one of the original pillars of rock 'n' roll and a true giant in the history of recorded music, died Saturday, March 18 at age 90.
Actually, if we're going to go with an architecture metaphor, we would have to say that Berry was also a supporting beam, a through line that carried the music from its earliest permutations in the 1950s to today, when young bands still strap on guitars and find a lyrical groove.
Chuck Berry's music had everything essential: electric guitar riffs at the forefront, jumping out of the grooves of his records (the rock); swinging rhythm (the roll); a weaving call-and-answer interplay with his longtime pianist and collaborator, Johnnie Johnson; and above all, free-flowing, smart, exceedingly well-crafted lyrics from a writer with an ear for the poetry of the vernacular.
His compositions are economic stories with identifiable characters, songs that often offer sly glimpses of mid-century America from the brown eyes of a handsome black man in the decade before the civil rights movement.
Berry had few throwaways in his deep catalog. We want to quote all of his great songs. But let's start with rock 'n' roll's foundational text, "Johnny B. Goode." After that famous two-stringed opening riff, with the band kicking in as he bends and combines a flurry of notes that are a one-man approximation of a horn section, Berry sings:
Deep down Louisiana close to New Orleans
Way back up in the woods among the evergreens
There stood a log cabin made of earth and wood
Where lived a country boy named Johnny B. Goode
Who never ever learned to read or write so well
But he could play the guitar just like a ringing a bell
In that verse alone, you hear where Berry picks up a narrative country and folk tradition, one that extends through the hills of Appalachia, through Hank Williams, at least as far back as Celtic and European balladeers, and combines it with the swing of jump jazz—specifically a song like "Ain't That Just Like a Woman (They'll Do It Every Time)," a 1946 hit for Louis Jordan and his Tympany Five. That combo's guitarist, Carl Hogan, was one of Berry's primary influences.
[youtube https://www.youtube.com/watch?v=WLMK9-Ns-TY&w=560&h=315]
And in the next verse, with evocative images and punchy words, he describes how by adding the backbeat drive to country and rhythm & blues, he was doing his part (alongside such founding fathers as Little Richard, Bo Diddley, Elvis Presley, Jerry Lee Lewis, Bill Haley and the Comets, Fats Domino, and Ike Turner) to birth rock 'n' roll:
He used to carry his guitar in a gunny sack
Go sit beneath the tree by the railroad track
Oh, the engineers would see him sitting in the shade
Strumming with the rhythm that the drivers made
People passing by they would stop and say
Oh my that little country boy could play
The song is partially autobiographical. Apparently, the first draft had "colored" instead of "country boy." And Berry was born on Goode Avenue in St. Louis. Though he was raised in a St. Louis middle-class family, he had a few run-ins with the law, including a stint in reformatory school for armed robbery, as a teenager. But by the time he was a young adult, he was a successful beautician and homeowner. He started performing regularly with the Johnnie Johnson Trio in the early-'50s as a way to make some extra money.
As a member of Johnson's trio, he recognized the public demand from white audiences for country music and from black audiences for blues and smooth, jazz-informed Nat King Cole/Charles Brown-style R&B and pop balladry.
In addition to those artists and the Tympany Five, a seminal influence on Berry was the Texas bluesman, T-Bone Walker (Berry and Walker were both primary influences on Jimi Hendrix). Berry is often described during this "eureka!" period as "calculating." Like most musicians and composers, Berry had his antennae up and was open to all incoming signals. But what makes Berry a giant was his ability to forge all these influences into something singular.
As Berry's mentor/collaborator, Johnson had been educating the initially unpolished Berry about arranging. The Johnson trio caught the ear of the Chess brothers, who brought them to Chicago to record. By the time they left town, Berry was the bandleader, with "Maybellene" set down on tape.
[youtube https://www.youtube.com/watch?v=75RiHJGfyUE&w=560&h=315]
Berry had added new lyrics to what had been a Johnson arrangement on a song called "Ida Red," by Texas swing legend, Bob Wills. The Chess brothers recognized the appeal of a "hillbilly song being sung by a black man" about a Cadillac, set to the sort of "big beat" that was getting postwar teens all up in a lather.
Rarely has commercial calculation sounded so natural. Over an in-your-face distorted guitar—a sound ripped from "Rocket 88," the track that Ike Turner's Kings of Rhythm (recording as Jackie Brenston and his Delta Cats)—Berry unleashes an urgent, torrid lyric that would inform all rock and roll that followed:
As I was motorvatin' over the hill
I saw Maybellene in a Coup de Ville
A Cadillac a-rollin' on the open road
Nothin' will outrun my V8 Ford
The Cadillac doin' about ninety-five
She's bumper to bumper, rollin' side by side
Maybellene why can't you be true?
It spills out like one of Jack Kerouac's scrolls. Wordy, yet with a seemingly effortless flow that belies the craft behind it, the lyric is a prototype, with the sort of cadence that can be heard from the Beach Boys' appropriation of Berry's "Sweet Little Sixteen" for the comparatively anodyne "Surfing USA," through Bob Dylan's raging "Subterranean Homesick Blues" and beyond into the punk rock and rap of the 1970s.
Of course, in addition to the Beach Boys, the Beatles and the Rolling Stones have always acknowledged the debt they owe to Chuck Berry. Each recorded his songs early in their careers, the Beatles with "Roll Over Beethoven" in 1963 and "Rock and Roll Music" in 1964. The famous foundational story of the Stones is that childhood acquaintances Mick Jagger and Keith Richards rekindled their friendship as teens on a Dartford train platform when Richards noticed his old pal carrying a stack of Chess records, a Chuck Berry LP among them. The band recorded Berry's "Come On" for their first single.
Indeed no one has been influenced more by Berry, nor tried to repay that debt, like Keith Richards has, most notably by organizing the 1986 tribute concert to his hero, documented in the classic film, Hail! Hail! Rock 'n' Roll, released a year later. In the trailer, Jerry Lee Lewis, rarely known for his humility, gladly proclaims Berry as "the King. Even my mother said that." (Lewis' mother once told him, "You and Elvis are good, son—but you're no Chuck Berry. Chuck Berry is rock 'n' roll from his head to his toes.")
[youtube https://www.youtube.com/watch?v=uK6TUbllhJQ&w=560&h=315]
As seen in the film, Richards' relationship with Berry was a thorny one, with Berry periodically schooling Richards. In one memorable sequence, Berry repeatedly stops Richards from playing the riff to "Carol," a song that Richards had been playing with the Stones since 1964, to instruct him on the nuance of the bending of the opening riff. To the visibly humiliated and increasingly frustrated Richards, Berry shrugs his shoulders and says, "If you wanna get it right, let's get it right." By the end of the song, though, it's all smiles.
While you can see a bit of a mentor running his protege through the paces, Berry is, of course, correct. But showing up Richards for the cameras over a small musical detail did seem a little gratuitous coming from Berry, who was coming off of about a decade and a half of half-hearted performances where he would fly or drive in for gigs with unrehearsed pick-up bands, some of whom were on their way to fame of their own, including Bruce Springsteen and his band in 1973 and the pre-fame Raspberries (with Eric Carmen).
But usually, a Chuck Berry show around this time was a hit-or-miss affair. I got to see him at UMass Amherst in the mid-1980s with some generic guys who, like us in the crowd, seemed like they were just happy to be there and hear the King.
The stories that come from this era all have consistent details about the artist—one of many musicians (usually black) who had been burned too often by promoters in the past—demanding payment, in cash, before stepping up on stage with a band he had never met, arranged by the promoter, and plugging into borrowed amps, before launching into well-known songs in keys that were a surprise to the bands who had studied his records. Often, once they caught on with the key Berry was in, he would suddenly change it in an illogical spot mid-song.
This was the state of Berry's legacy, in danger of being squandered by the time that Richards planned to properly honor him.
[youtube https://www.youtube.com/watch?v=t6OS_ItMGpc&w=560&h=315]
Berry had continued to write truly great songs well into the 1960s. While he had an astounding run of hit singles from 1955-1958, other classics like "Let It Rock," "Nadine," "No Particular Place to Go," "You Never Can Tell," and "Promised Land" all were released between 1960 and 1964.
This is all the more remarkable given that he was arrested in 1959 under the Mann Act, for transporting a minor (a teenage hatcheck girl at one of his clubs) across state lines for "immoral purposes" at the peak of his career, serving a jail sentence from February 1962 to October 1963. But his career had fallen off by the 1970s, with one flukey novelty hit in 1972, "My Ding-a-ling," which, wouldn't you know it, was his first No. 1 pop hit, selling over a million copies.
But Berry became known for his prickly persona, a peculiar and problematic guy who could not escape controversy, arrested again in 1990 for marijuana possession and, more shockingly, videotapes from a hidden camera from the ladies restroom of a restaurant he owned.
His one-time collaborator, Johnson, sued him in 2000 over songwriting credits and royalties to a number of hit songs. Richards had also been Johnson's most vocal and ardent supporter and argued for Johnson's deserving credit, telling Rolling Stone magazine, "In a way, I'm a bit responsible. I said to Johnnie, 'These songs should really say Berry/Johnson.' It was obvious after talking to him and watching him play. But Chuck being Chuck, you'd be lucky to get a quarter. Or you'd end up paying him."
Not that it any of it—the dressing down, the controversies, not even getting punched by him—stopped Richards from honoring Berry whenever he could. In addition to the 1986 concerts, Richards inducted Berry into the Rock and Roll Hall of Fame the same year, the first class at the controversial Hall.
And I got to meet both Richards and Berry on what was one of the most memorable days in the life of this music fan, at the first Pen New England Song Lyrics of Literary Excellence Awards. I had heard that Richards would be there to again pay homage to his hero, who of course was receiving the award.
First, I met Berry. I was lucky enough to have admission into a green room before the remarkable event. There sat Berry at a table. I immediately went over to say hello. Standing up and smiling, he shook my hand as I told him it was an honor to meet him. He was hard of hearing and asked me to repeat it, as he leaned in putting his ear close to my face, still holding my hand and pulling me in with a bro hug. I repeated it was an honor to meet him and that it was great that he was being recognized for his lyrics. He leaned back, still shaking my hand, and yelled, "I heard that!"
You can see the joy in both our faces on the photo that will always be my Facebook cover picture. It was like meeting a demigod, someone who had always been there, one of the few rock 'n' rollers my parents liked to dance to, a guy whose songs I spun continuously as a child playing old 45s and the American Graffiti soundtrack.
Soon, Keith Richards arrived. After the flurry of activity, once everyone settled in, I managed to sidle up to my all-time hero, Richards. I told him I just wanted to say hello. "I mean, what do I say to Keith Richards."
He replied, "Hey man, I feel the same way about Chuck Berry." It was a gracious pivot out of awkwardness to two guys discussing the songs of Chuck Berry. Richards observed how much sadness is in some of those songs. He quoted "Memphis, Tennessee."
"I mean, 'waving me good-bye with hurry home drops on her cheek that trickled from her eye.' " And at that, Richards looked at me and pounded his fist on his chest, seemingly choked up by it all. I'll never forget it.
[youtube https://www.youtube.com/watch?v=mc7oGWgeA8s&w=560&h=315]
By the way, how about "Almost Grown" from that American Graffiti soundtrack?
I don't run around with no mob
Got myself a little job
I'm gonna buy me a little car,
Drive my girl in the park
Don't bother just leave us alone
Anyway we're almost grown
Though he was clever enough to know that most 1950s teens aimlessly driving and looking for a place to make out could identify, this is written by a black man just trying to keep his nose down and live a normal life without hassle. But it's written with humor and a wink, just like all of Berry's music.
Chuck Berry was one of the great chroniclers of mid-century America specifically and the human condition generally. His "Brown Eyed Handsome Man" is a deft commentary on race without mentioning anything other than eye color. But beyond his brilliant lyrics, he was a pioneer on the guitar, a great singer, and a true showman.
He continued to perform regularly in St. Louis until 2014. In his late-80s, he was working on a new album of mostly original material; on his 90th birthday, he announced he would release his first album in almost 40 years.
Berry's final studio album, Chuck, arrives June 19 on Dualtone Records.