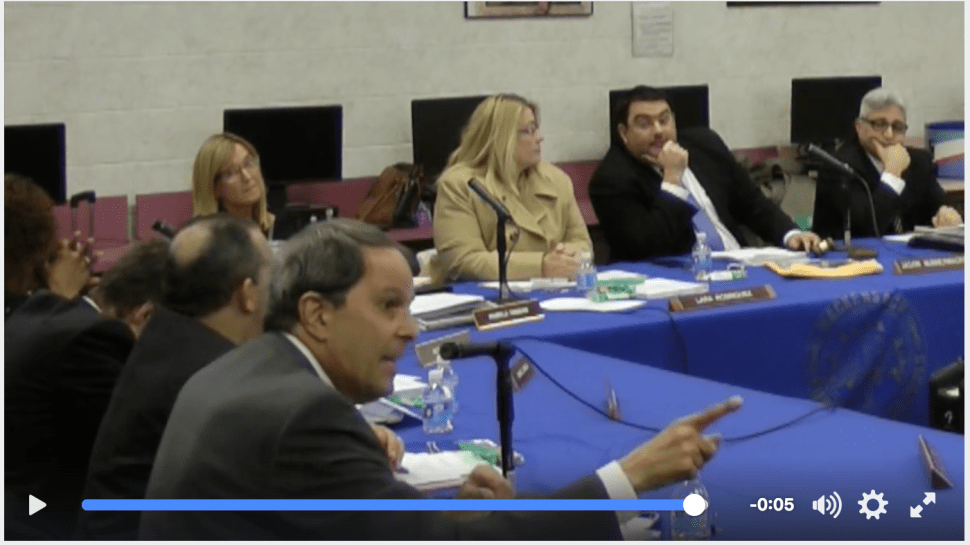 Politics is best when politics is real and things got about as real as they get a couple nights ago at a Hackensack Board of Education meeting earlier this week. And there's video!
Mayor John Labrosse has been locked in a long-simmering feud with Richard Salkin, the town's school board attorney. On Tuesday, a heated screaming match broke out over a school teacher named Caseen Gaines, who may have distributed campaign material on school time, a violation of school policy.
In addition to teaching English at Hackensack High, Gaines is also the campaign manager for Hackensack United for Progress, the slate that's opposing Mayor Labrosse's team. Salkin supports the United for Progress team, which is part of a longstanding City Council vs Board of Ed thing going on in Hackensack. When the Zisa team was in power, Salkin served as municipal attorney; after Labrosse won, he's been relegated to the Board of Ed.
Anyway, at the meeting Mayor Labrosse takes the Q&A podium just as an ordinary citizen would. He mentions the teacher and contends that Gaines and the slate are "backed by the Zisa Family machine." Reading from a prepared statement, the mayor then accuses Salkin of "a clear and obvious conflict of interest" that he represents the board and also represents Gaines. He then calls on Salkin to resign—right to his face, and also drags in Gaines' wife, Johanna Calle, who is also on the board.
And then Salkin basically goes mental.
He aggressively points a finger at the mayor and says "You never know what you're talking about. I'm gonna talk to you now." Other members of the school board try to calm Salkin but he's not having it. A board member tells Salkin "Settle down" and Salkin responds (again, with the finger pointing), "Jason, don't even go there."
"Mr Labrosse likes to blow smoke. He doesn't know the first thing about ethics, He doesn't know the first thing about attorney's responsibilities. I do not represent Mr. Gaines, I never have. You haven't written a letter in your life."
Then a funny thing happens.
The sound of a camera shutter can be heard and Salkin, who has a way with words, even when angry, says, "Yeah, take the picture, your Hudson County attack dog is here with you, your ghost writer."
Salkin is referring to Philip Swibinski, the political operative who's at Vision Media and is in the trenches with Team Labrosse.
Salkin continues, with barely contained rage, "You haven't had an original thought. And you know what, John? I am active in this campaign. To help get you out!"
Then a shocking thing occurs.
Board President Jason Nunnermacker actually gavels down his own lawyer.
Salkin declines to yield. "I'm not done! I'm not done!" Turning back to the mayor, Salkin points and says, "That's nonsense from a know-nothing idiot!"
With teachers who run campaigns and a lawyer who manages anger like Chris Brown, it'll be a miracle if Hackensack makes it the five weeks until election day without a political homicide.
HERE'S THE FACEBOOK VIDEO.
Correction: An earlier version of this story referred to Paul Swibinski; the "Hudson County attack dog" was actually Paul's son Philip Swibinski. Observer regrets the error.