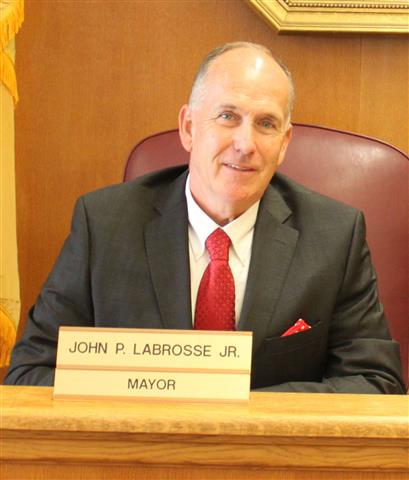 The Hackensack United for Progress team filed a complaint with both the Bergen County Prosecutor's office and the New Jersey attorney general on Wednesday alleging that incumbent Mayor John Labrosse, Deputy Mayor Kathleen Canestrino and their public relations consultant, Philip Swibinski of Vision Media, used taxpayer funds to pay for a "political campaign brochure." According to the challenging slate, however, there was no impropriety involved in sending the mailer.
In the letter, Hackensack United for Progress Campaign Manager Caseen Gaines claimed that the mailer—which informs recipients about the revitalization of the Hackensack downtown and mentions Labrosse's "four years of progress"—"had no purpose in terms of notifying the public about any breaking or recent events which would be necessary for the City to publicize." Instead, Gaines alleges that the mailer is "obviously" political in nature. Gaines also said in the letter that "Labrosse, Canestrino and Swibinski need to be criminally charged and forced to reimburse the taxpayers." Gaines called the mailer's authorization and distribution "official misconduct."
Much of Gaines's claims are based on who he said improperly received the mailer. Gaines cited a list of recipients received via an Open Public Records Act (OPRA) request that he called a "registered voters list" containing information such as name and past voting history, rather than a list of taxpayers or residents. Gaines said that sending such a mailer is using "public resources designated for a specified purpose are used for an unauthorized purpose."
According to Swibinski, despite Gaines's complaint, the mailer was not in violation of any laws. In a statement Swibinski said that the Hackensack United for Progress slate was alleging corruption in order to distance their team from a connection to the once-powerful Zisa family in Bergen County despite an appearance by former Police Chief Ken Zisa at a fundraiser last week. No member of the Zisa family is currently pursing office in Hackensack.
Swibinski's statement read: "The Hackensack United for Progress Team is so desperate to distract from their obvious ties to the corrupt Zisa machine that they are blatantly lying about these city mailings and clumsily trying to misuse the legal system for their political agenda.This letter was clearly prepared by Richard Salkin, the Zisa attorney who makes his living trolling City Hall looking for opportunities to sue Hackensack taxpayers. The letter has no legal weight and its credibility is zero coming from the Zisa team, a group that made its living ripping off Hackensack taxpayers for decades before they were finally defeated by the Labrosse Team four years ago. That's what this election is about—a desperate attempt by the Zisa machine to claw their way back into power by any means necessary."
Swibinski also challenged the Hackensack United For Progress team's claims that the mailer was political in nature. In his response, Swibinski said that the mailer was "legitimate municipal business" that "contained no political content whatsoever." Swibinski acknowledged the the mailer was sent to a registered voter list but said that the decision to use that database came from a decision to be as cost effective as possible. According to Swibinski, that list will not be used for campaign activities. Swibinski also rejected a claim made by Gaines in his initial letter that the mailer had not been approved by the city manager.
Gaines fired back in a Thursday morning response to Swibinski, claiming that the admission Labrosse used a voter list is an admission of previous untruthfulness because Labrosse had previously cited that the mailer went to "taxpayers" and Swibinski had used the term "residents" to describe recipients.
"Mayor Labrosse says he cares about all 'residents' in our community, except of course, the ones who aren't eligible to vote for him," said Gaines, who also challenged Swibinski's city manager approval claim.
The Hackensack mayor's race has been bitter so far with both the incumbent mayor's team (which includes Canestrino, Councilman Leo Battaglia, Councilman David Sims, and council candidate Stephanie Von Rudenborg) and Hackensack United for Progress (which includes candidates Lara Rodriguez, Jason Some, Michael Williams, Carlos Merino and Rommy Buttaf) regularly sniping at one another. A third slate, Hackensack Strong, lead by Councilwoman Deborah Keeling-Geddis and including Richard Cerbo, David Dungey; Angelica Carfi-Meneses and Rafael A. Del Rosario is also in the running. The municipal election will be held in May.