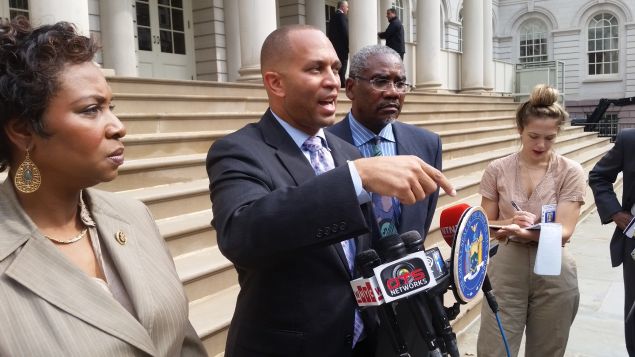 Brooklyn Congressman Hakeem Jeffries made a final plea for Republicans on the House Judiciary Committee to support his resolution seeking an investigation into President Donald Trump and U.S. Attorney General Jeff Sessions' communications and interactions with Russian President Vladimir Putin and agents and entities linked to the Kremlin.
The resolution of inquiry—introduced by Jeffries and California Congressman Ted Lieu—requests that Trump and Sessions provide documentation, correspondence or memos regarding any meeting or communication that Sessions had with any Russian government representatives, including his meetings with Sergey Kislyak, the Russian Ambassador to the United States, on July 18, 2016 and September 8, 2016. Trump has long had an unusually sanguine view of the Eurasian autocracy, and some have alleged the Queens-born commander-in-chief may have business ties there, or that Putin even may possess compromising information about him.
Sessions found himself under fire earlier this month when word of his meetings with Kislyak surfaced, despite his confirmation hearing claims that he "did not have communications with the Russians" during the campaign season.
"Vladimir Putin is a thug and a dictator, yet Donald Trump refuses to say a negative word about him," Jeffries said in a video the liberal group MoveOn.org published today. "Why does Donald Trump continue to play footsie with Vladimir Putin?"
"The people of this great nation deserve to know," the congressman continued, in a phrase that served as the refrain of his message.
Jeffries also alluded to the cyber-attacks upon the Democratic National Committee and the Hillary Clinton campaign, which intelligence agencies have concluded were the work of Russian agents looking to boost Trump's then-moribund fortunes. He also recalled the resignation of Trump campaign manager Paul Manafort last year after documents materialized indicating he had received illegal payments from the deposed pro-Putin government of Ukraine to lobby the U.S. government—and Gen. Michael Flynn's abdication as National Security Adviser after it became public he had lied about the substance of his own conversations with Kislyak.
These incidents, combined with reports that Manafort and other aides had contact with figures linked to the Russian government during the campaign, have provoked speculation that the president's team may have communicated and collaborated with the Kremlin in its infiltration of Democratic email accounts.
"Why were allies of the Trump campaign involved in communicating with Russian intelligence agents at the same time that they were hacking in to our democracy?" Jeffries said. "The people of this country deserve to know. Why did 17 different intelligence agencies conclude that the Russians interfered with our election for the sole purpose of helping Donald Trump?"
Jeffries recalled to his colleagues that the House of Representatives, though under Republican control, is a "separate and coequal" branch of government that does not work for the president.
His resolution requests any of Sessions' preparation materials for his confirmation hearings that relate to Russia, and documentation of the prosecutor's recusal from the Department of Justice and Federal Bureau of Investigation's probes into 2016 presidential election.
It also asks for the appointment of a special counsel to handle to any case involving the election, touching upon any interactions between any employee of Trump's campaign or transition team and any Russian government representative. In particular, the Jeffries-Lieu refers to any meeting that involved Trump, Flynn, Manafort or Jared Kushner, the president's son-in-law and senior adviser, who was recently revealed to have held previously undisclosed conferences with Kislyak and with the Putin-picked executive of a sanctioned Russian bank.
Disclosure: Jared Kushner is the former publisher of Observer Media.