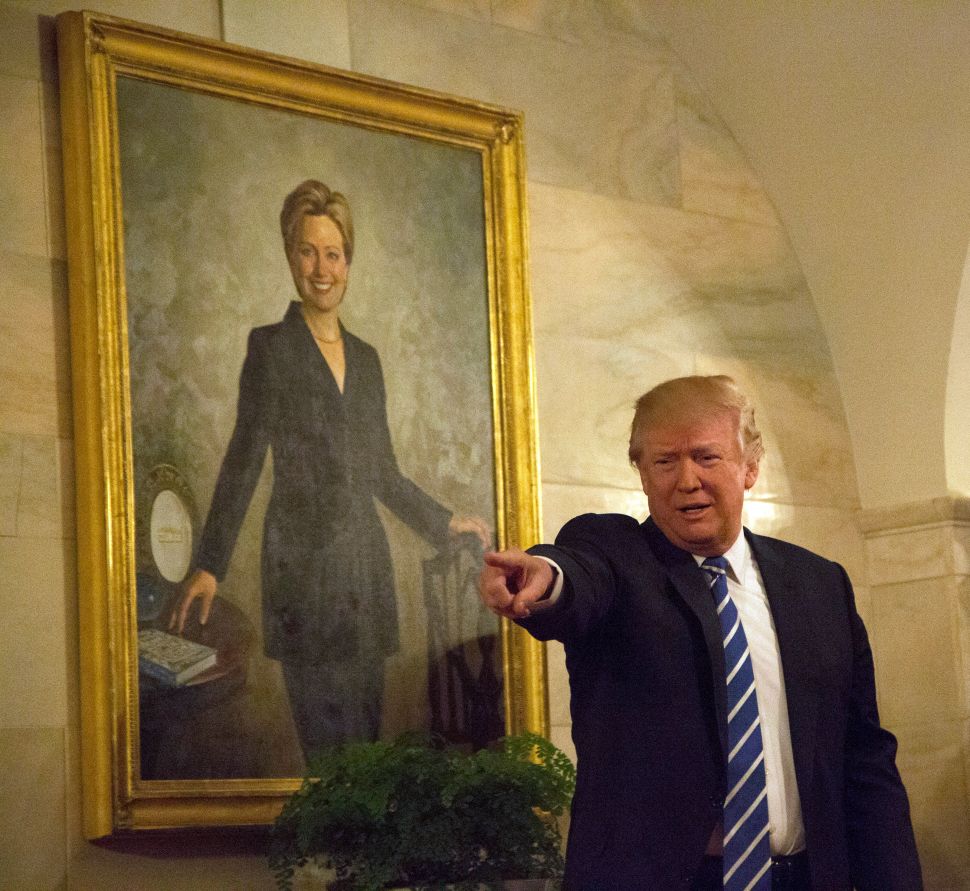 The idea: Recreate pivotal scenes from the presidential debates to prove a woman wouldn't be able to get away with saying the things that then-candidate Donald Trump said. Also, prove that people would like Hillary Clinton more she had been a man, thus showing sexism alive and well in the political arena—and giving the Left another reason to whine over the election.
The result: Oops! It turns out people would like Trump more if he were a woman and would like Clinton even less if she were a man.
When Maria Guadalupe watched the second presidential debate in October 2016, she wondered how people would react to the two candidates if their sexes were swapped. Guadalupe, an associate professor at the graduate business school INSEAD, decided to find actors to play the two candidates for a live audience and see how perceptions changed. She teamed up with Joe Salvatore, a clinical associate professor of educational theatre, to write a script for "Her Opponent."
It was clear what the two set out to prove just by the title of the play: That male politicians get away with a lot more than female politicians, which is why Clinton lost the election.
Guadalupe and Salvatore cast his colleague, Rachel Whorton, as "Brenda King," the female Trump. Daryl Embry was cast as "Jonathan Gordon," the male Clinton. The actors learned how to act like their respective candidates, and performed their play one week after Trump's inauguration.
Eileen Reynolds, writing for New York University's news publication, explained that gender differences became apparent during rehearsal.
"What was Jonathan Gordon smiling about all the time? And didn't he seem a little stiff, tethered to rehearsed statements at the podium, while Brenda King, plainspoken and confident, freely roamed the stage?" Reynolds wrote. "Which one would audiences find more likable?"
Prior to performing the play, audience members were asked to fill out a survey about their feelings toward the actual presidential debates that had taken place months earlier. New York Times reporter Alexis Soloski noted the audience consisted of people who expected Clinton to win and were watching the play "trying to figure out how Mr. Trump could have won."
Those who saw the live performances were shocked to have their perceptions so radically altered. As Reynolds wrote, many "couldn't seem to find in Jonathan Gordon what they had admired in Hillary Clinton," and found Brenda King's demeanor and gestures to be uplifting where they thought Trump had been "flailing or lashing out."
Salvatore told Reynolds in an interview that audience members were heard saying "now I understand how this happened" in reference to Trump's election win. A man sitting ahead of him put his head in his hands while his friend rubbed his back.
"The simplicity of Trump's message became easier for people to hear when it was coming from a woman—that was a theme," Salvatore said.
He also heard someone say Jonathan Gordon was "really punchable" because he kept smiling throughout the performance, just as Clinton had done in the debates. Meanwhile, people described Brenda King as someone who might not be liked, but would be known for doing the right thing, like a middle school principal or "Jewish aunt."
This was just one experiment of this kind. There's no guarantee that the results could be replicated with different actors at a different time.
But it's telling—and kind of funny—that two people who set out to prove sexism actually did prove it, just not in the way they wanted to. Because it now turns out that screams of "a woman would never get away with this!" are actually not true, that it is the women politicians who actually have the advantage when it comes to saying outrageous things (well, except Christine O'Donnell; I think we draw the line at witchcraft).
That's not to say female politicians and advisors don't get treated unfairly, especially if they're Republicans. Remember how political media treated Sarah Palin? Now I wonder how much worse the treatment would have been if she were a man.
I'm still laughing over the idea that Trump's ideas and mannerisms would be more popular coming from a woman, but people would like Clinton even less if she were a man. These two candidates were the most disliked in recent history, and things could only get worse for Clinton.
Maybe next time they could cast a child in her role and see if that would make people like her.