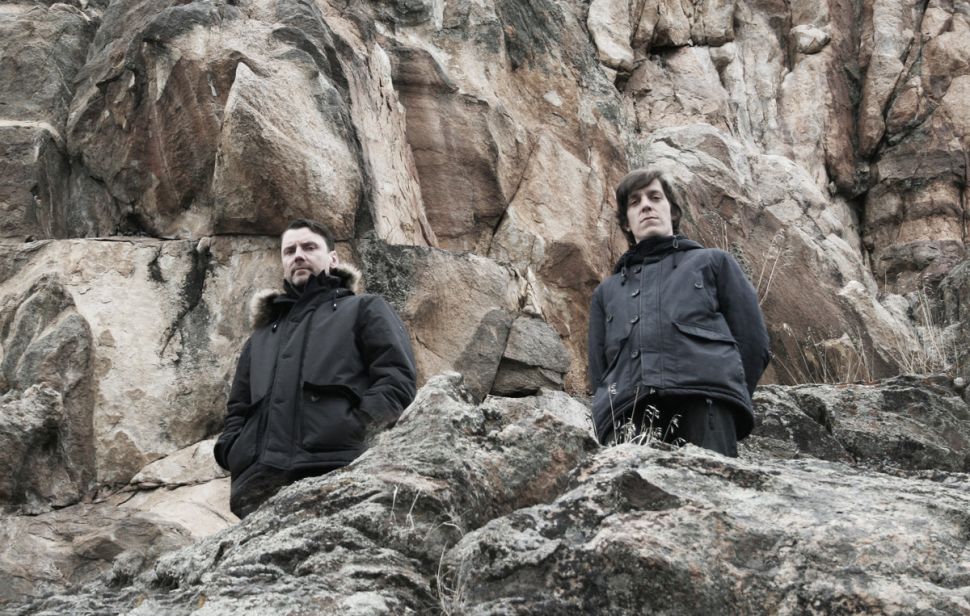 "One of the earliest explorers of Wyoming was John Colter in 1807. While exploring the Rocky Mountains, he discovered a region of steaming geysers and towering water falls so unusual that his written reports nicknamed the area 'Colter's Hell.' "— wyo.gov
In March 2016, the classical cellist Mark Bridges and the acclaimed producer Scott Morgan, who performs as Loscil, briefly absconded from their respective lives in Vancouver and Madison, Wisc., to the mythic Wyoming wilderness.
They'd met two years earlier at an arts residency in Banff—a high-altitude community in the Canadian Rockies that will make you question whether you've ever really seen beauty—and they collaborated for the first time one year later, when Bridges lent cello parts to Morgan's "infinitely lost music" app Adrift. Outside Saratoga, Wyo., at Brush Creek Ranch, the two met again, this time with little expectation outside fussing with music and relishing the other's company.
Morgan is one of the most revered experimentalists working today, and Bridges performs with the Madison Symphony and the Wisconsin Chamber Orchestra—watch him Prokofiev—so the idea that they wouldn't depart the Cowboy State with listenable ideas seems far-fetched. But, Morgan and Bridges tell me, even they were surprised by the fruits of two weeks' labor: The musicians left not with a few ideas, but a fully realized album, Cinderland, which arrives this week on the seminal indie record label Kranky.
Recorded in a converted schoolhouse, the nine-song collection—a devastating alchemy of cello, piano, electro-acoustic treatments and found sound—grossly betrays its short gestation time. Instead, it feels as if Morgan and Bridges, billed together as High Plains, traded Dropbox sketches for months before landing on finished compositions. One doesn't think of how—or how quickly—Cinderland was made until you recall that, say, the gurgling rush of water beneath the disquieting "Blood That Ran the Rapids" was sourced on-site at Brush Creek.
Minor signposts like this abound if you listen for them: the yawning tree in "Song for a Last Night," the deployment, as a song title, of "Hypoxia," a dangerous tissue condition that results from bodies not receiving enough oxygen in high-altitude climates.
The withered tone of "Hypoxia" is apt: Cinderland conjures dread for a wilderness' violence as readily it does its awesome vistas. Jonny Greenwood's alternately terrifying and bucolic score for There Will Be Blood is a cousin, as are Boards of Canada's spare meditations. I also, at times, think of Trent Reznor's Ghosts works. A listener's surroundings, however idyllic, feel menacing through the gauze of these pieces.
However, we should resist exclusively considering these works through a lens of place.
"Simple-minded souls," wrote the American composer Aaron Copland in 1937, "always want music to have a meaning, and the more concrete it is the better they like it. The more music reminds them of a train, a storm, a funeral, or any other familiar conception the more expressive it appears to be to them."
"Music expresses, at different moments, serenity or exuberance, regret or triumph, fury or delight," he continued. "It does not say only one thing."
No surprise, then, that Morgan and Bridges reference as inspiration not just Old West expanse, but Franz Schubert's 1827 song cycle "Die Winterreise," written in the midst of dying. Death, like wilderness, invites a kaleidoscopic range of emotional responses and metaphoric possibilities, and it is music's ineffability, not its use as a vessel for literal expression, that accounts for its inexhaustible power.
In late-February, Morgan, Bridges and I connected on the phone to discuss their pilgrimage, Wyoming arcana, Denver edibles and more. Cinderland is out tomorrow, March 10.
This interview has been lightly edited and condensed for clarity.
[bandcamp width=100% height=120 album=2959702753 size=large bgcol=ffffff linkcol=0687f5 tracklist=false artwork=small]
How did you two meet?
Scott Morgan: I arrived at the Banff Centre in 2014, prior to Mark, and I didn't know until I arrived that you share a room. I broke into a minor fit and tried to get my own room [everyone laughs], but they'd already booked me, so I headed over. No one was there, and I finally went to sleep, thinking, "Oh, maybe this guy isn't going to show up." About 1 a.m., this guy walks in. I didn't know his name, and I woke up and sort of said "hello." He said "hi" back and went to sleep, and the next morning …
Mark Bridges: You left without…
SM: [Laughs] I left before you got up.
MB: Then we finally met in the arts building.
SM: Our first meeting was in the middle of the night as strangers.
How did you decide to decamp to Wyoming to work on Cinderland?
MB: Scott and I were looking for a location that was relatively convenient for us both, but also some place that was isolated and naturally beautiful. We wanted a place where there's really no distraction to speak of. A composer friend of mine spent time at this ranch, Brush Creek, where we recorded, and he'd shared some beautiful pictures. It seemed like a great fit.
Did you have the entire ranch to yourselves, on a massive plot of land? How much space are we talking about?
SM: I think Brush Creek Ranch is something like 30,000 acres. It's jaw-dropping and massive, and it's interesting because the main ranch is a retreat for wealthy people who want to go hunting and fishing and backcountry snowshoeing and skiing. They have a high-end kitchen and a lodge that we weren't permitted to go into [everyone laughs]. But we were in a weird shoulder season where there were no guests.
We were part of the artist camp, where they have a handful of visual art studios, a couple writers' cabins and a couple music spaces. We were there with a handful of visual artists, one writer, and another musician.
MB: It's hard to talk about without a pictorial. We took solo hikes and hikes together in the downtime, and there was this remoteness. There's a slight sense of danger being in an environment like that, because you're so exposed, especially that time of year. That feels very informative, listening back to the record.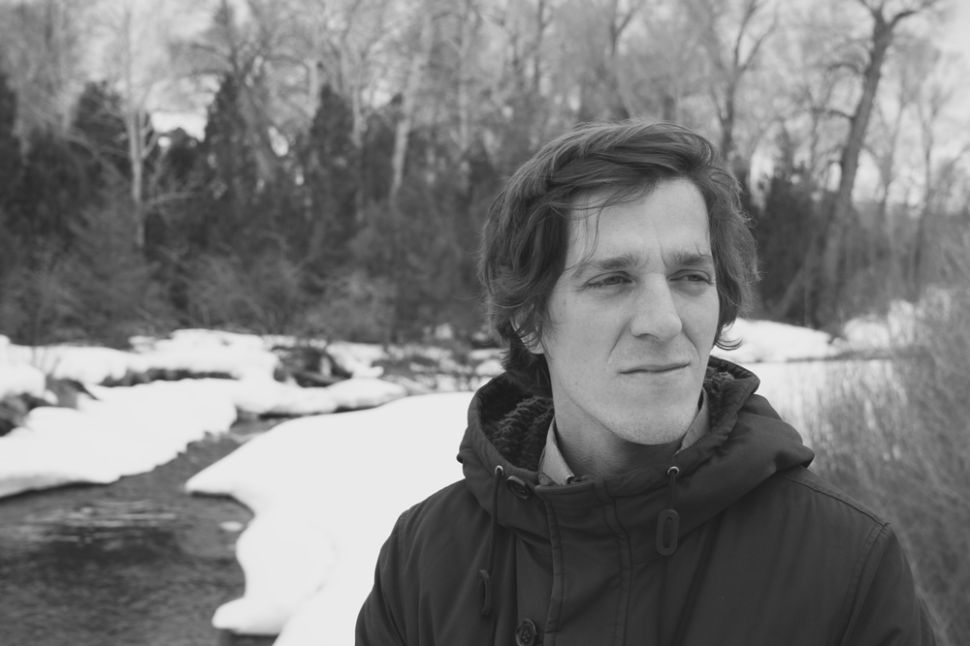 What else did you two do when you weren't working? Did you hang out in Saratoga?
SM: We were taken out for dinner once by the people who run the ranch, in the town, with all the artists. And Mark and I took a couple trips in because there's kind of a famous, or infamous, hot spring in Saratoga. It's a completely natural hot water pool. But the town, yeah, there's not much else to speak of. We spent one afternoon there poking around, checking out the shops, but it's really small and very Wyoming.
I was reading about Saratoga before we got on the line, and it looked like one of their yearly highlights is a beer festival. Other than that, the hot springs do appear to be the main attraction.
SM: Wasn't there a fair or chariot race going on?
Wait, what?
SM: They do chariot races. The whole town comes out and you kind of place your bets. We got invited and I think we chickened out, or we decided to work instead. I can't remember why we didn't go.
MB: I think that was toward the end of our stay and we were just ready to pack it in.
SM: It was winter, and we were set to leave on a Sunday, and the night before, the host for the place came to us and said, "You guys gotta leave tonight. There's a storm coming and the highway's going to be closed tomorrow and you'll miss your flights." Basically she gave us a couple hours' notice and said, "You gotta get out of here now." So we ended up driving to Denver the night before we were supposed to leave and we stayed in a crappy hotel.
MB: Super 8.
SM: [Laughs] Yeah, and we experienced all that Denver has to offer in the way of edibles.
[bandcamp width=100% height=120 album=2959702753 size=large bgcol=ffffff linkcol=0687f5 tracklist=false artwork=small track=2320003239]
Sure, O.K.
SM: Which didn't go very well.
MB: No.
SM: We basically over-consumed and hid in our hotel room for the night on the outskirts of Denver. [Both laugh]
This has turned very Hunter Thompson-ian.
SM: [Laughs] Yeah, this is what attracted me to Mark in the first place: There seems to be this tornado of adventure that surrounds us when we get together.
How did your experiences align or diverge with your expectations of the trip going into it? What surprised you, or didn't?
SM: I went expecting to enjoy each other's company and this place, and to have a work holiday. The trip certainly delivered on those expectations. Mark and I get along well and we have a lot of fun together.
Musically, I tried to keep my expectations low, and it wasn't too much of a gamble. I didn't go into it thinking we'd come out of it with a record, let alone a record that I'm really proud of. There's a real synergy, musically, for Mark and I, in the sense that there's a lot of overlap, but we come from different musical worlds and we have a mutual respect for each other's skill sets. There's a lot of give there and there's a lot of availability for exploration and happy accidents. We'll never be able to repeat it. The next record's probably going to take three years to make.
MB: I echo all that. Going in, I had little to no experience producing a record, and I didn't feel prepared or have a sense of what was going to happen. I just went with some very small musical ideas and I made sure my playing was in top shape so that I could record well.
Like Scott said, we have a good mutual respect for our skill sets and I was trusting that he would fill in my gaps and vice versa. But I definitely didn't expect to come out of it with a record, and a record, like Scott said, that I'm really proud of. We ended up making something that isn't something I expected to make, but it's music that I've always wanted to make.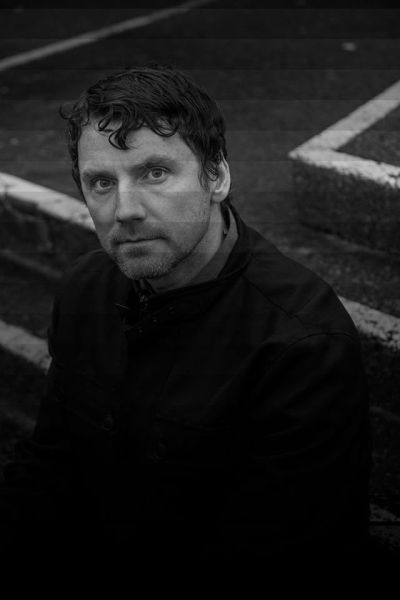 Cinderland is a site-specific work. Do you guys sense that High Plains will be an ongoing project? If so, would you record in different locations?
SM: I don't think it's going to be a one-off thing. The general feeling is that we'd like to do it again, and we'll probably adopt a similar approach by picking a location and immersing ourselves and seeing what comes of it. But we're not getting ahead of ourselves; we want the record to come out and to see how it's received, and we're going to string together a handful of live shows.
Where does the title Cinderland come from? Is it referencing a literary work?
SM: We struggled with names because we wanted something that invoked Wyoming. One of our inspirations going into the project was a mutual love of Schubert's "Die Winterreise:" this idea of someone enduring a solitary winter struggle, constantly confronting death and trials and tribulations on this journey. We had a mixed bag of things that were informing and inspiring us while we were on site, and some of it was just our imagination.
This is not about Cinderland, necessarily, but there's this kind of feeling in Wyoming, a burnt out, life-is-struggling-to-barely-stay-afloat kind of feel. I guess that's sort of evoked in the name. Mark, do you remember?
MB: It's hard to say. I feel like the title is more about a tone and not meant to be a literal image. The tracks are similarly named. What Scott said about the landscape, just barely holding onto life, is accurate. Wyoming has a desert landscape during the winter, at altitude. You know that there are living things around, but you never see anything. Everything that's around looks like it's barely hanging on.