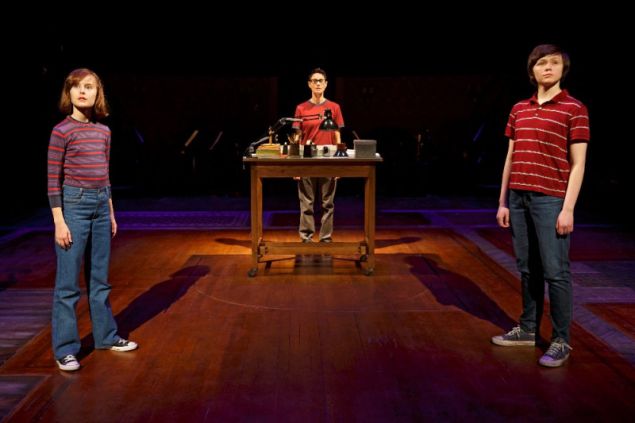 The powerful musical Fun Home tells the story of Alison Bechdel, a lesbian cartoonist discovering her sexuality and grappling with the death of her father, a closeted gay man.
That may not sound like the stuff Broadway hits are made of, but the show recouped its investment and won the Tony Award for Best Musical in 2015.
Fun Home is now on tour across the country, and its impact hasn't diminished. In fact, Dennis Wickline was so moved after seeing the show at the Ahmanson Theatre in Los Angeles that he made it his mission to get LGBTQ students into the theater to see Bechdel's story.
Over the weekend Wickline started a GoFundMe campaign called "Let's Send LGBTQ+ Youth to Fun Home." Wickline, a gay man, wrote in his pitch that he hopes to get the show's message out to "teens and young adults whose support system may be slim to nonexistent."
"In the midst of the political challenges that the LGBTQ+ community is encountering presently, I believe that more than ever, this message of normality and solidarity is profoundly important," he continued.
One thing that makes this crowdfunding campaign unique is its flexible goal structure. Wickline told the Observer that he initially set the campaign's goal at $1,500, which covered the cost of 12 tickets to Fun Home for students and chaperones from Hatch Youth, an LGBTQ community center in Houston (the show is coming to Texas next month).
But the campaign surpassed that amount in only three days, so Wickline is now raising money to buy tickets for students in Kansas City (another tour stop). His GoFundMe's new goal is $3,500 (he's raised about $1,700 so far).
Wickline is also in touch with other interested groups, and said that when they confirm availability he will add them to the fund as well—ensuring a constantly changing goal amount but also more exposure to a vital work of art for the students who would benefit most from it.