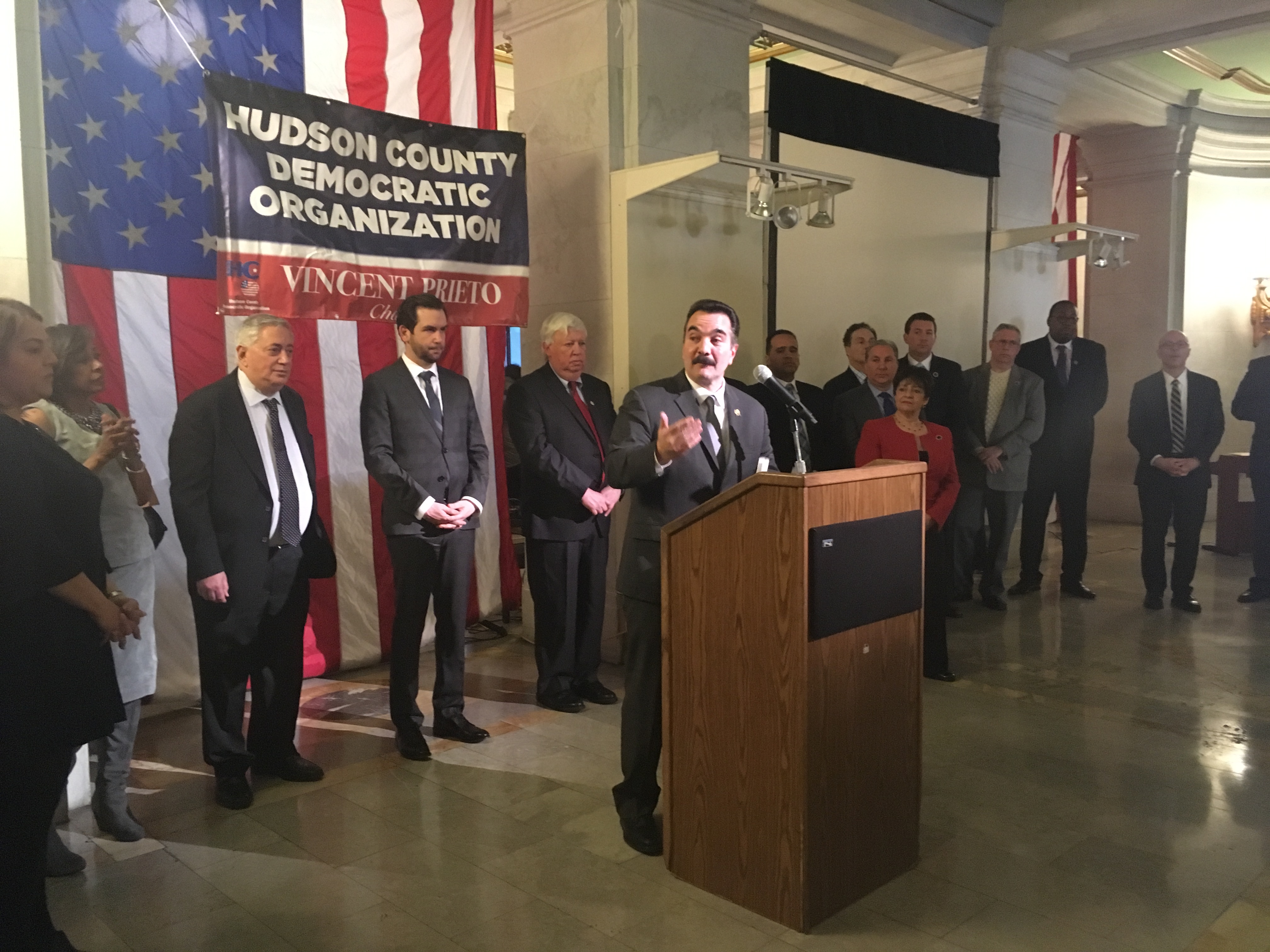 JERSEY CITY – The Hudson County Democratic Organization on Wednesday officially announced the candidates the organization is supporting in the upcoming June primary. According the HCDO Chairman/Assembly Speaker Vincent Prieto, the slew of candidates will fight to represent the interests of the heavily blue county. The HCDO also formally endorsed former U.S. Ambassador to Germany Phil Murphy in his pursuit of the governorship.
The announcement included few surprises with the majority of primary support favoring incumbent candidates. The decision of Hudson County Clerk Barbara Netchert to not pursue re-election did create a bit of a shakeup, however. Current Freeholder Junior Maldonado will run with HCDO support to replace Netchert. Joel Torres will run for Maldonado's current freeholder position.
The Wednesday announcement also put to rest rumors that state Senator Sandra Cunningham was mulling a challenge against incumbent Jersey City Mayor Steve Fulop for his position. Her endorsement by the HCDO — as well as Fulop's presence at the event — suggests that the county party organization has avoided discord ahead of the June election.
"This team is going to do something that it always does… we are going to win," Cunningham said.
According to Hudson County Executive Tom DeGise, the county party is completely united.
"We are at peace again, we are going to stay at peace," DeGise said of the HCDO as he credited Prieto with successfully navigating the political waters in the county.
In June, the entirety of the New Jersey state legislature will be up for election. In Hudson County and around the state, there will also be county and municipal elections. While the announcement only focused on state and county candidates, a number of mayors including Hoboken Mayor Dawn Zimmer, Jersey City Mayor Steve Fulop, West New York Mayor Felix Roque and Weehawken Mayor Richard Turner were also present.
See the list of endorsements below:
Phil Murphy for Governor
Senator Sandra Cunningham for District 31 senator
Senator Nick Sacco for District 32 senator

Senator Brian Stack for District 33 senator

Assemblywoman Angela McKnight and Assemblyman Nick Chiaravalloti for District 31 Assembly
Assembly Speaker Prieto and Assemblywoman Angelica Jimenez for District 32 Assembly,
Assemblyman Raj Mukerji and Assemblywoman Annette Chaparro for District 33 Assembly
Junior Maldonado for County Clerk
Kenneth Kopacz, William O'Dea, Jerry Walker, Joel Torres, Anthony Romano, Tilo Rivas, Caridad Rodriguez, Anthony Vainieri and Al Cifelli for freeholder