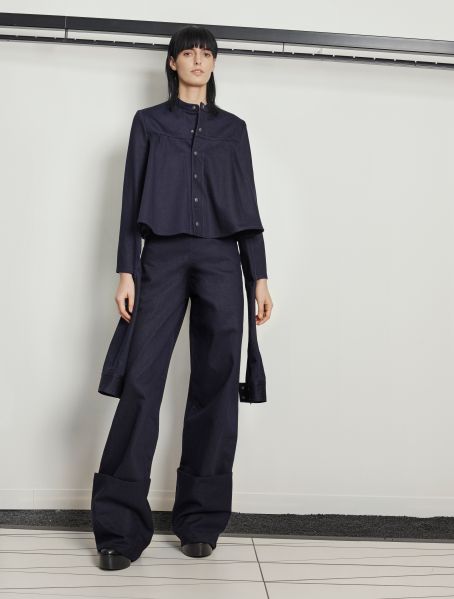 Standing out at Paris Fashion Week, the city where the world's fashion elite have always congregated, is no easy feat. Hussein Chalayan, more a theater director and artist than a mere mortal designer, has been mesmerizing audiences there for the past sixteen years.
Chalayan is known for his symbolic runway performances where he draws inspiration from anthropology, architecture and technology (he's even collaborated with Intel) and translates them into his collections and story-telling presentations. If you haven't seen a video of his Google Earth cityscape frocks and laser emitting dresses, you haven't lived.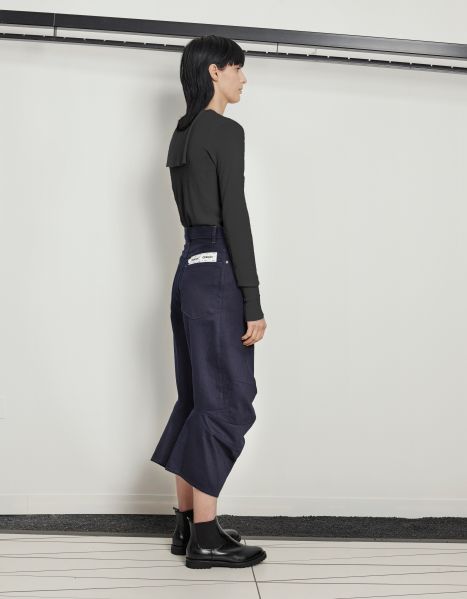 So how does a designer, one who seems to be hard wired for avant-garde creations, tackle an everyday fabric like denim? He makes it his own, which isn't to say these pieces won't be hanging alongside the Levi's in your closet.
While the Cyprus-blooded Brit showed his signature Fall/Winter '17 collection at London Fashion Week, Chalayan brought his sophisticated, tailored denim in various dark shades to Paris. There were jackets, capes and trousers of varying thickness. Never basic, the designer incorporated tear-off labels on garments that allow fashionistas to choose the level of distress they're after.
We were able to briefly catch up with Chalayan during his busy Paris schedule and find out more about his denim approach:
You've incorporated denim into your collections for many years. How does an avant-garde designer like yourself approach the dressed-down concept of denim?
The new collection has the same language that I use in my main line collection, but there are so many ideas that I can represent in denim and I looked forward to reconnecting with certain pieces from my archive for inspiration….. so we referenced our archive denim pieces, remade classics in denim versions and then I mixed some signature pieces in knit and jersey into the collection.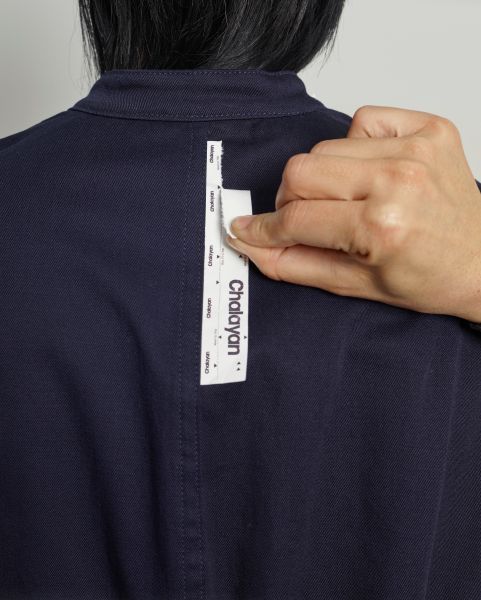 What are the newer details in this collection that we won't find in previous pieces?
The denim collection distincts itself by the signature paper label. The paper is stitched to every garment onto openings or pockets and it can be left intact or torn …it just depends on the look the customer wants. In this way, the paper label makes every piece unique. The white paper label plays a bit with my packaging theme of previous collections and the idea of the "virgin" garment, giving the collection its own identity.
Which elements will we see from your archive?
The focus of the denim line, as well as my main collection, is timeless styles and silhouettes. For the denim range I've revisited iconic archive pieces, like the extended sleeve lengths and a silhouette first seen in my F/W '98 show, Panoramic. My favourite pieces from the collection are the classic, oversized jacket, deformed biker trousers and the knitwear. I also love the cropped, simple trousers and the classic shirt without a tail.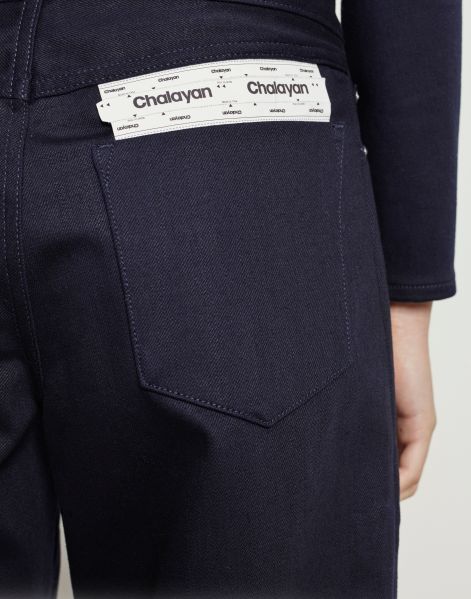 You've often said that you pull energy from the world around you. Where did you draw inspiration from for this collection?
My inspiration is drawn from a modern reincarnation of ancient values, specifically those endorsed and encouraged by corporate forces. I wanted to convey a sense of protest and celebration …and create empowering forms and styles of dressing simply for the purpose of "self-entitlement." For both my collections I explored the idea of new, isolated individuals that the current world is generating. I have been thinking a lot about individuality…and erosion in a digital, corporatized age.
Denim can be considered a universal fabric. Who is the person wearing your denim line, in your mind?
The denim line is younger than the main line, although anyone can wear certain pieces in the collection. It's just a different thing….you can play with the pieces and mix and match to fit your own personality. Most of the garments in my collection are androgynous…and I was inspired by the metropolitan woman.