By 1977, punk—and rock 'n' roll for that matter—was the last thing on Iggy Pop's mind.
With his band the Stooges' debut album in 1969, Pop, born James Newell Osterberg, Jr., undoubtedly pioneered the art that came to be known as punk rock. But he wasn't only one of the forefathers; he was the Godfather in the same way Little Richard is the Godfather of Rock 'n' Roll and James Brown is the Godfather of Soul.
You know why they call these guys Godfathers? They might not have founded the music, but they damn sure baptized it with the Holy Spirit and brought it to life.
"I'll tell you about punk rock," Pop told host Peter Gzowski in March of 1977 when the singer was a guest on the Canadian talk show 90 Minutes Live. "Punk rock is a word used by dilettantes and, uh…heartless manipulators, about music…that takes up the energies, and the bodies, and the hearts and the souls and the time and the minds, of young men, who give what they have to it, and give everything they have to it. And it's a…it's a term that's based on contempt; it's a term that's based on fashion, style, elitism, satanism, and, everything that's rotten about rock 'n' roll."
At the time, Pop was appearing to promote the release of his official solo debut, The Idiot, which turns 40 tomorrow on March 18.
Why was Pop smearing the name of movement he'd helped birth? Listen to The Idiot and you'll know immediately. These nine songs were light years away from anything he'd accomplished with The Stooges.
As feral and uncompromising as his work with The Stooges was—not to mention the collaborative album he'd made with second Stooges guitarist James Williamson, Kill City, prior to his solo debut—1977 was the year Pop established himself as one of rock 'n' roll's true individualists. Pop kicked the drugs that landed him a brief stay in a mental institution and embraced the machine, diving deep into the experimental electronic music of West Berlin, Germany, where he retreated in 1976 along with his friend David Bowie, seeking salvation through the avant-garde sterility of Krautrock culture.
It was Bowie—who had previously mixed the last official Stooges album Raw Power—that propelled Pop into eschewing the savagery of punk for the sleek mystique he was exploring during his Thin White Duke period, which cumulated in his own pair of 1977 classics Low and Heroes.
"I had found my boy," Pop said in a 1998 documentary for the BBC. "Here was somebody who was very, very talented, and he wanted other outlets. There were certain things I believe he was able to do with me that he chose not to do under his own flag. Like he wrote the music to 'Nightclubbing' and I got very excited and insisted I write a lyric to that. It wasn't at all rock; in that case, we used a drum machine. It sounds cheap, but it sounds right for the song. I tended to egg him on in that way, and he was only too willing to go farther and farther."
[youtube https://www.youtube.com/watch?v=IvJzEof18vA&w=560&h=315]
Working with a skeleton crew of Bowie session men, including guitarist Carlos Alomar, bassist George Murray and drummer Dennis Davis, The Idiot was as much an extension of the music Bowie was making at the time as it was the reinvention of the Iggy Pop persona from nihilism to new wave. It was a similar ethic Bowie had conjured with The Stooges.
"David had an important effect on the third Stooges album, Raw Power," Pop wrote in tribute to Bowie upon his passing in January 2016 for Rolling Stone. "We did some sessions at Olympic Studios in London—songs like 'Tight Pants,' 'I'm Sick of You,' 'I Got a Right'—and sent the tapes to David. He came back to me: 'You can do better than that.' So we did. We wrote more and came up with more sophisticated work. If we were going to be in his stable, he wanted us to do work of the very best quality."
Bowie's fingerprints were so apparent on the final version of The Idiot, it has often been suggested that his intimate role in Pop's career at the time—which also included playing keyboards in his touring band supporting the album—was too much of an overreach. Leave it to the legendary Daytime TV talk show host Dinah Shore and her weird friendship with the Duke to get him to confess the contrary before an audience of curious housewives entranced by Iggy, the guy they heard cut himself with glass and smeared peanut butter all over his body:
Dinah: One of the conditions on which you came today was that you would not sing a solo and you would not talk about David Bowie. And we're friends, so I respect that. But what happens with David Bowie if you are going to continue to sublimate your particular talent? Can your ego stand that?
Bowie: Alright, alright. One thing that I wanna get straight is that the collaboration that Jimmy [Iggy] and I have has been something because I was intoxicated with what I thought Jimmy stood for. And I would never ever want it to be considered that I was some kind of hand manipulator or Svengali behind what Jimmy's doing now, because the only reason why he's popular now is because he was six years too early. What he was doing six years ago was just the same. Both musically and his presence, it's exactly the same. It's just that I so happened to be concerned with it now and I stayed with it. Firstly, for me, it was a great ambition, because there was something with Jimmy that I hadn't seen in rock 'n' roll, which was a kind of method—I can't explain it—a methodology, an unleashing of parts of the animalistic kinds of rock that you never see; it's usually always safeguarded. I'm very, very safe, and Jimmy excited me with what he was doing. It probably has nothing to do with rock 'n' roll; it has more to do with method.
Dinah: Method, and a human statement?
Bowie: Not a human statement, just method. Jimmy has a method. So that was my concern, and I had nothing else better to do. I've never enjoyed a tour like this one just playing keyboards, because it's as fulfilling as any of my tours. I've developed an American accent, I must lose that!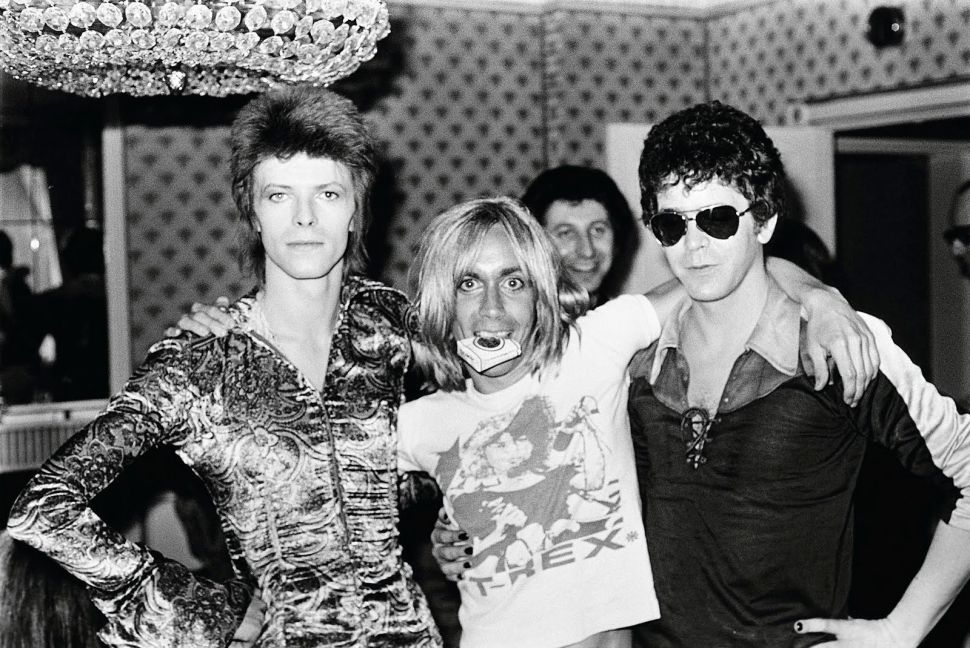 When The Idiot was released on March 18, 1977, it was met with largely positive criticism, the most insightful of which came from the great veteran music scribe John Swenson in his review of the album in the May 5 edition of Rolling Stone, where he cops to picking up on the very methodology Bowie was speaking about with Dinah Shore. 
"Iggy's criticism is a brilliant, if depressing, argument in defense of that much debated assertion that rock is dead," he wrote. "The Idiot, recorded by Bowie, sung in a tired growl excoriated from Jim Morrison via Ray Manzarek, and steeped in the so-called 'minimalist' ambiance currently so fashionable among young bands who've spent too much time listening to Iggy and taking him seriously, is the most savage indictment of rock posturing ever recorded."
Through the years, The Idiot has earned the status as an influential touchstone for so many artists looking to take their music to another dimension: Depeche Mode, Killing Joke, Nine Inch Nails, A Certain Ratio and Joy Division, whose frontman Ian Curtis was found hanged with the album still on his phonograph.
When he chose to end his life, he wanted the final sound he heard to be the first side of The Idiot; you'd have to ask the dust whether or not he succumbed to his pain to the rhythms of "Sister Midnight" or "China Girl." The Human League and Grace Jones would have successful runs with their respective covers of "Nightclubbing," while Trent Reznor nicked a sample of its drum pattern for the Nine Inch Nails hit "Closer."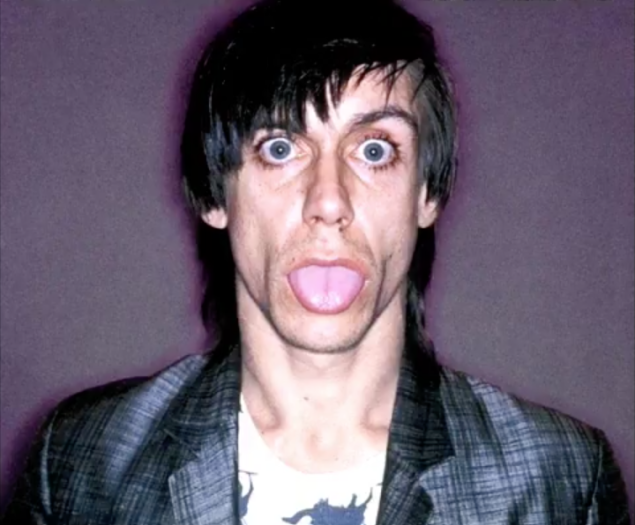 Everyone from The Cars to Blondie to R.E.M. to Bebe Buell have had their way with "Funtime," while Depeche Mode's Martin Gore paid homage to his Idiot roots with a cover of "Tiny Girls" on his 2003 solo debut Counterfeit².
Even Bowie himself would return to it, repurposing "Sister Midnight" for the song "Red Money" off 1979's Lodger, and of course he turned "China Girl" into a Top 10 hit when he recorded it for 1983's Let's Dance. And while Iggy and David would return to a more guitar-driven sound later that year with Lust for Life, the groundwork they laid for the connection between rock and electronic music at the top of The Year Punk Broke eclipsed anything Pop recorded in 1977.
"Iggy's point, of course, is that rock is better off dead, but his is not the sentimental, transcendental approach to death," Swenson concluded in his Rolling Stone review. "The Idiot is, on the contrary, a necrophiliac's delight, and Pop's next move may well go beyond flesh tearing into live barbecue."
If you stuck around long enough in the wake of The Idiot to enjoy the searing sounds of such future titles as New Values, Soldier, Zombie Birdhouse and Instinct going into the '80s, those words are as prophetic as the album.
"The Idiot was certainly a fork in the road for Iggy," Williamson told the Observer of the album. "I guess from there on one could kind of think of him as 'The Iggyiot.'"