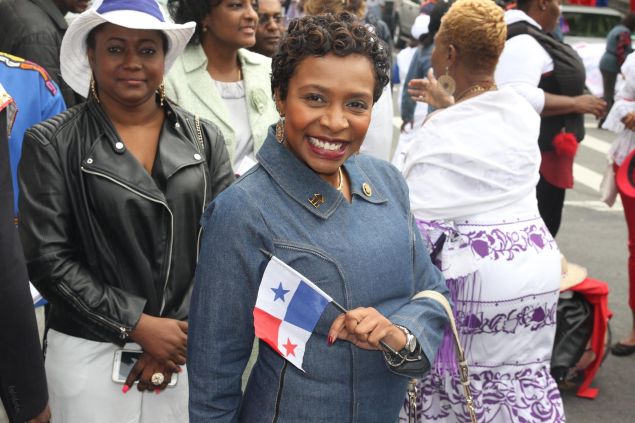 A Brooklyn Democrat's new bill would obligate Immigration and Customs Enforcement deportation agents to wear chest-mounted recording devices while on the job—and would pay for the technology out of the agency's weapons budget.
Congresswoman Yvette Clarke today debuted the ICE Body Camera Act of 2017, legislation that would require all officers enforcing President Donald Trump's aggressive program of arrest and expulsion to wear body cameras within 18 months of its passage. It would also mandate ICE develop internal protocols for using the technology and saving the footage, and make the tapes available to people fighting their detention or removal in an administrative proceeding or in court.
"As Donald Trump has dramatically expanded the number of undocumented Americans who are a priority for deportation, many immigrants in Brooklyn and across the United States now fear a knock on the door in the middle of the night," Clarke, the first Caribbean-American member of the House, said in a statement to the press. "These immigrants as well as advocates are concerned about the possibility of abuse."
Clarke cited figures from former President Barack Obama's  Task Force on Twenty-First Century Policing, which alluded to a Cleveland study that found cops who wore cameras almost 90 percent less likely to use force and received 59 percent fewer complaints than officers who did not. She also highlighted that many undocumented immigrants lack legal representation, and asserted her bill would ensure their fair treatment.
"We need to establish procedures that protect their rights," Clarke said in the statement. "Immigrants and their families are entitled to respect for their humanity and to the full rights guaranteed under the law. With the ICE Body Camera Act of 2017, we will secure their rights."
Mayor Bill de Blasio's plan to equip the entire NYPD patrol force with body cameras won't come to fruition until 2019, five years after he first proposed it, partly due to outstanding labor disputes. However, there are roughly 23,000 rank-and-file cops in New York City, compared with 5,000 ICE officers nationwide—though Trump has called for tripling the latter figure.
Clarke's bill explicitly states that ICE, a division of the U.S. Department of Homeland Security, would have to finance both the cameras and the storage technology out of "funds made available to purchase new weapons for ICE officials."
The agency declined to comment on the legislation.
Clarke belongs to the largely inert House Democratic minority, and so the bill is mostly symbolic—like her proposals to protect New York's status as a "sanctuary city" for undocumented immigrants, and to grant refugee status to thousands of Haitian nationals residing in the country without proper paperwork.