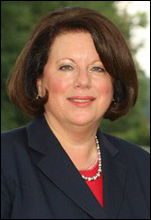 There is nobody in the New Jersey Legislature who has faced as many tough general election contests as Democrat Linda Greenstein. The constant fear of losing has made her into one of the state's most prolific campaigners, with a reputation for showing up at everything – even in the off-year opportunities created by a four-year Senate term.
Now Greenstein faces another tough re-election campaign. Republicans scored a candidate recruitment coup with the announcement that Hamilton Township Councilwoman Ileana Schirmer will challenge Greenstein. If elected, the Cuban-born Schirmer would be the first Republican Latina to serve in the upper house. Greenstein has won this district nine times, usually in a highly competitive environment.
The Mercer-Middlesex 14th district has a large population of public employees – more than any other district in the state – and has elected only Democrats since 2009. It still considered – on paper, at least – a swing district. Before Greenstein won a 2010 special election (replacing Bill Baroni, who had been named Deputy Executive Director of the Port Authority), Republicans had held the Senate seat since 1992.
Democrats have a huge voter registration advantage in District 14: 54,298 to 29,535. But in this district especially, the 69,733 unaffiliated voters are very much a ticket-splitting group.
Senate Republican Leader Tom Kean Jr., who will be leading the charge for the minority, told PolitickerNJ, "Ileana has the ability to connect with voters in a unique and genuine way that will enable her to win in the 14th this year. She has struggled and succeeded as an immigrant from Cuba, as a small businesswoman and in a tough election that made her the first-ever elected Hispanic woman in Mercer County. I expect this to be a tough fight, but ultimately that's where Ileana is most comfortable and I'm confident she'll come out on top this November."
Like his predecessor, Peter Inverso, Baroni had learned to thread the needle in his district. When he ran for the Senate in 2007, he won the endorsements of key labor unions that hardly ever back Republicans: the Communications Workers of America, the New Jersey Education Association, the Mercer County Central Labor Council, and a dozen others. Many of those unions had backed Baroni when he ran for re-election to the Assembly two years earlier.
Baroni would likely have faced considerable political pressures had he remained in the Senate. He had strongly supported same-sex marriage, which might have led to a primary challenge from the right. He had also backed Chris Christie for Governor in 2009, and his ties to many senior Christie administration officials would have likely placed Baroni in a tough bind as Christie sought the support of GOP Senators on issues like pension and benefit reform.
To replace Baroni, Republicans appointed Tom Goodwin, a popular Hamilton Township Councilman. Hamilton is the ultimate swing town in New Jersey elections, and had held the Senate seat since the district was created in 1981. Goodwin had narrowly lost an Assembly bid (running for Baroni's seat in 2007), but he won Hamilton handily. In the 2010 Special Election– a Republican year nationally – Goodwin paid the price for being "Christie's guy," and Greenstein beat him by just over 5000 votes, 53.8% to 46.2%. Goodwin was held to a 369-vote margin in Hamilton.
If the Democrats are hearing any footsteps, they certainly don't seem to be showing much fear. Senate President Steve Sweeney told PolitickerNJ, "Linda is a tried and true candidate who has done a great job. They throw the kitchen sink at her and they haven't been able to beat her. You know, probably the toughest challenge was Senator Inverso the last time around, and she beat him. There was money and there was effort, but Linda, no one is going to outwork her. You know Linda hustles, she works hard. She knows her district."
Any Republican who wins in the 14th does so by running up huge margins in Hamilton and Robbinsville. The Middlesex portion of the district is heavily Democratic – although retiree-heavy Monroe has been steadily shifting from safe Democrat to swing over the last few years – and East Windsor in a Democratic stronghold.
In 2015, Democratic Assemblymen Wayne D'Angelo and Dan Benson, both Hamilton residents, won their hometown by more than 3,000 votes each, and won their seats with more than 60% of the vote.
The 66-year-old Greenstein, a Brooklyn-born lawyer who served as a Plainsboro Councilwoman, was first elected to the Assembly in 1999, when she and Gary Guear ousted a pair of four-term Republican incumbents. She survived a 2001 rematch, and only narrowly held her seat in 2003 – the year Baroni ousted Guear after knocking on thousands of doors.
In 2011, Greenstein held her seat by more than 5,000 votes against Richard Kanka, a former Hamilton school board member who became well-known after the brutal murder of his 7-year-old daughter, Megan, in 1994. Greenstein beat Kanka in Hamilton by almost 1,500 votes.
Schirmer, 49, was appointed to the Council in 2012, when Kelly Yaede gave up her seat to become Mayor, and won a 2013 special election by 1,600 votes. Her margin tightened in 2015, when she was re-elected to the Council by just 503 votes against JoAnne Bruno.
To beat Greenstein, Schirmer will need to win Hamilton by at least 2,000 votes. Four years ago, Republican Peter Inverso sought to regain the Senate seat he held for sixteen years before retiring in 2007. Greenstein beat Inverso in Hamilton by 377 votes, and won the district by just 1,484 votes – the closest Senate race in the state. Christie won Hamilton by more than 7,000 votes that year.
Last year, Hillary Clinton outpolled Donald Trump in Hamilton by more than 2,000 votes. But Republicans have still maintained complete control of local government, despite a series of scandals. GOP Mayor John Bencivengo resigned in 2012 after his conviction on federal bribery charges. Last year, Baroni was convicted in the Bridgegate affair.