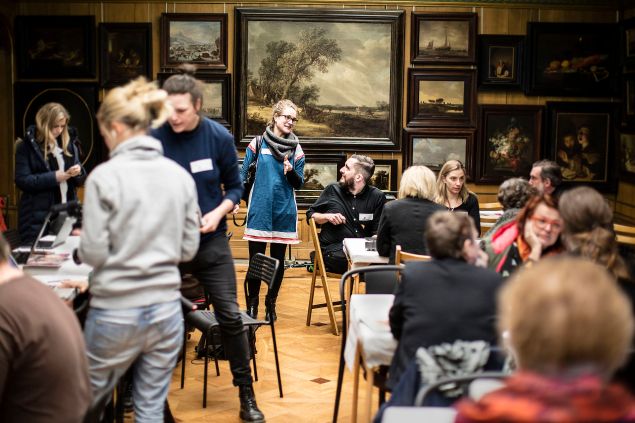 Today is International Women's Day, and also the "Day Without a Woman," a general strike in which women take the day off from work to protest the Trump administration and march for women's rights.
Other groups, however, want to make sure women's contributions to society are recorded on the internet for posterity—so they're focusing on one of the web's largest sources of information and knowledge: Wikipedia.
Only about 15 percent of Wikipedia editors are female, and the average male editor makes twice as many edits as female ones. Thus, the online encyclopedia has fewer and less extensive articles about women and women's issues.
Wikipedia itself is trying to do something about this—in 2015 a group of editors started the project Women in Red, which aims to increase the amount of women's biographies and stories about women's contributions to society on the site. The initiative was inspired by both the color red (which symbolizes International Women's Day) and the fact that when a person mentioned in a Wikipedia article doesn't have an entry themselves, their name appears in red.
Outside groups, however, are also taking matters into their own hands. The most well known is Art+Feminism, a collective of librarians, students, scholars and artists founded in 2014 to "create meaningful changes to the body of knowledge available about feminism and the arts on Wikipedia."
In the past three years, the group has hosted over 5,400 people at over 300 editing sessions on six continents—no experience is necessary to join in. Volunteers have created or edited over 5,800 Wikipedia entries so far—most events occur in March (Women's History Month) due to the group's female focus.
Museums, liberal arts colleges and libraries are all taking part in this year's Art+Feminism effort—in New York City edit-a-thons are taking place at the Fashion Institute of Technology, Museum of Modern Art and Kickstarter HQ, among other locations. (Click here for a list of nationwide events, many of which are occurring this weekend.)
The organizers of Art+Feminism (artists Siân Evans, Jacqueline Mabey, Michael Mandiberg and McKensie Mack) said in a statement that since Wikipedia is "the backbone of the internet," something as simple as a page edit could be an act of protest.
"We believe that feminism is a lens that throws all systems producing inequality into doubt, and a reflective process through which we can work to dismantle interconnected modalities of oppression," the group told the Observer. "Art is fundamental to the creation of thriving, open societies. So, too, are open access educational resources."
Art+Feminism's materials hold Creative Commons licenses, so outside groups can adapt the materials for their own needs.
The group said they were inspired by the edit-a-thons sponsored by and for women in STEM fields on Ada Lovelace Day, which celebrates the pioneering English female mathematician. The date of this year's STEM editing session has not yet been announced.