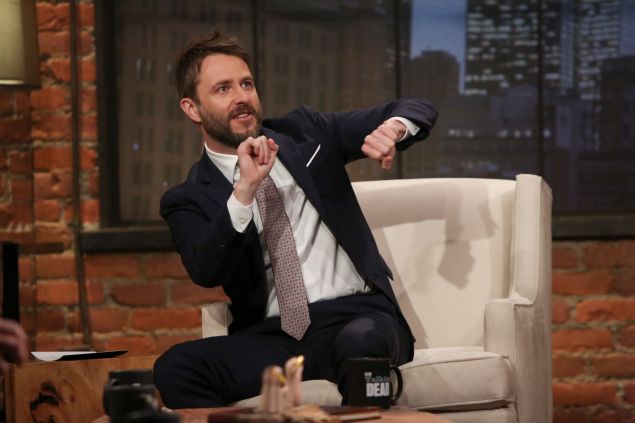 AMC announced today that comedian Chris Hardwick will host Talking Saul immediately following Better Call Saul's season 3 premiere and finale. Since I like my TV coverage to be a safe space, and for no question to be off limits, I posit you this: is it actually possible to enjoy a television series if Chris Hardwick does not discuss it immediately afterward?
It's tough to say.
There are plenty of shows I think I enjoy. For example, I genuinely believe Netflix's Jessica Jones is the perfect blend of comic-book escapist fun and Christopher Nolan style groundedness. But thinking about it now, would it not elevate the experience if every Jessica Jones closing credits faded into Chris Hardwick in a suit and skinny tie being like, "did you just….whaaaaaat?" Just as one more layer to the whole thing, you know?
Or, a more classic example: The Sopranos. Despite its detractors, I find The Sopranos' fade-to-black series finale to be one of the most clever sequences in TV history. But now, I have to wonder how much better it would have been received if, after those ten seconds of black screen, Chris Hardwick was immediately like "can you believe…holy…what is happening??"
I mean, think about it. Remember Mad Men? Of course you don't. Nobody does, because it's the one single AMC show Chris Hardwick did not talk about. We can pretty much discard the entire season of The Walking Dead as an incoherent mistake because Talking Dead didn't premiere until season 2. Can you imagine getting through an entire year of such a death-heavy show without Chris Hardwick asking the actor whose skull you just watched get caved in by a baseball bat, "wow, will you miss the cast?"
Talking Bad, Talking Dead: Fear The Walking Dead, Talking Preacher, Talking Saul, all so vital to the viewing experience. All so important, it doesn't matter that their names don't make sense as puns. It doesn't matter that their titles should actually be, in order, Speaking Bad, Hear the Talking Dead, Preachin' 'Bout Preacher and Open Mic Ehrmantraut hosted by Jonathan Banks.
I like Chris Hardwick. Nerdist is great, both podcast and site. I'm glad AMC is giving him a show literally just titled Talking, so I can finally begin to understand things outside of scripted AMC shows (fingers crossed he does an episode on math). I even enjoy @midnight. But would I perhaps enjoy it substantially more if it was followed by a show called T@lking Midnight, in which Chris Hardwick discussed the jokes he himself just made not five minutes prior? I think, at this juncture, the answer is unequivocally "yes."