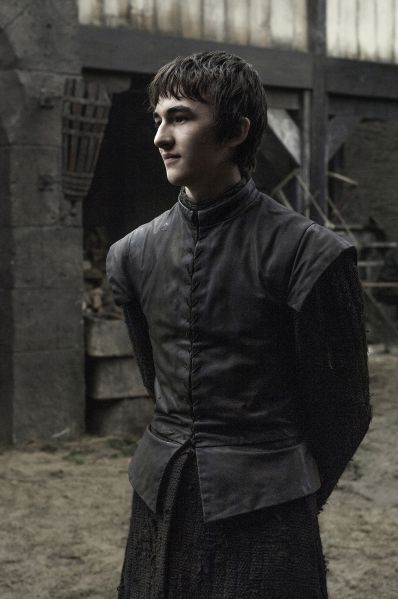 It's an odd thing to see Isaac Hempstead Wright–only 12-years-old in Game of Thrones' first episode, and a paraplegic for the next 59–standing on his own two feet, a head taller than the protective glass between Madison Square Garden's lower levels. The actor, now 17, is watching a veritable army of stagehands construct the stage for that night's Game of Thrones Live Concert Experience, from series composer Ramin Djawadi. "I've never been to Madison Square Garden," Hempstead Wright says. "It's quite big, isn't it?"
An understatement, yes, but also perhaps the only way to describe both New York's largest arena and Thrones itself. The fantasy series, on which Hempstead Wright plays the time-hopping Bran Stark, began as George RR Martin's critically acclaimed but little-known book saga A Song of Ice and Fire, morphed into an ambitious HBO series from showrunners David Benioff and Dan Weiss, and over six seasons has grown into a pop-culture phenomenon that warrants a multi-city tour to showcase the soundtrack alone. Later, the Iron Throne will emerge from beneath a stage, dragon-fire will burst from the ceiling and both the Red Wedding and the Battle of the Bastards will play out on a screen as wide as Winterfell.
But for now, Hempstead Wright is perfectly in awe of crew members screwing lightbulbs into crown-shaped displays. "I saw all the concepts of this on a computer screen about 6 months ago," he says, still turned to face the arena floor. "And now it's here. Like, actually here, and exactly how it was planned on the blueprints. It's…it's amazing."
Of course, prying info regarding Game of Thrones' delayed, shortened but no less anticipated seventh season from the cast and crew is like climbing The Wall without a harness. But Hempstead Wright, as enthusiastic as any online forum member, is more than willing to discuss the next best thing to details: fan theories. Or, in this case, Bran theories. "Oh, I just read this really neat one," he enthuses.
"So, it was like Bran comes through The Wall, right? And he's still got the Night's King mark on his arm, and the theory is if he goes through The Wall with that on his arm it would break the spell. And then, at the same time, he's in a vision with the Mad King Aerys, who is not yet the Mad King. And all the Wight's are climbing over the Wall and getting through, and Coldhands is shouting 'Burn the Wall! Burn the Wall!' And just like the Hodor thing, for Aerys it turns into 'Burn them all. Burn them all,' and that drives him mad."
The actor shakes his head. "I just think that would be so cool."
The "Hodor thing," of course, refers to the season 6 episode "The Door," which featured a tragic half death scene, half origin story for Kristian Nairn's Hodor that ruined elevator politeness forever. "When I read that scene, I was like 'No, no, he'll be back next episode," Hempstead Wright remembers. "Then that turned into 'Oh no, they actually did it. They've gone and killed Hodor.'"
"It was an epic shoot, shot in two parts because half of it is inside the cave," he continued. "It was quite funny, because the half that was inside I was asleep, Warging through all of it. So I was really relaxed. There was all this chaos, there were zombies coming through, and I was literally asleep at one point in my little buggy. And the director was like 'okay, cut!' And I was 'What? Oh, we shot something?'"