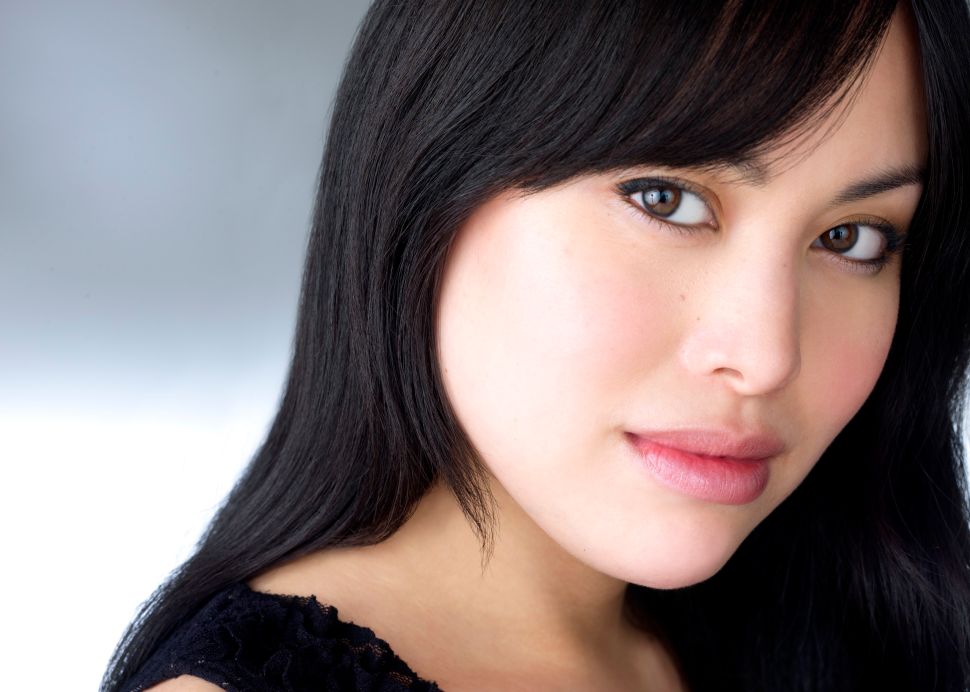 If you have ever spotted a beautiful pale brunette cruising through New York City on an orange bicycle, with a red-haired Shih Tzu in the front basket—despite it being thirty degrees in the middle of winter—then you've probably seen Ivory Aquino.
The proudly transgender Filipina actress from ABC Mini-Series When We Rise says that she rarely takes the subway and much prefers to ride her bike—which she calls Harley (she confesses that she tends to name inanimate objects she values)—all year round along with her pup Chewybear. With a ring of excitement her voice, she tells the Observer, "Harley, I and Chewybear have become inseparable. Sometimes I'm with Chewy. Sometimes I'm with Harley. But I'm happiest with both of them just exploring New York City."
But aside from rides through the park with her two favorites, Aquino finds joy in spreading positivity and encouragement to the trans community. After recently coming out to the public as a trans woman herself, she speaks with us not only about her life and the show, but about her dreams for the trans community.
Observer: Who is Ms. Ivory Aquino?
Ivory Aquino: If you would ask me to describe myself in one word, I would say "dreamer." In the beginning, you want to please other people, including your family because you love them. But that will only get you so far because you're denying who you are when you just acquiesce to what people tell you that you are. But despite all that, when I was by myself before I drift off to sleep, I did have dreams and that just ignited my imagination. That got me excited to wake up the next day and do things that I enjoy, such as acting.
"I saw [Cecilia Chung] in action. I saw how fiery she was, how passionate she was, but at the same time how loving she was and how her fire was driven by her heart"
What was it about the character of Cecilia Chung that attracted you to the role?
I first saw the role on paper. It pretty much said "Chinese-American transgender woman." First of all, I have never played a transgender character and this was something I was looking forward to. I was looking forward to playing a transgender character who I feel was three-dimensional, and who I feel would have a positive representation of the community. When I saw that she was based on a real person, that she was based on Cecilia, that she was an activist, that sort of checked those boxes. In addition to that, I play her from her teens to her mid-forties, and that is one of my acting dreams: to be able to portray somebody and really have an arc for that person. That was my first introduction to Cecilia. It was on paper, but I immediately resonated with her.
Did you have the chance to meet her?
I fell in love with her when I met her in person! She and I had dinner and that was supposed to be it, but we pretty much fell in love with each other. At the end of dinner, she invited me to shadow her the next day while she was doing some work stuff. It happened to be a conference on transgender women and HIV, so I really was immersed in her work. I saw her in action. I saw how fiery she was, how passionate she was, but at the same time how loving she was and how her fire was driven by her heart. Up to this day, we're in touch. I just think of her and my heart lights up. It really ignites something in me in terms of wanting to contribute to the community.
How did it feel to play a trans role for the very first time?
I must admit I did feel this heavy responsibility. A big part of that is the fact that When We Rise is now on primetime broadcast network television. I had requests for interviews a couple of months ago for a documentary. When I initially got that request, I had to think about it because I am a very private person. I have enjoyed a private life with Chewybear and my friends in New York, and riding Harley around the city. I knew that by doing something like that, I would be sharing myself not just as Cecilia in the series, but pretty much speaking as myself, as Ivory.
What convinced you?
I realized that many people, especially those who watch network television, may not have been exposed to that many trans people. I saw that it was not only an opportunity, but a responsibility to show them that we are just like anyone else. There really is not much difference between them and us. That's why the most important word of the title When We Rise is the "We" part.  "We" really are not all that different.
As a trans woman and an immigrant, what then can you say about living in this current political climate in the US?
I'm more of a "glass half full" person than a "glass half empty" person. So to not recognize the strides we made as a community would be to not acknowledge our sisters and brothers that have fought for rights we have now that were not there before. If I look back at where the movement was, from when the series starts in the 1970s to where we are now, I see progress. And that's proof that progress can still be made from where we are now. I think that we can progress as long as we have our vision of what we desire for the community.
"I'd like to focus on sending trans kids love. Love them with more vigor. Love them with more passion. Love them with more tenderness and really hold that vision for them"
What can you do for now?
I'd like to focus on sending trans kids love. Love them with more vigor. Love them with more passion. Love them with more tenderness and really hold that vision for them. One day, hopefully sooner rather than later, they will be able to access public places as freely as cisgender kids. Not being able to do so sends the message that they are not as free to exist in public space as other kids. And, in essence, doing that may even say that they don't even have the right to exist. That's not the case. These are beautiful kids who I don't want to say need our support. They deserve it. They deserve our support.    
How do you feel now that Congresswoman Geraldine Roman is close to having an anti-discrimination bill passed in the Philippines?
That's what I mean when I say that when you have people who are dreamers who focus on the vision and focus on what can be accomplished, then there's no really no alternative but to move forward and to progress. Congresswoman Roman is an example of that, and she is an inspiration. Kids can look up to her and say, "It's possible."
What is your hope for the future of trans people everywhere?
My hope is simple. It's equal rights for everybody. Something as elementary as not allowing a kid in school to access a public bathroom—that hinders their education. The most important thing at this stage of their lives is giving them an equal shot as a cisgender kid who doesn't need to worry about these things. Cisgender kids get to focus on learning and bettering themselves. That's what I want for trans kids, that's what I desire for the community. Give the community an equal shot.
What's next for Ms. Ivory Aquino?
I'm just going to keep following my bliss and my joy and trust that it will lead me to where I'm supposed to be. And I'm excited not just for myself, but for all trans talent. I believe in the community so much, and there is just so much talent out there. I'm looking forward to producers and filmmakers casting trans talent purely based on their abilities. I'm excited to see what's ahead.
Catch the documentary featuring Ivory on Thursday at 8PM, an hour before Parts IV and V of When We Rise on ABC.