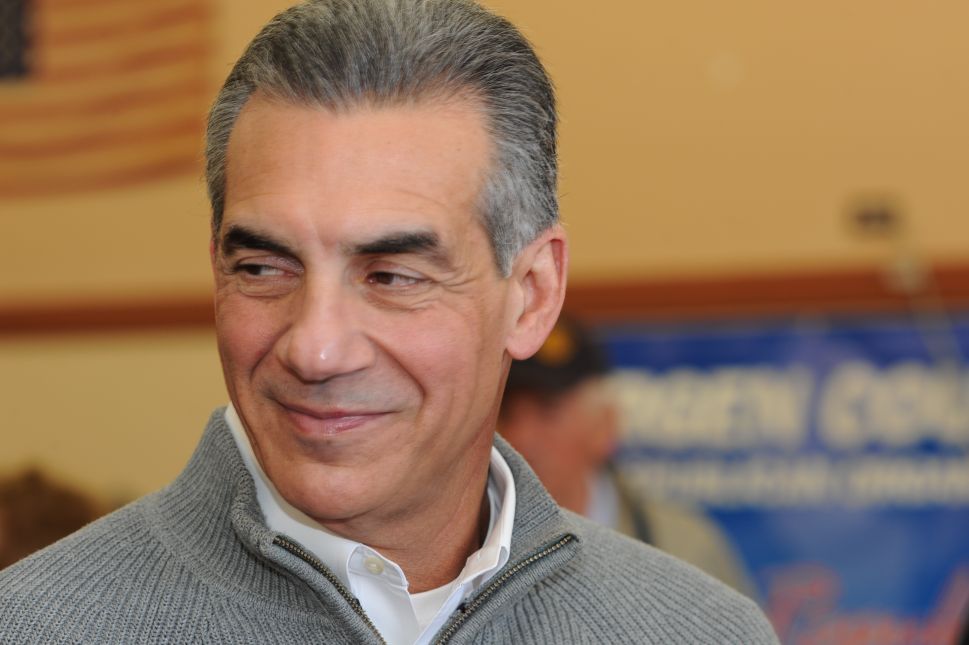 The Essex County GOP has endorsed Jack Ciattarelli for governor this afternoon, earning him another line in a populous county. This comes on the heels of Kim Guadagno's dominating win in Bergen last night.
It's been a back-and-forth week in a race that is quickly boiling down to two contenders, the assemblyman from Somerset and the lieutenant governor from Monmouth. While the lieutenant governor took Monmouth, Gloucester and Cumberland, Ciattarelli grabbed wins in Mercer and Union, plus a recommendation in Middlesex.
The Essex vote took place this week after all the candidates trekked up to party headquarters in Cedar Grove to speak to the executive committee on February 28. (The Executive Committee consists of the town's municipal chairs, state committee, finance leaders, party counsel, chairman and vice chairman.)
Essex County GOP Chairman Al Barlas told PolitickerNJ, "All made speeches and took Q&A. A roll-call vote was then conducted and whoever got majority was winner. In this case, it wasn't even close. As my own standing practice, I did not cast a vote…unless there is a tie, I never vote."
"Earning the endorsement of Chairman Barlas and the Essex County Republicans continues what has been an exciting and successful week for our campaign as momentum continues to grow up and down the state," Ciattarelli said. "I am grateful and humbled by their confidence in me and my candidacy."
A source told PolitickerNJ that Guadagno received three votes and that the candidates also took questions from the committee, mostly focused on public policy and party building. Barlas told PolitickerNJ, "Jack's statement that he is committed to doing a fundraiser in each county as governor for the county party every year, and that state committee will be raising money to fund local campaigns really struck a chord for our folks in a county like ours."
By "county like ours," the chairman is referring to the fact that Essex is dominated by Democrats to a degree that makes it easy for Republicans to overlook when searching for votes or dollars. While Essex is routinely ignored by Republican candidates in statewide general elections, New Jersey's third-most populous county can actually notch some decent tallies in a primary.
According to one GOP strategist who was reluctant to be quoted showing even a passing interest in Essex, "Actually, little known fact, [Essex] has a bigger share of the GOP primary vote than Atlantic, Camden, Cape, Cumberland, Gloucester, Hudson, Mercer, Salem or Warren, and about the same as Sussex and Union."
The numbers bear that out. There are about 50,000 registered GOP voters in Essex County—approximately 4 percent of the statewide GOP. In 2009, the last contested governor primary, 12,000 GOP votes were cast—about 4 percent of the state total. That shrank to 7,500 votes in 2013 (3.5 percent), not unexpected in an uncontested primary. 
The news that there are—ack!—Republicans in Essex has not been greeted warmly throughout the indigo blue county. The Village Green, a hyperlocal website that covers South Orange and Maplewood, ran a lengthy story about a group called "Right of Center," which detailed the way right-wingers have been shunned and in some cases literally boycotted in those leafy twin communities, where Clinton outpolled Trump 8-1 and 9-1.
"Our party and our state need to move in an entirely new direction," Cedar Grove Mayor Peter Tanella said in a statement. "Jack Ciattarelli's success in both the private and public sector makes him the rare candidate who understands government, while still being able to attack problems as an outsider."