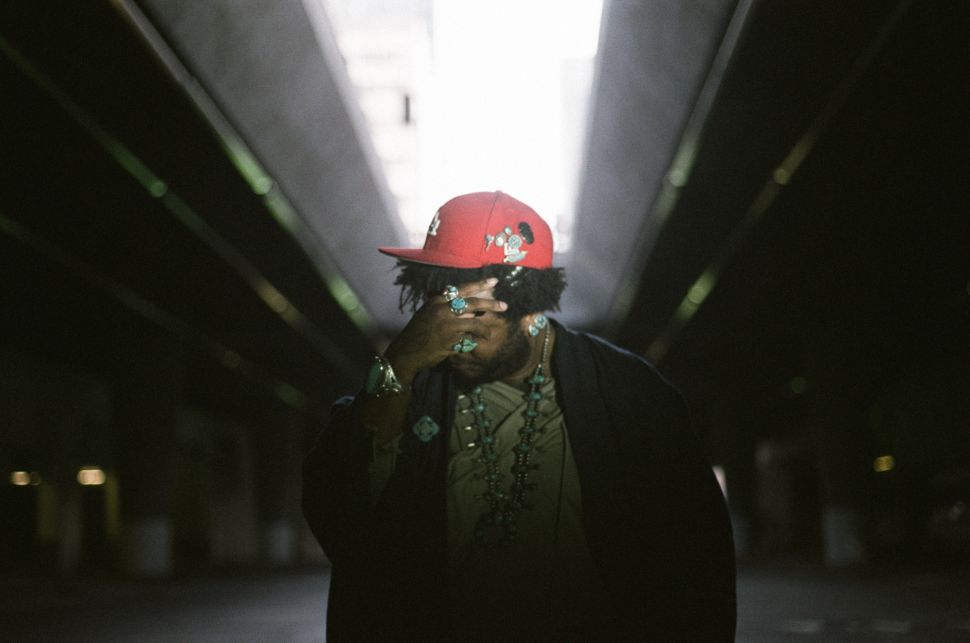 The wise man often acts a fool, fully aware that fucking with people can lead to great epiphany.
This conscious interplay has long underscored the work of Stephen Bruner, better known as Thundercat, and his ability to simultaneously sound goofy and playful while blowing minds with his profound and virtuosic bass fretwork—resting somewhere between fusion and space jazz, if only as a portal to other rabbit holes.
Thundercat's music is a space where two truths exist. The first truth, that Thundercat is one of the funniest, most fearless and realest artists in the game right now, facing a robot Hannibal Buress in a "bass off" on the Eric Andre Show and releasing singles through Adult Swim, cuts to the blissfully goofy, nerdy id at the core of his well-documented love of cartoons (if his chosen stage name didn't wise you up to that already.)
"I'll tell a bad joke, I don't give a shit! What else do we have? I'm not supposed to fart in front of you?"—Thundercat
But it also allows for the second truth, that Thundercat is onto some deep shit, to arrive with all the rush of a dope slap to the back of the head. Thunder's years growing up with other greats like Kamasi Washington, Terrace Martin and his brother Ronald Jr. (a nasty drummer in his own right) fortified him with something of an enfant terrible status amongst his crew.
This couldn't have been more evident when I saw him perform last December at Houston's wonderful Day For Night festival. After his opening invocation on day one and before Washington's set on the last night, Thundercat could be spotted slipping into the ether of the crowd, just digging the music and art with the rest of us. And the smile on his face while sitting in and ripping solos with Washington's band on the closing evening wasn't just infectious, it was a revelation. Any man who can grin in the face of such daunting sonic complexities must be onto something.
Last week Thundercat released his third LP, Drunk, on Flying Lotus' Brainfeeder label. Like his work with Lotus, the 23-track collection clips along at a madman's pace, catapulting your ears into the aforementioned rabbit hole wherein Thundercat laments technology's role in the death of mystery, gets cockblocked by video games, brings on Kenny Loggins and Michael McDonald for a track about enlightenment, blows all his cash on anime in Tokyo, loses his wallet and phone before realizing he'll be fine without them, and beats off to fall asleep.
"The truth is, I always feel things are on a wheel. There's the part where you assimilate into the world and there's the part where the world's supposed to assimilate into you."
Past collaborators like Wiz Khalifa, Flying Lotus and Kendrick Lamar make appearances, the latter dropping an unsurprisingly pummeling verse on "Walk on By" about his concerns that a cousin's release from prison will reignite a gang war. It's an intimate exploration of black-on-black conflict, expanding on the themes in Lamar's "Complexion (A Zulu Love)," which Thundercat co-wrote, played bass on and sometimes works into his live repertoire.
Despite the tremendous presence of talent, Drunk is still Thundercat's trip.
A document of self-imposed chaos, of making yourself vulnerable and descending into madness to find your strengths, Drunk tickles the back of the brain with equal doses of absurdity and spiritual resolve. It's a tradition unto itself—wise men are often prone to self-induced insanity, going all the way back to the oracles of ancient Greece, living in caves on the outskirts of town, inhaling the natural gasses from the rocks to facilitate visions.
Thundercat and I spoke recently about our collective state of spiritual crisis, Birkenstocks, his conscious dichotomy between the sacred and the profane, and why a real woman will fart in front of you.
[youtube https://www.youtube.com/watch?v=GNCd_ERZvZM]
What's up, Thunder?
I got some Birkenstocks, man, I'm fuckin' Lebowskied out!
It's so funny how American hippies co-opted this German fashion.
Very ironic.
Well as long as you're not collaborating with The Eagles we'll be set.
No Axis of Evil bullshit.
I met Terrace Martin last summer at Montreal Jazz Fest, and he gave me some real history and perspective. He told me this great story about you and him and your brother and Kamasi riding around in Kamasi's car to this gig. Do you remember that?
[Laughs] Yeah, that's funny he told you about that! I remember me and Ronald arguing over something in his car and Kamasi losing his shit. That's the one time in life that Kamasi's ever lost his shit!
"Everybody's looking for this one moment to be the answer to the bullshit, but it's like, when were black people not having a hard time? Now you can just see it in HD."
Were those years the genesis of your cross-genre love?
We've always been in that place musically, it's just people are paying attention to it now. It's like, "Cool!" And 20,000 years later I'll still be doing the same thing. [Laughs] I don't wanna call it a roundabout, but it all feels in and around, you know? Music's never changed or left, tastes have changed.
For sure, but you've always done your own thing in balancing out absurdity and seriousness. I think that comes through really strongly on this record. Do you think of this as a spiritual record in any sense of the word? Is prayer passive?
Wow, that's a very interesting question, man. Prayer is not passive. It takes a big man to pray, and to admit that he prays. It's one of those things where, if you can take it serious…you're not supposed to have any fuckin' perspective, literally. If you say you believe in God, you may get hit with a rock. Just in broad daylight [laughs]. Someone may crash into your car if you have a bumper sticker that says "Believe, pray love!" All of that is fuckin' insane. They took "In God We Trust" out of the Pledge of Allegiance. We should've taken the rest of the pledge out! I don't think it's corny to pray at all.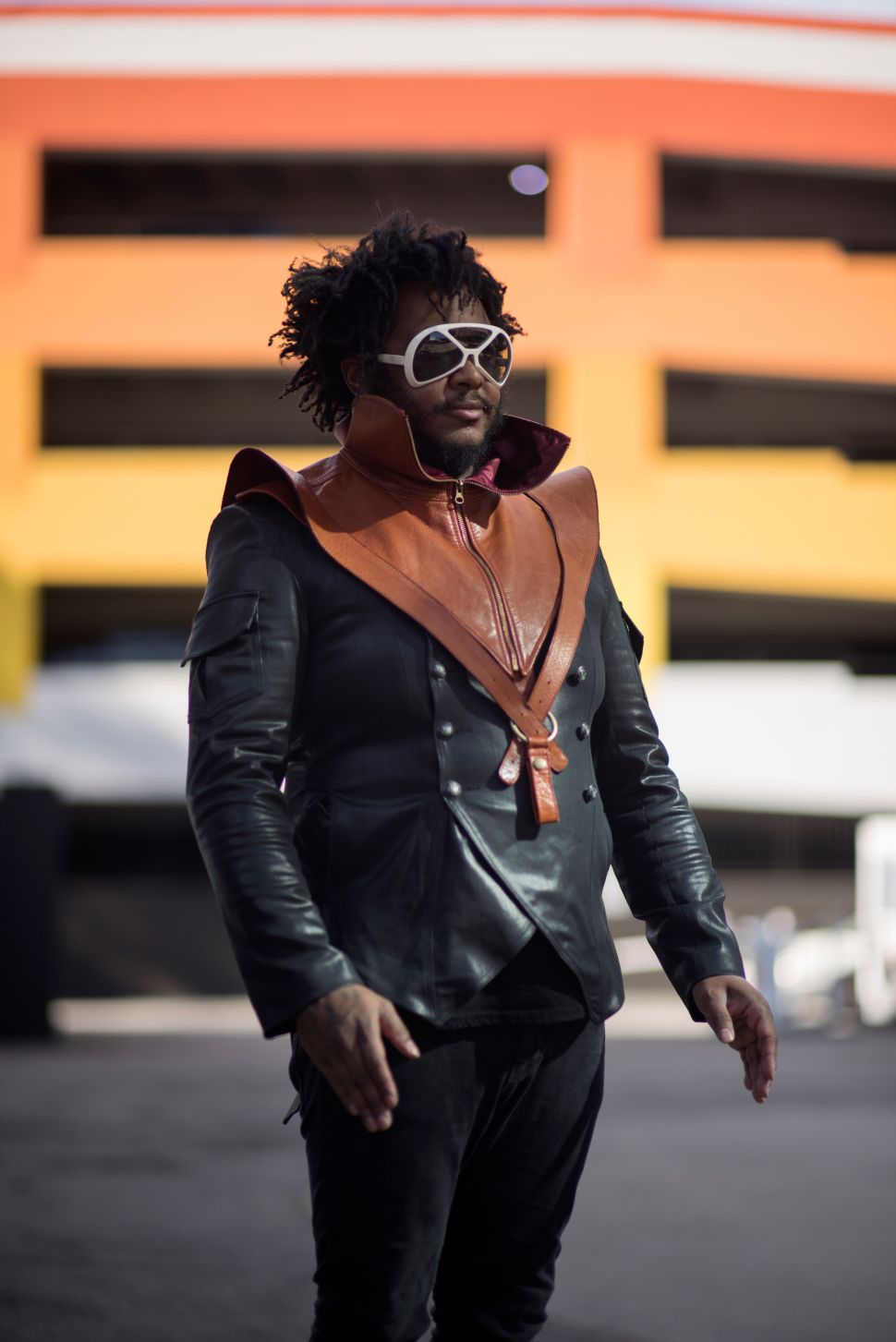 It's been said that we're having a spiritual crisis as a people right now.
Exactly! We're being torn apart and people don't realize it. Our spirits are definitely being broken, but at the same time, we've been trained to let go from the pillars of what this society was built off of. And we've been stripped naked a bit, you know, but the truth is I always feel things are on a wheel. There's the part where you assimilate into the world and there's the part where the world's supposed to assimilate into you.
That goes into the idea of spheres that a lot of the space jazz was all about, Sun Ra style. Our life is moving in circles, and the world's moving in circles, so everything's a bunch of circles turning that maybe Venn Diagram a little bit and intersect.
Yeah! We're not the first humans to experience none of this, you know? Truth is, everyone is individual and everyone experiences their own experience. However, with that there's so much more. Everybody's looking for this one moment to be the answer to the bullshit, but it's like, when were black people not having a hard time? Now you can just see it in HD.
It sounds like your music puts us all on this equal plane to nurture a collective consciousness, including black identity but also welcoming to human identity too.
Yeah, man! The truth is, the human experience is really contrived, or it can be contrived, and sometimes there are things that can alter the state of it by being rich or at the top of the totem pole. But nonetheless, you're still gonna die the way a human dies—you're still gonna shit on yourself and die, that being the actual constant more than anything.
One day you're gonna wanna have sex, you're gonna wanna play video games. And one day you're gonna like tomatoes, then you're gonna turn 20 and not like tomatoes. It's the weirdest shit to actually compare to what we actually experience as humans. I just think that people lack compassion about that.
[youtube https://www.youtube.com/watch?v=62EmHhZSjEI&w=560&h=315]
The fact that we all shit ourselves when we die is one of the most profound lessons I took from South Park. There's something wise hidden in the vulgar or the profane realities we leave out of life, and that seems to be something you don't shy away from as an artist. Taking the sacred and the profane in equal measure. Maybe being goofy or weird sometimes is a good way to get the devotion into people's ears. Is that something you're conscious of?
Always. I've paid attention to guys growin' up like Richard Pryor or Paul Mooney. The message that they were sending with what they did was so much bigger than them.
Richard Pryor made the black struggle everybody's struggle, you know? Not everybody's struggle in the sense that we're all black, but he let the world know it was O.K. that things were terrible. Some people look at Richard Pryor as an activist. He was like, "Fuck that! I'm not gonna not say this shit is bullshit!" And the importance of that is therapeutic. Everything can be as heavy as a fuckin' hammer or as light as a feather when you're dealing with the weird woes of everyday life, but laughing will always bring you back to the place where you're human, I think.
I'll tell a bad joke, I don't give a shit! What else do we have? I'm not supposed to fart in front of you? That's the one thing that's the deciding factor over whether or not we have a conversation or how far we go in life? You can't relate to me and you're gonna go off and fart? And your reasoning's gonna be like, "Oh, well I farted away!" Fuck you! Hippos throw shit on each other! You can't stand to be around another human that much, to where you can't burp or fart? You can't relate?
A woman you can fart in front of is a real woman.
That's real shit, man! If you can fart in front of somebody, you know that they love you.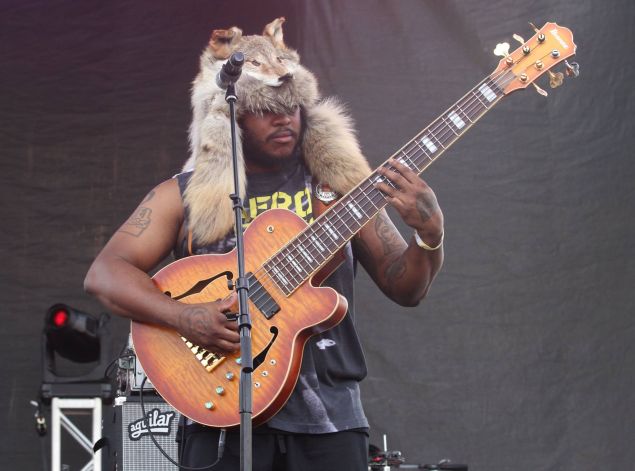 How do you go back and forth between feeling like the fool and feeling like the wise man?
You drink a lot. [Laughs] You tend to drink a lot.
We saw you walking around at Day For Night just digging the sets and the art and stuff, I think everyone there remembers it was a special weekend. But how do you live in the ether like that, how do you stay a fan and enjoy the festival but get in the mindset where you're geeking out jamming with Kamasi onstage?
Honestly, it's a train of thought. This is one of those things that all my friends and my older brother get weirded out about with me—I don't get excited very easily by things. I used to ask my dad, "What's gonna keep me excited about this when all people are gonna do is take?" The truth is, you have the purpose in your heart to give with it. You have to look at it like it's not yours in the first place. I feel like it deals a bit of reality, to where you'll always be with somebody as compared to outside of them.
The thing that keeps me excited about playing with guys like Kamasi is, that guy remembers when I was fuckin' two years old. Terrace told you the story about the car, well, we lived that life together. Kamasi and I grew together.
I remember when he went to UCLA. I remember every girlfriend Kamasi's ever had. I remember the days when he would pick my brother's drums up, put my amp in the car, we'd go play a gig then watch cartoons and eat burritos. We've lived life together—that's what keeps me excited about working with my friends like that.
And the funny thing is, life takes precedent over the music to me. The music was a communication piece between us, but my dad used to play with Kamasi's dad, you know? My life is interweaved in that. Because of that, I wear it like that. I refuse to get damaged by the business of what this is, the scariness of what you're looking for in the music industry. Everybody tryin'a get a one up and all these things, I look at it like, "Nah, man, come over to the house! Sit down for a second."
"[T]he difference between giving and taking is so staunch that a lot of the time you can't get tripped out by someone's expectation."
There's this idea that to even be able to coexist in public and make music with your friends at this scale you need to create your own system, your own independent infrastructure outside of that ownership. An independent branch of cultural thought and expression that isn't owned by other moneyed interests.
Absolutely.
Well Flylo totally does that with Brainfeeder, and we can hear all your time cutting with him on this record too. The arrangements are a lot more compact and the songs are shorter. I call it DMT jazz—a quick trip that pulls you into a vortex really quickly like film scenes. Maybe we need that level of close collaboration with someone to be able to borrow their gifts and their unique contributions without ego getting in the way. How do you let someone new into that tribe?
You gravitate towards who you gravitate towards. How you let someone in is, you have to let them know they're O.K. I've always tried to be a person who gives with what I do, but the difference between giving and taking is so staunch that a lot of the time you can't get tripped out by someone's expectation.
I think about these things, and it's all part of the machine of what we're accustomed to as "the business." But at the same time, within the business you're still an artist and you have to follow your heart on what you're dealing with. Sometimes you give an immediate answer to how you feel about stuff. Sometimes you can see yourself in a position or place. Sometimes you can't, sometimes it takes a little bit more work. Nonetheless, you're not wrong for how you feel.
[youtube https://www.youtube.com/watch?v=wV8HYokDWeE]
Do you really think playing Diablo has put you in the friend zone? I'm sorry to make you spell it out.
[Laughs] You should try it, you should play Diablo.
I've been there baby, Diablo II.
That's the shit! I'm ready for the next one, I'm ready to socially withdraw. [Laughs] But do I really think that Diablo will put you in the friend zone? Absolutely.
Feel weird by eating, beating the meat and passing out.
Yeah, you make up for it by beating the living shit out of your dick until you're partially blind. You don't know what the fuck is going on.
It's almost a part of the American story that if we're not born into class or privilege, we almost have to go insane first to find success or clarity. I feel like this record's about madness a lot. Even what Kendrick's talking about on "Swimming Pools" kinda, immersing yourself in your own shit.
Absolutely, I'm happy you can see that's what this is. It's chaos.
So we know there's a comedown, but does Thundercat make it out of the rabbit hole by the end?
Oh man, I would like to think so. [Laughs] What is it…"on the edge of dark there's the brightest light." I definitely like to think that there's light at the end of this.
[youtube https://www.youtube.com/watch?v=QHNkYU-gxj8]
Kamasi's set with you at Day For Night was so much funkier than the other times I've seen him. Do you think some of your sonic weird is working its way into his next project?
I'd love to be involved, you know, Kamasi's a busy man! [Laughs] I think, even for him, to see me sing is a weird thing. He would call me Snoopy when I was a kid, because he would impart information to me and it was like dumping it into a landfill. He'd say, "Stephen, you with me?" and I was like, "Huh?" So it was kind of a thing when I was growing up, my brother and everyone said I was kind of like Snoopy. But at the same time, I was very attentive to his music and who he is.
Kamasi's growing and changing with every album, so I don't know what's next. But I'll be there. I'll always be there with him in spirit. The part that everybody doesn't realize is, there's several albums that Kamasi has of us playing! It's almost like The Epic was like, "Fuck everything else you did!" But he's got several albums.
I haven't heard anything of his this funky.
The world that we come from is live, so I've always preferred for people to have to see it. I feel like Kamasi's music is multi-faceted, so even with the changes and the way it came about, it's all a part of it. I've always wanted to be funky.
"Lotus and the Jondy" is one of the funkiest songs of all time. And that drum solo…
Ah, man, thank you. Every time I think about that drum solo I can see Thomas Pridgen, slightly laughing, rolling a blunt.
Thundercat plays Irving Plaza on Friday, March 3. The show is currently sold out.