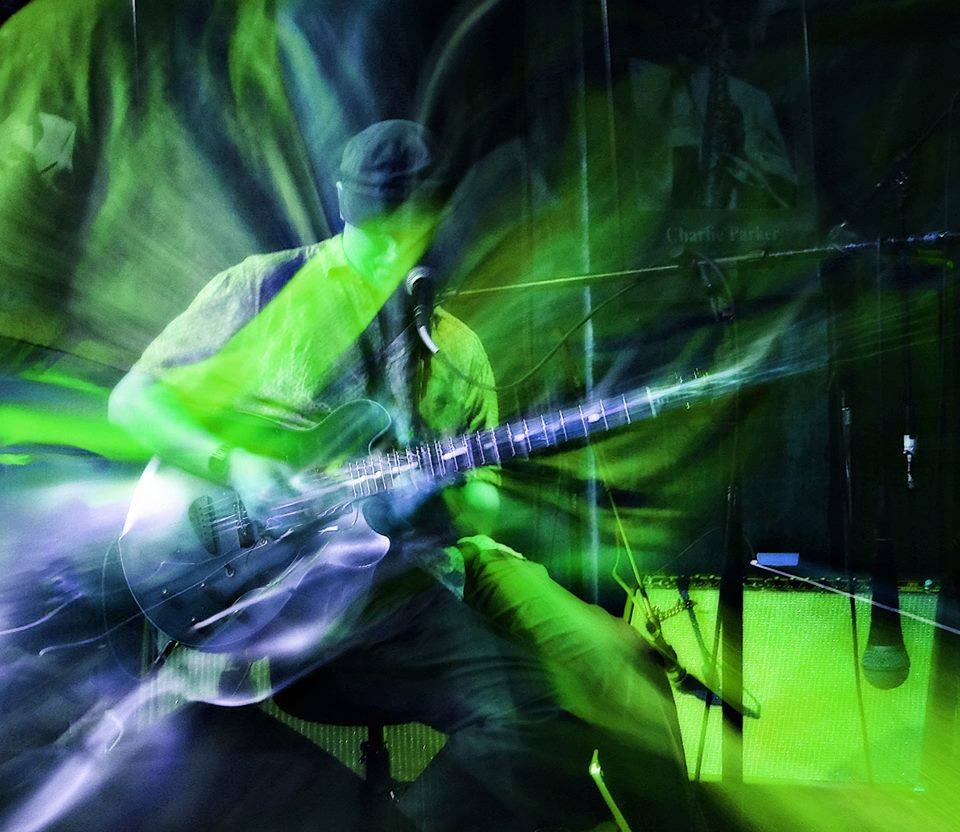 Kurt Rosenwinkel has been one of the most important jazz guitarists in the game for the last quarter-century.
In addition to the acclaim he's enjoyed from the jazz universe for his impressive work as a band leader, the Philadelphia-born guitarist has also established himself not only in the world of jazz (working with the likes of Gary Burton, Joe Henderson and Paul Motian) but hip-hop as well.
On a string of incredibly underrated solo albums released by Q-Tip of A Tribe Called Quest—2008's The Renaissance, 2009's Kamaal The Abstract and the still-unreleased "lost" LP Open—Rosenwinkel has made himself known as one of the most in-demand session players around today.
This month, Rosenwinkel—now a resident of East Berlin, Germany, and an esteemed professor at the Jazz Institute—turns a new page in his career, stepping out from his role as an instrumentalist extraordinaire to debut his first album as a singer-songwriter, Caipi.
The first title released on the guitarist's new label Heartcore Records (named after his landmark 2003 LP for Verve), Caipi is a work 10 years in the making that intersects Rosenwinkel's love for Brazilian pop and classic rock with a wide array of guests that speak directly to his creative intentions for this collection.
As a singer, the 46-year-old father of two has a fine set of pipes that nod to the likes of Kenny Rankin and Paul Simon, and showcases his range justly on tracks like the Radiohead-esque "Hold On' and the touching "Ezra," a ballad dedicated to his youngest son. Additional vocals were provided by singer Amanda Brecker, the daughter of jazz royalty Eliane Elias and Randy Brecker, who sings in Portuguese on the song "Kama," as well as multidimensional Brazilian singer Pedro Martins, whose own debut is being produced by Rosenwinkel as we speak in London.
Longtime associate Mark Turner joins the fold on tenor sax throughout the course of Caipi as well. Yet the biggest get for this record was the recruitment of Eric Clapton. An avowed Rosenwinkel fan who first jammed with him at the 2013 Crossroads Festival, Clapton joins Rosenwinkel for the Caipi highlight "Little Dream," a song that ties together everything that makes this album one of the year's best jazz releases so far.
Rosenwinkel will be returning to the States for a brief tour to debut the amazing live band he's assembled to bring Caipi to life, including a five-night stand at Birdland on March 15.
The Observer recently caught up with the guitarist to discuss this intriguing new direction in an already well-established career as one of modern jazz's most versatile string men.
[youtube https://www.youtube.com/watch?v=ojOsGR-JvyE&w=560&h=315]
What inspired you to take a vocal turn on Caipi?
A great song can be a vehicle for emotions or a way to store emotions and experiences. I just love songs, you know? I've always loved classic rock music and popular music like Michael Jackson and The Beatles and Led Zeppelin and The Kinks and The Who and punk rock and '80s music. I've always been writing songs, and I love the standard songwriting structure. Songwriting is a huge part of music, and as much as I love the long form of creating music through improvisation, the ability to just sit down and write a song is a very special thing for me.
The Brazilian vibe on the album is undeniable. What propelled you to take this direction for the new album?
To be honest with you, man, I don't know. It just sorta started to come through me. I definitely have been inspired by the music of Milton Nascimento, and his music definitely became part of my soundtrack and my internal tapestry. I also have been down to Brazil and had some pretty magical times there, so I think these impressions were made and then this music started coming out.
I don't try to control what songs come through me; they just appear. I might sit down at a piano and have it in my mind to write a ballad, but then an hour later it's a rock song. I can't really control it. I'll just sit down and it's like, boom, there's a song. Plus, I've always loved bossa nova and playing jazz tunes in a bossa rhythm. So these songs for Caipi just started to appear, and created a genre inside my own musical world as more of them started to show up and I realized it was an actual body of work.
Given that you have two children, I was also wondering if the bossa nova vibe perhaps stemmed from playing that kind of music around the house. As the father of a young son myself, I always find that Brazilian music has something of a calming effect on kids.
Well, these days the kids are listening to Eminem and gangsta rap now that they're a little older [laughs]. But they've always loved music, and I wrote those songs for them ("Ezra" and "Little B" for his other son Silas) when they were really, really young and they've been like, "Daddy, when are you going to finish this album? I've been hearing these songs all my life!"
And I'm like, "Patience, son, you'll see."
But it was amazing to see them witness the full culmination of finishing this long project. It's great to see them take such an interest in it and ask me all sorts of questions about how the "CD releasing" is going. It's really cool to show him that aspect of doing things.
[youtube https://www.youtube.com/watch?v=w2l08t88LH8&w=560&h=315]
Well, given they are hip-hop fans, are they aware of their dad's past as a renowned hip-hop collaborator?
[Laughs] Yeah, they know, they know.
What was it like for you working with Q-Tip in the 2000s for not only his albums but your own Heartcore LP from 2003?
Q-Tip is one of the deepest cats I ever met. Musically, he is surreal, brilliant and possesses a deep musical genius and I feel so lucky to have been able to make music with him so in depth for so long. I'm truly grateful for that. Plus, he's such a wealth of knowledge; he knows everything about music, man.
I'd love to hear about how you and Clapton got together; his cameo on "Little Dream" is truly a wonderful surprise.
We became friends around 2012, and he asked me to play at his Crossroads Festival, which was an amazing experience. He played with my band during that festival, actually. And Allan Holdsworth was also my guest during that performance, who has always been one of my heroes. So to be on stage with both of those guys together was just an awesome experience.
But Clapton and I have kept in touch through the years, and he's been a big supporter of Caipi as it's been developing and has shown a great interest in the music we were putting together. So once I decided to start my own record company in order to finish it, he gave me some material support for finishing the album. So when we were mixing the album in London, I called him up and he came over and hung out for a little while. And it kinda happened casually where I asked him if he could play like just one note on the album for a memory, because he was such a big part of the creation of Caipi I wanted him to be a physical part of the record as well.
So he was like, "Yeah, cool," and he did the take and it turned out wonderful so we included it. I'm really proud of our association and he's such an incredible dude. He was one of the key inventors of rock music. Not rock 'n' roll…straight up guitar rock.
[youtube https://www.youtube.com/watch?v=pgkvLUHGmpk&w=560&h=315]
Clapton recently revealed he's experienced some nerve damage that could pose a threat to his ability to play guitar. How is he doing?
I think he's on the mend. It's probably a long process, but they've figured out what it is, so that's good. But now it's just a matter of therapy and rehabilitation to help see his recovery through. But the prognosis is good and he's working towards it, which is great.
Healthy hands are key, especially when you play guitar. How do you keep your mitts in good shape?
At a certain point in my life when I was really practicing all the time and really shredding a lot to get to the next level, my elbow started to have some pain. It forced me to take a real hard look at the mechanics of my playing and identify reasons why I was doing something wrong. It's simply a symptom of doing something wrong.
It turned out to be a good thing, because I realized if you are playing single lines, you never have to stretch your fingers. So I developed a technique for myself where you can play all up and down the neck without having to stretch out your fingers the way guitarists do. One thing I do know is if you are experiencing any pain in your hands, you should never play through the pain because that could cause some serious damage.
[youtube https://www.youtube.com/watch?v=lo-_IFPcH-A&w=560&h=315]
Craig Taborn at Village Vanguard from February 28-March 5
Daylight Ghosts is the third ECM title as a leading man for pianist extraordinaire Craig Taborn, captaining a killer quartet rounded out by fellow New York underground alumni Chris Speed on tenor sax and clarinet and bassist Chris Lightcap along with Dave King of The Bad Plus on drums.
Comprised of eight Taborn originals and a rendition of "Jamaican Farewell" from the excellent 1997 ECM LP Nine to Get Ready by sax giant Roscoe Mitchell of the Art Ensemble of Chicago, the Minnesota-born keyboardist introduces a disruptive element to the standard quartet format by incorporating electronics into his arsenal, furthering Manfred Eicher's vision of jazz composition in the 21st century.
This current combo is presently in the middle of a six-night stand at the Vanguard that goes through March 5. They better be taping this run for a live album.
[youtube https://www.youtube.com/watch?v=35Mw6IYJ4xw&w=560&h=315]
Julian Lage and Chris Eldridge at Rockwood Music Hall Stage 2 from March 9-10
Released at the end of February, Mount Royal is the second collaborative effort from guitarists Julian Lage and Chris Eldridge.
Strapped with a pair of pre-WWII Martin guitars, the two musicians have created another gorgeous acoustic conversation in the vein of a lost recording between John Fahey and Jim Hall, interspersed with an inspired vocal or three from Punch Brother Eldridge, and a particularly faithful reading of Eddie Vedder's "Sleeping By Myself" that should earn these guys an opening spot on the next Pearl Jam tour.
The duo will be performing two nights on the second stage of the Rockwood Music Hall, and fans of Takoma, ECM and Three Lobed alike will certainly want to see about checking out this stand.
[youtube https://www.youtube.com/watch?v=67gXQS5vfK0&w=560&h=315]
Dominic Miller at NUBLU on March 13
Another fitting testament to the healing power of the guitar is the upcoming ECM debut of Argentinian-born Irish-American musician Dominic Miller, Silent Light.
Switching between guitar and electric bass with drummer Miles Bould backing him up, this record is a beautiful, heartening amalgamation of classic British folk and the airiness of Pat Metheny at his most tender. It could have easily been a fine addition to the catalog of Windham Hill; it's a promising new entry in the House That Manfred Eicher Built.
Silent Light does not arrive in stores until April 7, but given his schedule the Paris-residing guitarist will be celebrating its release with a preview performance at NUBLU on March 13.
This is a rare opportunity to see this master of healing guitar jazz in an intimate setting to discover why he's been the guitarist of choice for the likes of Paul Simon, Sting, The Chieftains and Placido Domingo.
[youtube https://www.youtube.com/watch?v=2iPZRsqHD40&w=560&h=315]
Heads of State at Smoke Jazz & Supper Club from March 17-19
One of the great supergroups to have emerged in recent years is Heads of State, a quartet of beloved jazz elders who've served time in bands led by Miles Davis, Cedar Walton and McCoy Tyner. Four in One is their second studio album together for the Smoke Sessions Records imprint, a label run by the venerated New York jazz club where they will be celebrating the record's release St. Patrick's Day weekend.
The current lineup of is one not to miss: Willis on piano, sax great Gary Bartz, drum icon Al Foster and new bassist David "Happy" Williams, whose work on Elvin Jones's mid-'70s work on Vanguard Records alone earns him this spot amongst the giants of classic jazz.
Expect wonderful versions of such Four in One features as Charlie Parker's "Moose the Mooche," the early Miles Davis chestnut "Sippin' at Bell's" and Wayne Shorter's "Dance Cadaverous" during this residency release party, and hopefully that means a version of "Freedom Jazz Dance" by Eddie Harris as well, which closes out the record.
Trust me, if you're like me you try to avoid coming into the city during St. Patty's Day weekend. But to see these living legends on stage together is well worth fighting through the crowds to get up to the Smoke Jazz & Supper Club and see this thing go down.
[youtube https://www.youtube.com/watch?v=ju4MT0-XBlU&w=560&h=315]
Michaël Attias Quartet at Cornelia Street Cafe on March 18
Jazz has been a cornerstone of Northern New Jersey for nearly as long as the art form has been I existence. In 2017 the region continues to exhibit its creative aptitude in full force thanks to saxophonist/composer Michaël Attias.
Recorded in Paramus, a town known more for its malls than its music scene, Attias brings together a newly established crew of seasoned vets in Aruán Ortiz (piano), John Hébert (bass) and the great Nasheet Waits (drums) for Nerve Dance.
His sixth studio LP as a leader, these 11 original pieces (nine written by Attias, two by Hébert) exhibit the art of free jazz as a cathartic form of exercise for the human body and spirit. With each of these four men playing at maximum capacity, that will only be compounded when Attias returns to the Cornelia Street Cafe on March 18 in celebration of Nerve Dance's release.
For those who enjoy high-impact jazz performed with peak precision, this is the gig for you.
[youtube https://www.youtube.com/watch?v=t_uVC4as3Qo&w=560&h=315]
Vinicius Cantuaria at Sounds Of Brazil on March 22
Sounds of Brazil is one of the last bastions of a bygone era of going out in New York City back when Varick St. was one of the hottest blocks in Manhattan. And while there might not be too much surrounding it these days in terms of nightlife, good ol' SOB's still stands strong as a premier destination for great live world music, jazz and hip-hop. On March 22, the club live up to its namesake when they host Brazilian jazz troubadour Vinicius Cantuaria, who in the last 20 years has established himself as one of the most versatile voices on the downtown New York City music scene.
On this night, Cantuaria will be performing with his quintet, and will surely be playing selections from his excellent 2015 tribute to bossa nova icon Antonio Carlos Jobim, Vinicius Canta Antonio Carlos Jobim, on the Sunnyside label. The Cantuaria Quintet will also be performing at the South Orange Performing Arts Center in New Jersey on the March 24 as well.
[youtube https://www.youtube.com/watch?v=Flmep4mjjls&w=560&h=315]
Nicole Mitchell at National Sawdust's Stone Commissioning Series on March 29
John Zorn has booked one night a month for the entirety of 2017 at National Sawdust, a former sawdust factory-turned-innovative performance space, as part of a commissioning series called The Stone Presents.
It's part of Zorn's plan to turn his venue into an entity that transcends the physical form entirely to become something that can exist in several venues. For March's installment of the National Sawdust residency, Zorn hosts Los Angeles-based flutist, composer and educator Nicole Mitchell, who has a powerful new album due out in May with her group Black Earth Ensemble called Mandorla Awakening II: Emerging Worlds.
It's a bold, pointed work of uncompromising Afrofuturism that captures the spirits of both Illuminations-era Alice Coltrane and her great nephew Flying Lotus. Mitchell is a cherished voice of the new West Coast jazz movement, so don't sleep on the distinct opportunity to catch this esteemed professor at UC Irvine and first female president of Chicago's legendary Association for the Advancement of Creative Musicians in New York.
[youtube https://www.youtube.com/watch?v=Bjxi6k9XtBY&w=560&h=315]
David Weiss & Point of Departure at NUBLU on March 30, and at FatCat on March 31
Named after one of Andrew Hill's best albums, trumpeter David Weiss's Point of Departure is one of the most exciting power units working today. Having spent more than a decade combining the tonality of In A Silent Way-era Miles and the electric spirituality of classic Mahavishnu Orchestra, Weiss and Point of Departure create a bold jazz noise entirely their own.
The quintet's excellent new album on Ropeadope, Wake Up Call, features inventive interpretations of material by the likes of John McLaughlin, Wayne Shorter, Joe Henderson, Tony Williams and unsung Detroit icon Charles Moore, a major influence on Weiss' own style of blowing.
There are two chances to catch the Point of Departure combo at the end of March at NUBLU and FatCat, and you are one of the many who continue to sit here bewildered about a world without Larry Coryell in it, pay homage to his spirit by checking out this incredible group. You can also catch David Weiss in a sextet style at Smoke Jazz Club on March 16 as well.