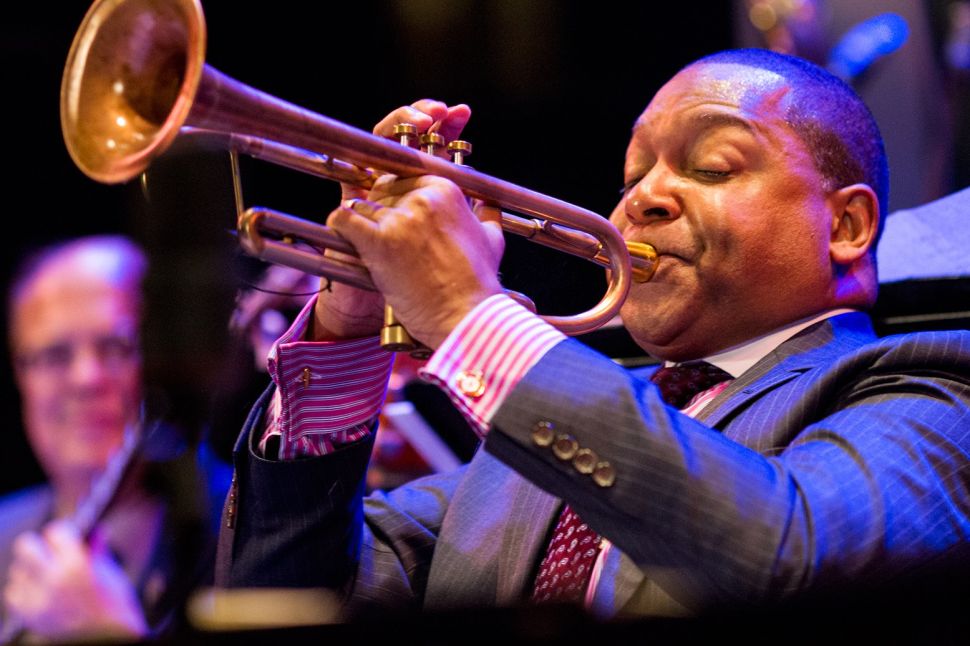 It's been an exceptional season for Jazz at Lincoln Center. But that's hardly surprising: this year, Wynton Marsalis and his crew have had a particularly ripe source of inspiration—time itself.
2017 marks not only the 100th anniversary of the birth of recorded jazz, but the centennial of at least half a dozen major icons of jazz, among them Dizzy Gillespie, Ella Fitzgerald, Thelonious Monk, and Buddy Rich.
Accordingly the Lincoln Centurians have thus far offered an excellent series of signpost concerts commemorating the first five decades of recorded jazz: the Jazz Age ("Untamed Elegance"), the Swing Era ("Revolution in Rhythm"), the birth of modern jazz ("Celebrating Dizzy Gillespie"), and, a few weeks ago, the 1950s ("Overflowing With Style").
This most recent show was an especially inspired one, covering the vast diversity of Eisenhower-era jazz, from Gerry Mulligan to Count Basie to John Coltrane.
The concert series has been notable for the ingenious ways the musical directors have varied the approach between the past and the present, sometimes offering classic works more or less as they were heard 60 to 90 years ago (like the Miles Davis and Gil Evans' "Gone" and Benny Golson's "Along Came Betty"), but always seizing the right opportunity to get playful.
For the 1950s show, trombonist and MD Chris Crenshaw wrote an original mambo in the style of Tito Puente and, no less creatively, took a Bill Holman arrangement of "Besame Mucho," originally written for a sextet, and expanded it to full orchestral proportions, creating what could have passed as a new Bill Holman-Stan Kenton chart.
Crenshaw's closer was "Pursuit of the New Thing," an original written in the style of Ornette Coleman's early free jazz work, circa 1959. The piece was a showcase for excellent solos by trumpeter Marsalis (at his most ferociously avant-garde), the JALC Orchestra's resident Ornette-ologist Ted Nash on alto, and guest tenorist Stantawn Kendrick, making a notable debut with the JALC orchestra. But more than that, "Pursuit" was overall a very well-executed balance of prewritten orchestration and the carefully controlled chaos of Coleman's best music.
For the final concert in the chronologically-driven series, this Friday and Saturday (March 17 and 18), "Free to Be: Jazz of the 1960s and Beyond," saxophonist Walter Blanding will direct the JALCO and supply a new composition written in the general style of the era.
They promise us excerpts from several JALC classics, like Marsalis' highly colorful and accessible orchestral adaption of John Coltrane's "A Love Supreme," but also new pieces, like Blanding's treatment of Sonny Rollins' "Freedom Suite" and Charles Mingus' "Fables of Faubus." The latter is an extremely free-wheeling jazz classic that, one suspects, would be highly resistant to the orchestral format—it'll be exciting to see what Blanding does with it.
[youtube https://www.youtube.com/watch?v=gSo0mIxsJz4?ecver=2]
If there's one maestro who was made a career out of making the great jazz of the past live and breathe anew, it's multi-instrumental Vince Giordano, who has been leading his 11-piece Nighthawks for roughly 40 years.
Since the 1970s, he has become the go-to guy for any producer or organization who wants a stringently authentic yet swinging recreation of what early jazz sounds like, from Martin Scorsese to Woody Allen and even to Jazz at Lincoln Center itself. As the title of a 2016 documentary about Giordano tells us, he has learned that There's a Future in the Past.
In 1991, Vince Giordano put together a score for the classic Buster Keaton silent comedy The Cameraman, which he and the Nighthawks will perform on Saturday afternoon at Town Hall.
Drawn from a combination of vintage dance band orchestrations and 1920s movie "cues," it's the kind of thing that only Giordano, who possesses both an encyclopedic memory a 60,000-chart library that's well beyond encyclopedic, could have constructed.
The Cameraman, produced at MGM in 1928, may be Keaton's all-time pinnacle work—released just before the coming of sound and the meddlesome ways of the big studio sabotaged Keaton's career.
Just like the solos of Louis Armstrong would influence all subsequent jazz musicians—can it be a coincidence that his own masterpiece, "West End Blues," also dates from 1928?—Keaton has exerted an overwhelming influence on physical comedians and comedy film-makers. Like Chaplin, he blurs the boundaries between pratfalls and ballet, and his one-man pantomime baseball game clearly presages Gene Kelly's climactic dance in Singin' in the Rain.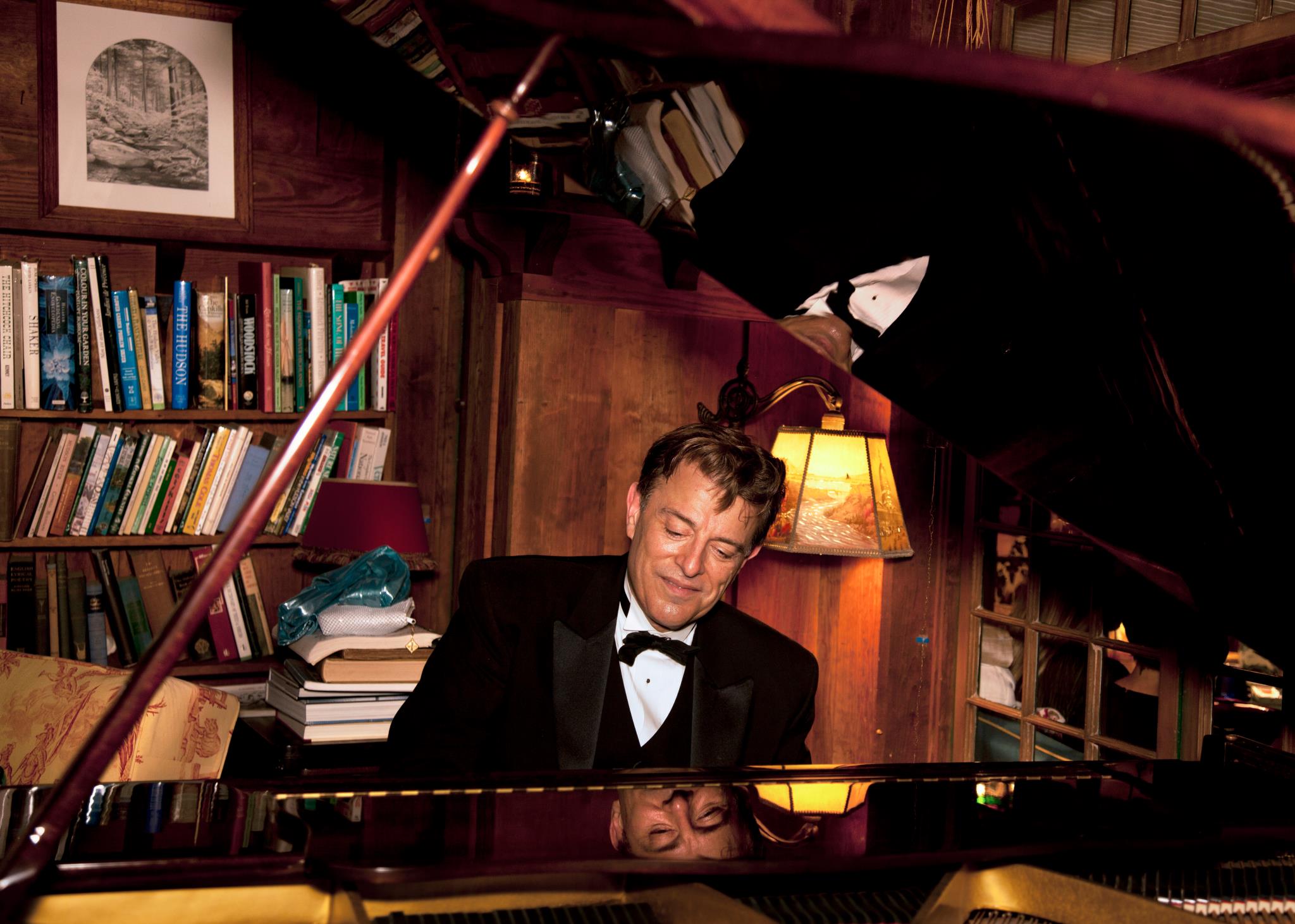 At a brisk 67 minutes, The Cameraman is at once an epic physical comedy—one that proves that slapstick is a high art form—a romance (the love scenes are no less effective than the comedic set pieces), and, in its use of metro-centric locations, a veritable valentine to the New York of the Jazz Age.
It's that aspect that most drives Giordano; working together in a de facto collaboration, the master comic and the vintage music maestro don't so much as transport us back to the roaring '20s, but take the best aspects of that culture, both musical and cinematic, and move it up 90 years to our present day.
Those who describe Giordano's music (which is also heard twice weekly, on Monday and Tuesday nights, at Iguana on West 54th Street) or even that aspect of Marsalis' work, as a time machine are correct, but they have the direction wrong. They're not traveling backwards—they're staring into the past and moving it forwards. What could be freer than that?
Jazz at Lincoln Center Orchestra featuring Wynton Marsalis: "Free to Be: Jazz of the 1960s and Beyond" at Rose Theater (Rose Hall, Jazz at Lincoln Center) on Friday, March 17 and Saturday, March 18
Vince Giordano and The Nighthawks, with special guest Bill Irwin, Buster Keaton's The Cameraman ("plus Laurel & Hardy and More"), at The Town Hall on Saturday afternoon, March 18