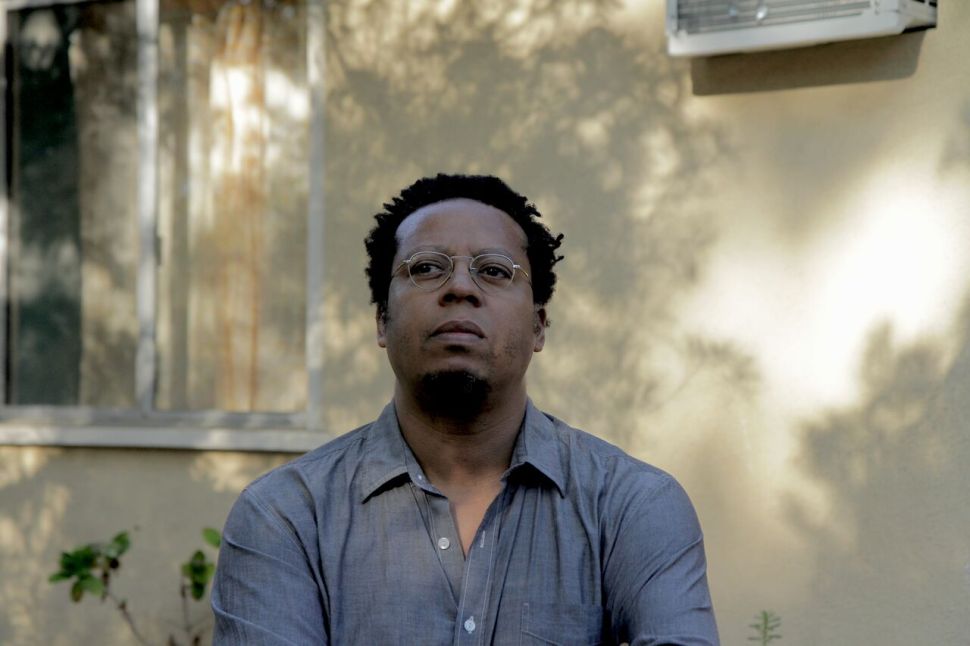 To say guitarist Jeff Parker had a banner 2016 would be a colossal understatement.
Throughout last year, the Los Angeles-via-Chicago jazzhead beefed up his trailblazing oeuvre with a gloriously mixed bag of releases that showcased his versatile talents as bandleader, solo, duo, group and sideman.
There was The Catastrophist by post-rock godfathers Tortoise (the band Parker is best known for) and the duo record Some Jellyfish Live Forever (with his cornetist pal Rob Mazurek), plus gems where Parker acted as a sideman, as heard on Matt Mayhall's Tropes and re: dawn (from far) by Jeremy Cunningham Quartet.
But for Parker, 2016 was most significant because it yielded his first recordings under his own name since 2012, further cementing his place as guitar hero royalty in the company of likeminded freethinkers such as Nels Cline and Marc Ribot.
The longtime Tortoise guitarist rattled of two records last year that are arguably the best sets of his career, an arc that's seen him release albums through legendary Chicago-based labels like Delmark and Thrill Jockey.
Slight Freedom, via the experimental label Eremite, captured Parker in solo glory as he fused effects and samplers in his ghostly and homegrown guitarscapes in covering Frank Ocean's "Super Rich Kids" and "Mainz," a Chad Taylor-composed track found on 2012's Bright Light in Winter, amongst other mind-bending explorations.
Then there's Parker's The New Breed, the polar opposite of Slight Freedom's bare-bones atmospherics, a groove-heavy, sound-tweaking record that rightfully topped Observer's 20 Best Jazz Albums of 2016 list.
On his debut for the rising International Anthem label, home to drums/beats master Makaya McCraven, trumpeter Jamie Branch and the aforementioned Mazurek & Emmett Kelly (of The Cairo Gang fame), Parker embraced and aced the role of mad beats professor. A fully realized vision of melding bass-throbbing hip-hop production with the interstellar space of improvised music, The New Breed cements the indelible mark he's made on music over the last three decades.
The New Breed may be anchored by R&B-centric manipulations, his love for hip-hop, dirty funk and glitchy jazz, and arguably unlike anything Parker has ever done before, but don't call it his "L.A." or "Brainfeeder record"—Parker's onto something entirely of his own creation.
The Observer phoned up Parker at home in L.A. on a Tortoise tour break recently to talk the origins of The New Breed, the influence hip-hop has had on him, the Chicago vs. L.A. music scenes, the Kamasi Washington phenomenon and how he coaxed his daughter Ruby to sing on his record.
[bandcamp width=100% height=120 album=1307492242 size=large bgcol=ffffff linkcol=0687f5 tracklist=false artwork=small]
You just finished touring with Tortoise and now you're headed back on the road in support of The New Breed. I know that record came out towards the end of last year but have you played material from it in the live setting yet?
We played a handful of shows but this group has only played that material twice, once in Chicago and once here in Los Angeles. We did it once with a different saxophone player and we also did a trio gig with just guitar, bass and drums that was pretty good.
For these live gigs, is it the same lineup who appeared with you on the record?
It's pretty much everybody who's one the bulk of the record.
How does The New Breed, where you used a lot of sampling and beat conduction, translate live? Do you try to replicate those sounds?
I have to look at it differently. Live, I have to kinda do it the opposite of how I recorded it, which the process for recording it was that in order to make it easier for editing and syncing stuff up with MIDI, it was a pretty experimental process—not experimental like random—but I knew that making the record involved me having to try and marry these two different worlds, which was improvising and also making beats and production where everything is quantized.
The way I recorded the record was I had all this music that I had made in sequences, so to humanize that stuff, we improvised along with the sequenced music and that's what made it seem elastic on the record. Anybody could probably tell you to play with sequences live it's a drag and it makes things really complicated because it makes the monitoring live difficult.
This record [The New Breed], this is a process I've been dealing with almost my whole recording career, which was trying to marry digital-music-making worlds with improvising live. It's a challenge that musicians have to deal with more and more, especially now. I feel like people are just scratching the surface with it now.
But my experience told me that musicians generally don't like to play along with sequences live. So when we play live we're dealing with the samples but the samples you have to trigger them—you play them live in real time rather than playing along with the sequences. It's just the opposite: you can make it so you're improvising with them in the live setting.
So The New Breed live is more of an organic approach rather than an in-studio-creation type thing.
They're both organic approaches but it's not quantized and sequenced like it was in the studio.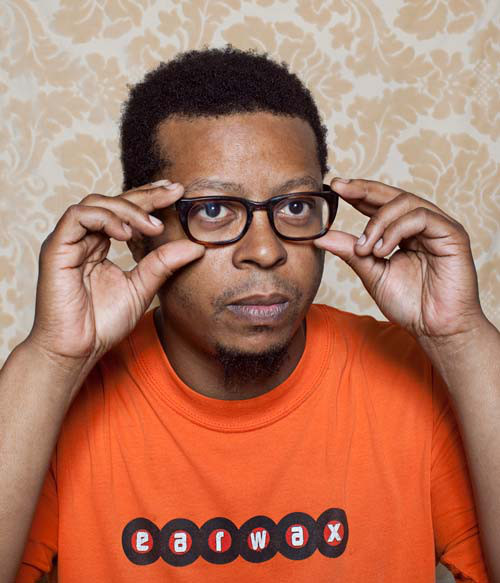 How you pieced together The New Breed sounds fascinating. You took beats experiments that you've kept on your hard drive for years and you even used sounds found off of your old Myspace page. How did you decide to finally use that stuff and what was actually lying around?
[Laughing] They were pretty much beats. I was really into making beats for a while, more of an exercise for me because I was a big hip-hop fan but I never really could understand how that music was created on a technical level. I had a very cursory, peripheral knowledge of it but I had never tried to sample and edit my own record library of breaks.
I'd say like maybe 12 years ago, I was DJ'ing a lot and making beats. I look back and I had dozens of hours of music that I hadn't done anything with. I was obsessed with the process and also trying to keep myself busy.
When I looked back, I saw I had all this stuff and I wanted to see how I could mix my interest in hip-hop production with improvising, arranging and composition. I had an idea of how I wanted to do it but it was pretty daunting. I felt the situation was never right and at the time when I was doing it, I think it would have been really difficult for me, aesthetically.
2016 was a really productive year for you after not having any records under your own name for several years. There was The New Breed and Slight Freedom, Tortoise's The Catastrophist came out last year and you did a bunch of sideman gigs, too. Do you chalk all that up to a creative spurt?
It's pretty coincidental, really. Slight Freedom, that record was done three years ago. It was in production for a long time, basically, because the record plant kept fuckin' up the pressing. It went through eight test pressings and then once we approved it, they pressed up a thousand records that were fucked up. So the guy from the label, Michael Ehlers, who has a great label [Eremite] and very discriminating on what he puts out, sent the records back, fired the pressing plant and we started all over again with another plant.
Slight Freedom was supposed to come out a year before The New Breed but because of all that stuff, it ended up coming out six months after it. But I'm always busy, always doin' stuff. There was another record I was really proud to make, a duo with my good friend Rob Mazurek that came out on this French label called Rogue Art. It was a duo with just guitar and cornet called Some Jellyfish Live Forever. I basically put out four records all this past year, in 2016.
[youtube https://www.youtube.com/watch?v=roYvd11z0AM&w=560&h=315]
You mentioned earlier about marrying improvised music with the beats and production of hip-hop. Who can you point to in that realm that you were influenced by in the years leading up to The New Breed?
At least since probably the '80s, there's been a very prominent relationship between jazz music and hip-hop. But it was that Madlib project, Yesterdays New Quintet. When I heard that, I was just like "Oh, man!" He's doing it and it really got my wheel's turning and it blew my mind. I loved that project and some of those records are some of my favorite music. I really love Madlib, he's one of my favorites. Back at the time, I was inspired by everyone, from Outkast, Organized Noize, Marley Marl, Premier, J Dilla, Pete Rock, MF Doom, De La Soul…I can go on and on. I was checking out everything.
The New Breed lends a different vibe sound-wise than, say, Bright Light In Winter. Did your moving to L.A., a place that has a nascent jazz scene, contribute to a new direction in sound for you?
It's more the circumstance. If you listen to all my records, it makes sense. The Relatives doesn't sound like The New Breed but it's closer to what I'm doing with The New Breed than something like Like-Coping is. All my records, there's a process behind all of them. This is what I've been doing my while career is kind of making music in this way where I'm trying to marry digital process with something that's a bit organic.
In other words, you wouldn't describe The New Breed as your "L.A. record," you could have made this same record if you were living in Chicago.
Yeah, but it would have sounded completely different because the musicians would have been different. The New Breed sounds the way that it does because of the people who are on it and that is because I'm playing with musicians who are based in L.A. as opposed to musicians who are in Chicago or New York. But I was doing what I'm doing way before I moved to L.A. People are like, "Oh, man, this is like a 'Brainfeeder record.' " But that's not the case at all. I don't even own any Brainfeeder records! That music is cool but it doesn't have anything to do with what I'm doing.
Coming from the Chicago jazz scene, in which you were very much a crucial part of, how do you think the L.A. jazz scene compares?
They are completely different, both great but they couldn't be farther apart. It has more to do with the cities than the music scene. Los Angeles is an industry town—it's kind of the entertainment capital of the world in terms of film and television. Most of the music here, it's really commercially oriented and most of the musicians that work here are in the industry on that level, or trying to be.
Chicago has probably the most vibrant, creative music community in the world. That's what they want: they want experimental music, creative music, free-improvisation—it's a real part of the cultural musical makeup of the city.
Experimental music in L.A. doesn't exist on the same level as in Chicago. Both music scenes are filled with super-brilliant, confident, creative people but one is commercially-based and one is totally the opposite of that.
The L.A. music scene is getting so much attention and hype, partly due to the success of Kamasi Washington.
I think it's great, he's a great musician and there's a beautiful story behind his journey. He comes from a beautiful, local creative team of these dudes who came up playing at The World Stage, which was Billy Higgins' place. He's from a family of musicians. It's a beautiful lineage behind his community's music and that's unique and it's valuable. I'm glad to see them get so much success. It's great.
What's your take on why it's resonated so much with audiences, more so than music coming out of New York or Chicago?
I think it's because his story is easy to tell; it's a great story. He came up, he played on that Kendrick Lamar record that everybody liked and kind of rode the wave from there. I think he also has a powerful music statement to make and his story helps to bring that to people.
Back to The New Breed. When you talk about the digital aspect of the record, is that what you and your bandmates in Tortoise try to incorporate? The New Breed has a "Tortoise'y" feel.
Yeah, yeah. Tortoise is a perfect example of a band that exploits that process and has for as long as I've been in the band. But the thing with Tortoise is the band doesn't improvise; with Tortoise it's all songs. It's not interested in improvising, at all.
Has Tortoise ever wanted to delve into free-improv and extend songs into marathon-type jams? It seems like some Tortoise songs are tailor-made for improvisation.
That's something we've tried but collectively that's not something we're interested in doing. Tortoise writes instrumental songs and some of them open up into jammy sections but it's usually really scripted, like "O.K., somebody is going to hold down this riff and the drums kinda go nuts," or like, "The band will play this vamp, and Jeff, you could take a short guitar solo." It's not jammy, like exploratory in that sense,
You've only done The New Breed live a handful of times but are you open to free-improv on the songs?
Oh, yeah, it's pretty wide-open. On some of the stuff, the composed part is just something that gets us in between improvisation. My music definitely comes an improvising aesthetic. It's based around improvising, my music is, and that's the hard part. It's always been a challenge for me is to try to bring the improvising into the studio, making a record, because improvising in a way that's comfortable for the musician is pretty contrary to post-production.
[soundcloud url="https://api.soundcloud.com/tracks/243604688″ params="auto_play=false&hide_related=false&show_comments=true&show_user=true&show_reposts=false&visual=true" width="100%" height="450″ iframe="true" /]
How did your daughter, Ruby, wind up singing on one of The New Breed's tunes, "Cliché"?
Man, she's my heart. She's a musician. She's 15 now and she's studying voice in Chicago at a music conservatory. I've been making music with her since probably three or four. I got hours of tapes, recordings we've been making since she was a little kid. I wanted to have her do something on the record but I wasn't quite sure if it was going to happen.
But then I had that tune, "Cliché," and instrumentally it was falling flat. I was like, "Man, what can I do with this tune?" and I told Paul, "Maybe I can try to write some lyrics and have somebody sing it." I knew if I got anybody to do it, it was going to be her because I love having that relationship her, us making music together. It was a very natural decision for me to make.
I wasn't sure if it was gonna work and then she sang it and, man, it sounded great. I barely got her to be able to do it because she's a teenager and she's kinda like, in her head "Well, I guess I'll do it…" [laughing] She gave me like 10 minutes and she sang it and that was it. And that's what ended up on the record! [Laughing]
The album title, The New Breed, is named after a clothing store that your dad once owned back in the 1970s. The picture on the album cover is great and it captures the vibe of the record.
The picture on the cover is the only photograph I could find of him in front of the store. He didn't have the store for very long; it was probably less than a year. It was kind of a really half-baked business enterprise that he had with some colleagues. So it wasn't around for very long. He's the taller gentleman in the picture.
Is The New Breed the most difficult record you've made thus far?
It's definitely the most involved.
It seems like it was tough to put together. Was it a long process in the studio?
The New Breed is only 40 minutes long but Paul Bryan and I worked on it intermittently over the course of almost a year. He wanted to help me make the record and he had a recording studio and he was really generous. If I had to pay for all that time, there was no way I would have been able to afford to do it. Basically, now was the time.
On Thursday, March 30 at Nublu (151 Avenue C, New York, NY), LPR & International Anthem presents Jeff Parker and his band (with Paul Bryan on bass/synths, Josh Johnson on sax/keys, and Jamire Williams on drums) performing The New Breed live for just the fourth time ever. Opening set by Jaimie Branch. Tickets available to purchase here.