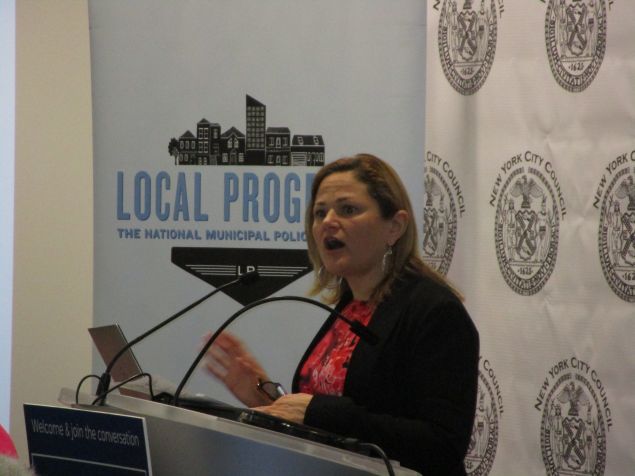 Attorney General Jeff Sessions' announcement that the Department of Justice would look to cut off or "claw back" cash it has given to so-called "sanctuary cities" landed in the middle of an inaugural gathering of leaders from municipalities that refuse to comply with federal Immigration and Customs Enforcement orders.
Politicians from areas as far-flung as Denver, Austin and Chicago had converged on Borough of Manhattan Community College to attend City Council Speaker Melissa Mark-Viverito's two-day conference on combatting President Donald Trump's aggressive immigration enforcement agenda, a meeting in part through billionaire George Soros's Open Society Foundations. The liberal Democratic speaker was participating in a panel discussion with colleagues while Sessions was addressing reporters in Washington, revealing his intention to require cities applying for Justice Department grants to cooperate with ICE—and use "all lawful steps to claw back" monies disbursed to recalcitrant areas.
At present, the NYPD and the New York City Department of Corrections do not honor ICE requests to hold individuals in custody unless the person in question has committed a violent offense.
"It happens to be an interesting coincidence that as we are convening, over 30 cities in this country, talking about policies, that this press conference is happening," Mark-Viverito remarked to reporters shortly afterward. "New York City is the safest city in this country. And so, if, if, if the president wants to put that at risk to make a point to a dwindling base of support, then he is being extremely irresponsible—but that's nothing new for this administration."
In January, Trump signed executive orders severing all federal funding to sanctuary cities, which—if successful—could deny New York $7 billion a year in outlays from Washington. Mayor Bill de Blasio has already threatened to sue the federal government should it attempt to sever funding to the city, and even warned that the loss of money could impact the financing for the 24-hour NYPD security perimeter  around Trump Tower.
Mark-Viverito, like de Blasio and state Attorney General Eric Schneiderman, maintained the city is within its legal authority to limit the degree to which its public employees engage with ICE. She also invoked common arguments that immigrants boost the local economy, and that sanctuary city statutes encourage undocumented victims and witnesses of crime to approach and cooperate with law enforcement.
"We are going to continue everything that we have in place. It is legal, it is the right of this city to implement. And we're going to continue to stand behind our laws, and our initiatives, and we are here talking with other cities that are doing the same thing," the speaker said. "It is illegal for the federal government to withdraw funds in a punitive fashion to cities that they say are refusing to comply with ill-guided policies and the laws that they are enacting."
This argument appears to derive from the 1987 South Dakota vs. Dole case, which determined that Congress could not arbitrarily a state funding for coercive reasons. However, it is unclear how that ruling applies to policies set by the executive branch.