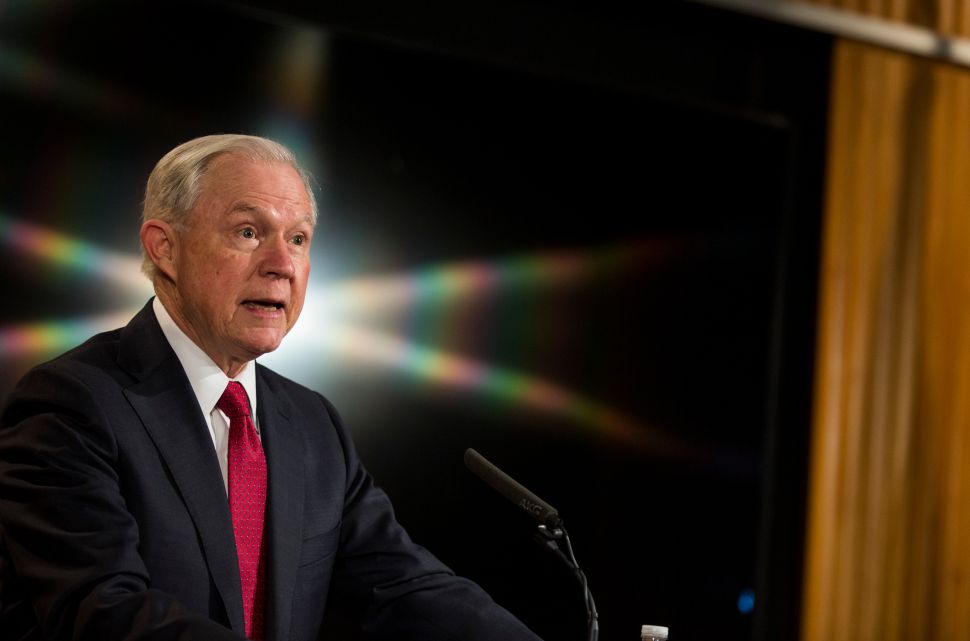 That was fast.
Donald Trump's much-trumpeted new leaf and media honeymoon made the accelerated ripen-to-rot quickie of K-Fed and Britney Spears look like my parents' fifty-year union in both style and substance.
Wait! Don't tell my parents I said that.
The President, five weeks (or 500 hundred weeks, it's hard to tell which) into a downhill toboggan-run of a term, addressed both houses of Congress earlier this week and managed to not be GG Allin-on-the-Potomac so he was proclaimed a success.
"Presidential!" "Eight years." "Home run." "He became President tonight." "Reset!"
It was like dozens of Annie Sullivans across my cable dial exulted in unison "She knows!" after a proverbial POTUS Helen Keller said the word "water."
By the way, it's great that Presidential accolades in the past were reserved for extrication from or avoidance of a depression; bringing an end to a decades-long war of dangerous global attrition or ending an internecine war and formulating our national identity. Or founding the republic.
Now all you need to do is basically not go Linda Blair at members of the House and Senate and you're James Madison.  Great that our standards have stayed so high. Gravitas comes cheap.
But one day later, it all came crashing down, as yet another Russia revelation brought the increasingly imperiled Trump Administration back to earth.
No sooner had broadcast news embarked on a 24-hour swoon over Donald Trump's Joint Session speech—with one of the biggest cable networks acting so enraptured that it was like watching Drew Barrymore get her braces off, get asked out by the popular guy and declare that she wasn't Grosie Josie anymore—than it came screeching to a halt as The Washington Post revealed that newly-minted Attorney Jeff Sessions had (whoops, my bad—I forgot!) communicated twice with the Russian Ambassador in the run up to the election. After swearing under oath just two weeks ago that there had been no communication. It's possible—and if it's true, it will come out—that the Trump campaign, though it denies it, colluded with Russia to tilt the American election.
Turns out that even in an era of busted norms, certain constants apply. Turns out you can't arguably commit perjury and then just brush it off. Turns out it takes a burgeoning, possibly administration-ending crisis and to put it back into the overdrive of the political hot seat.
Want evidence that this is a real problem? It wasn't just Democrats gnashing their teeth and smelling blood.
Republicans stepped up and publicly got nervous. Early on, Majority Leader Kevin McCarthy and selective investigator and inconsistent rule applier Jason Chaffetz have suddenly, for the first time, demanded clarity and action on an administration member vis-a-vis Russia. In short order, Sen. Rob Portman and others followed.
Midday, President Trump declared he had "total confidence" in his badly damaged top cop. But his language was eerily similar to that delivered by suddenly B-list advisor Kellyanne Conway hours before then-National Security Advisor Michael Flynn was dismissed just weeks ago—because of his, yes, problem with Russia and the truth. And the truth about Russia. Seeing a pattern?
Hours later, Sessions, utterly devoid of credibility and clearly smarting, recused himself from any investigations into Trump the Businessman, the Trump Campaign, or the Trump Administration and Russia.
It's very tough to see how this Attorney General—who should be leading the Justice Department the way I should be mapping the human genome, given that his version of justice seems to make even aging white Christian conservatives uncomfortable—survives in the long term.
True, Jeff Sessions held onto his job by a thread for now, and—at least for the moment—the administration won't lose another top official in an embarrassing public scenario that produces more questions than it answers.
It's not enough. Sessions should resign. Or, if we had a President with integrity, he'd demand his immediate resignation. The fact remains that under two weeks into his job, the country's top law enforcement officer was caught saying something other than the complete truth under oath to Congress. What else is he hiding? That's the big question.
All of this being said, Trump started the week on probably the highest note since the night he won. It's clear that as long as this lasts, those will be rare. It's very hard to see how Donald Trump isn't right back in sustained, undemanding crisis mode and signs point to staying there, barely balancing on the blade of a knife.
Cue up the bellyaching about fake news because belly rub is over.