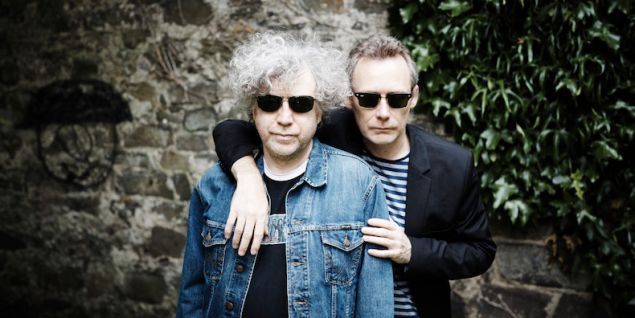 Therapists often describe looking at a past situation from "across the street" as a metaphor for gaining perspective. The idea is that removing yourself from the immediacy of a painful past gives you the pause needed to choose how you respond, how you react.
Damage and Joy, the first Jesus and Mary Chain album in almost 20 years, finds songwriters and brothers Jim and William Reid not only looking across the street at their fraught relationship, but also investigating what it means when the very conflict that consumes you also drives your success. The Mary Chain had always run on a certain level of danger, but after the reportedly caustic sessions for 1998's Munki that saw the brothers recording separately at the height of their hatred for each other, the damage was all-consuming.
Then, 10 years ago, Coachella pulled the brothers from their solo endeavors and back onstage. A new generation had discovered their classic Psychocandy thanks to Sofia Coppola's Lost in Translation, in which opening track "Just Like Honey" soundtracks the climactic scene where Bill Murray and Scarlett Johansson say goodbye. Johansson took the stage for that female vocal line at 2007's Coachella, kicking off a reunion that suddenly put the band across the street from their own past, whether they liked it or not.
Then 2015 saw the 30th anniversary of Psychocandy, and the obligatory world tour turned into less of a legacy slog and more a celebration of what Ride drummer Loz Colbert, who joined the brothers Reid on that tour, called "noise, heralding change. A great slab of sex, violence, beauty and longing."
The timelessness of Psychocandy was achieved through its approach to both honoring the classic Phil-Spector-era pop song, drenching it in feedback, and ripping it to shreds. These days, when younger listeners discover even the most adventurous music through commercial channels, the Mary Chain's brooding-in-sunglasses inversion of pop sensibilities still maintains a fresh, risky sense of otherness.
Given this trajectory, perhaps its inevitable that Damage and Joy plays as a sort of reflection, a post-mortem on what happened the first time around and how time tends to make past bullshit irrelevant. "All Things Pass," a re-recorded version of "All Things Must Pass" that the Mary Chain recorded for the 2008 Heroes soundtrack, sounds more up-front and noisy this time around. A Jim Reid solo track, "Dead End Kids," is reworked into album opener "Amputation," a fitting comment on how, in Reid's own words, he felt as if the Mary Chain were being edited out of the music industry prior to reuniting.
Other tunes were previously written, following the band's original demise, for the Reids' younger sister Linda to sing in her Sister Vanilla project. So half of the album's tracks had been released in other forms, and the brothers' commitment to not let these songs fade into obscurity allows them to sound wholly new when given fresh coats of paint.
Sonically, the band remains ever-conscious of the past. The sounds of six prior Mary Chain albums have a sonic touchstone on Damage and Joy, while a bevy of female vocalists—including Sky Ferreira, Linda Reid, former Belle & Sebastian member Isobel Campbell and William's girlfriend, Bernadette Denning—bring back the classic Mary Chain move of having a sweet voice cutting through the fuzz.
"We hadn't a clue what we were dong back then. We'd just stumble through the music scene and cause a fuckin' riot."
The lyrics, meanwhile have a conscious sense of looking back that at times sounds downright funny in its self-awareness. "Song For A Secret" has the great line, "Too young to crucify, but too old for suicide." "War on Peace" finds Reid singing, "I was young but now I'm old, give my secrets up like gold." At some point almost everyone stops just looking forward and looks back at the monster they've created. You can picture Jim smirking as he sings, "I hate my brother and he hates me/That's the way it's supposed to be."
To remember that "damage and joy" is the English translation of the German "schadenfreude," when we derive pleasure from another person's suffering, is to acknowledge how the same tension that once drove the brothers Reid to disband also fuels the Mary Chain's druggy, ambivalent genius.
I caught up with Jim Reid over the phone a few weeks ago to talk about that tension, how working with a producer for the first time (The Killing Joke's Martin Glover, better known as Youth, who both produces and plays bass on the record) helped he an William be in the same room together, and why Jim still refuses to acknowledge "shoegaze," which the Mary Chain are often credited with creating, as an actual genre.
[youtube https://www.youtube.com/watch?v=oXMkrFLNh_Q]
I don't know you but you could sing a lyric about eating chicken fried rice and have people nodding their head in earnest.
[Laughs]
The Mary Chain are so often called a "sad band"…is there a sense of humor running through your work that people miss out on?
There's always a bit of humor in what we do, I think, but yeah, often overlooked.
Last we heard from you, you were touring for the 30th anniversary of Psychocandy. You and Will wanted to make this record, but only once you'd agreed on how and where to record it. What did those political deliberations look like? What did you wind up agreeing on?
Well, I mean, I suppose it was more going on than just that. At the time that we reformed back in 2007, I was particularly worried about going back into the studio if it was going to be the same vibe as the making of Munki.
I was kind of resisting the idea of making a new record for quite a while, and at the time, his version of what that record should be seemed to be quite different from what I had imagined. So at the time I thought, "Well, fuck it, I'm just not gonna go there, I'm just not gonna do this for the time being." And I kind of thought that if I just held off, that the time would present itself, and it sort of did. Or maybe it didn't, maybe I just thought it wouldn't ever go and present itself, like, "let's just do it now."
Youth from Killing Joke played a little bit of a diplomat so far as getting it out of you guys, right?
Well, that was the idea, yeah, we were both nervous about going into the studio, that it might just disintegrate after day one. So we had the idea that it might be good to work with a producer, we'd never done that before.
We had no idea who it would be at that point, but we thought this person might also keep the peace. If the shit was to hit the fan, we've got someone else there to try and diffuse the situation. So we went to McGee, our manager Alan McGee, and suggested this idea. He'd been mates with Youth, so he suggested Youth. We met up and it seemed to get along well, it seemed like it was gonna work, so we tried it out and it did.
"It's no fun to have everyone shine a spotlight on things that you'd rather forget."—Jim Reid
This record kind of comes through all the emanations of the Mary Chain. We get the Shin-ei fuzz pedal noise, we get the drum machine, we get the acoustic numbers. Was there a conscious or unconscious looking back that came with playing the old shit for people and getting out back on the road?
Yeah…we weren't aware of that at the time, I think that might have been Youth's involvement, to be honest. He tried to get a little bit of all Mary Chain past on this one record, and I think that kinda comes across. Most of the periods of the band are represented here in some shape or form.
Your fraught relationship with William has become so storied and anthologized, but how much of that is created or fetishized by media and how much of that is real? Do you feed into that legacy or encourage it just for shits and giggles?
Well, it's kind of…it's no fun, let's put it that way. And most of what's been written has been true. I don't like when people make a big deal of the feuding brothers and all that, because it's our fucking life, man, you know? It's no fun to have everyone shine a spotlight on things that you'd rather forget, so I don't know.
It doesn't bother me, but we don't play up to it. It's one of those things that's unfortunate, but it makes the band tick as well. So the band is fueled, to a large degree, by the sparks that fly between me and Will. [Laughs] Brothers in a band can be a bit of a blessing and a bit of a curse, so you've just got to go with it.
Speaking of going with it, I'd be remiss to not ask about this unwitting genre that got hoisted upon you guys. You never wanted "shoegaze," never encouraged it, but Creation has become a hallowed institution around it nonetheless. Has this whole legacy gotten away from your intentions at all?
"Shoegaze," for a start, I'm not really sure I recognize that as a musical genre. But it's true, that was something that someone at the NME made up one afternoon because they were bored, and it stuck. I'm not saying I don't like those bands, I like some of them and not others, but what does "shoegaze" even mean? I don't really know.
Well, when you guys came back for Psychocandy you brought Phil from Lush and Loz from Ride at different points. This consistency of community that's existed amongst you all is worth acknowledging.
Y'know, nobody referred to that music as shoegaze back in the day, that was a 10-minute occurrence and it only seems to have gathered momentum in recent years.
You've cited your love of Syd Barrett, and I think about madness a lot. The violence that became synonymous with your live shows in those early years was obviously good publicity at first, until it turned out that shows started getting cancelled and venues didn't wanna deal with it. I guess there's this sentiment that The Mary Chain have always created this space for people to lose their minds in, this sonic space of insanity. Has that been something you guys have learned to lean into, to embrace?
That period of the band was such a long time ago, and it was for different reasons. We hadn't a clue what we were dong back then. We'd just stumble through the music scene and cause a fuckin' riot, y'know…we just didn't know what the rules were, how far you could cross the line and stuff. We would just go onstage whenever we'd feel like it, and generally that'd be an hour and a half after everybody expected we'd come on, then we'd just tear the place apart.
"I think it's pretty safe to say that America's quite godless at the moment."
Is "Los Feliz" your "Helpless"? It stands out as an oddly American anthem, and such like an L.A. song.
Well, William lived in L.A., it's just William's take on that song. I wish he was here to talk about that song, because I don't feel like I can. They say "God lives in America," well, I think it's pretty safe to say that America's quite godless at the moment.
You sing about meeting your maker when the noise comes in.
Oh yeah.
[youtube https://www.youtube.com/watch?v=qevLgqlKvIk]
Why did you feel like you were being edited out of the whole music business as you imply on "Amputation"?
For a while, it felt that way. That's quite an old song, it was written before the band reformed, and it just felt like no one gave a shit anymore. It just felt that we were forgotten and no one was interested, that we were living a life in exile, almost.
What changed?
I don't know. [Laughs] I guess we got back together and it didn't feel that way anymore, I suppose.