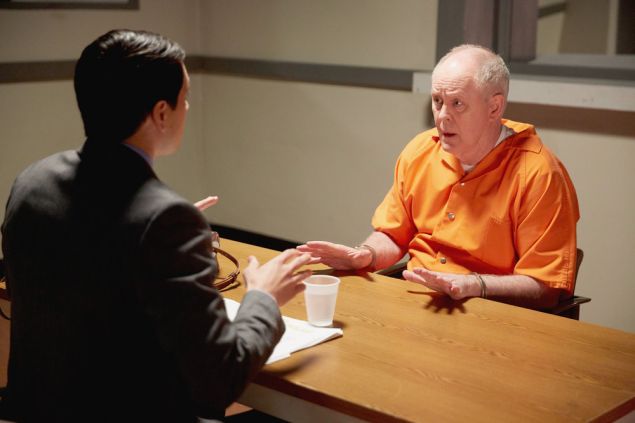 He's portrayed everything from a wacky alien (3rd Rock from the Sun) to a duplicitous serial killer (Dexter) to enigmatic leader Winston Churchill (The Crown). He even played a father figure to Bigfoot in Harry and the Hendersons!
Clearly, John Lithgow is a man capable of some high caliber acting and some seriously amazing lowbrow comedy. His latest project falls squarely in the latter category, and that's just the way he wants it.
In Trial & Error, Lithgow, a five-time Emmy winner, plays an eccentric Southern poet, Larry Henderson, (no relation to Harry), who may or may not have killed his wife in the true-crime, docu-spoof comedy series. Larry puts his fate in the hands of a young, bright‑eyed New York City lawyer (Nick D'Agosto) working on his very first murder trial.
The idea for the series came to Executive Producer Jeff Astrof while watching an actual documentary, The Staircase, which chronicled the trial of Michael Peterson, accused of killing his wife. "I said, 'If this guy was played by Steve Carell, this would be the funniest comedy I've ever seen,' " recalled Astrof as he spoke at a Television Critics Association gathering.
He continued, "The timing was really great because right at the time everybody was watching [TV series] The Jinx and [listening to the podcast] Serial. And, that's when [the documentary series] Making a Murderer came out. We were just, like, 'If we don't do this now, someone else is going to do it.'"
Nick D'Agosto quickly added as he laughed, "Thankfully, everybody has enjoyed watching those people kill those people!"
Astrof and his team want to be clear that "moc-docs" and "doc-docs" are very different animals. "When you shoot a moc‑doc, you don't want to feel like you're shooting a doc‑doc," explained Executive Producer and series director Jeffrey Blitz, who actually comes from the documentary world. "In a doc‑doc, you get one shot at all things. And in a moc‑doc, you get many shots at it. The approach to telling a story in one is not at all the same as the other."
Lithgow glowed as he talked about joining the series. "Well, I loved the whole idea. It's so completely original – a primetime true crime documentary series where we were completely teed up for a great satire, a great parody. Nobody has done this yet."
Speaking specifically about why he likes Larry, Lithgow said, "I loved the challenge of playing a part who, at any given moment, could completely plausibly have committed or not committed this crime. This seemed to me a wonderful kind of magic trick to pull off, and I love challenges like that. This is the stuff of just fantastic comedy."
Asked if it was harder to play Churchill or Larry Henderson, Lithgow quickly responded, "The only really difficult acting is bad writing."
Then he elaborated a bit more, saying, "Winston Churchill and Larry Henderson are very similar when you think about it. They are both beautifully written parts, and it's just a completely different vein. One of the things that I like about having played these two characters and having them on the air virtually at the same time is they couldn't possibly be more different, one from the other."
Astrof said when they approached Lithgow about the role, the actor asked, "'What exactly did you see in me that makes you think I could do this?' And we were like, 'Anything you've ever done!'"
The producers took a unique approach to the series in that they only told Lithgow whether Larry Henderson was, in fact, guilty of killing his wife.
Co-star Krysta Rodriguez said that that lack of information aided the other castmates. "It was really helpful to us. [We were] able to play complete faith in our position of whether he was guilty or innocent."
Fellow castmate Sherri Shepherd looked at Lithgow and said, "But there were moments when you were so wonderful and jovial and loving, and then you would break out into these monologues that scared the hell out of me. It was wonderful watching the highs and lows of Larry Henderson."
Lithgow summarized his thoughts about the inner-workings of criminals, saying, "People who commit murder are people who can turn on a dime."
Then, with the kind of hilariously devilish grin that only Lithgow can produce, he added, "And I turn on a dime many, many times in 13 episodes."
Trial & Error airs Tuesdays at 9:30 p.m. EST on NBC.