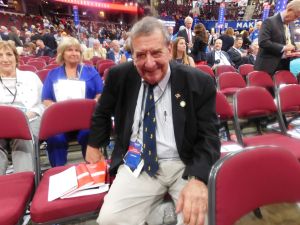 John McCann's exit from the 39th district GOP Senate primary gives Gerald Cardinale a clear path to a 12th term in the New Jersey Senate. It also means an early start to the 2021 Senate race, when Cardinale will be 87. 
PolitickerNJ broke the story that GOP State Chairman Samuel Raia and Bergen County Republican fundraiser Chuck Shotmeyer leaned on Bergen County Republican Chairman Paul DiGaetano to back Cardinale for re-election. In exchange, DiGaetano would get the support of the two insiders in his bid for Senator in the neighboring 40th district. But that's not the only piece of a very complicated political puzzle.
Raia is considered a likely candidate to replace Cardinale, assuming he doesn't run again in four years. Shotmeyer is reportedly mulling a challenge to freshman U.S. Rep. Josh Gottheimer in 2018. If he does take on the CD5 race, he'll want to clear any other Bergen Republicans from the field if he faces a challenger from the Sussex/Warren part of the district.
But Raia isn't the only would-be Senator waiting for Cardinale to finally retire.  Assemblywoman Holly Schepisi, who has already said she won't run against Gottheimer (a story that PolitickerNJ broke), reportedly wants the Senate seat.    
While it's clear what DiGaetano gets out of McCann's withdrawal, it is not clear what McCann will get. Some insiders say he's been promised support the next time a 39th district Assembly seat opens. That could be a long, long way off.
The other moving piece here is redistricting, which will be done after the 2020 census. If Chief Justice Stuart Rabner appoints a tie-breaker who is supportive of a Democratic map, it's possible that the 39th could become more politically competitive.