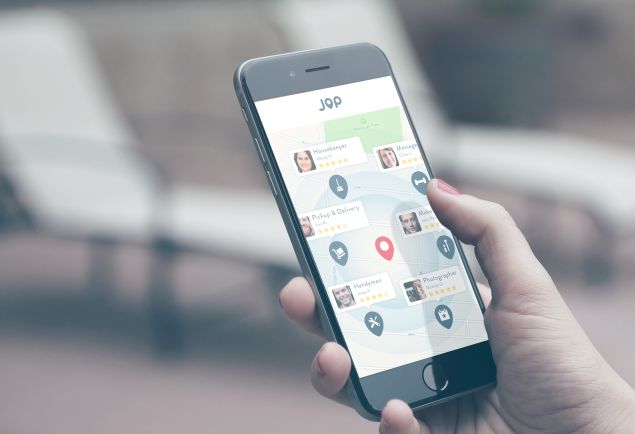 A while back, entrepreneurs Canel Frichet and Sebastian Lombardo made the very millennial decision that they hated the idea of being stuck to one single profession in life, citing the fact that people have different talents, along with interests that change and evolve. Then they looked at New York and recognized that in this fast paced city, people are continuously on the hunt for (even more) instant gratification and methods to optimize and simplify their lives. Frichet was determined to figure out a way to change the model of direct-to-consumer offerings in a mobile platform that not only fused pre-existing services under one hub, but one that also changed the experience for its employees. Meet Jop.
The app allows users to choose from 42 unique categories, from a Thai tutor, a handyman, a DJ, a bartender and a manicurist. Users can also schedule appointments directly with the person slated to perform each service. So say goodbye to Task Rabbit, Handy, Glamsquad and the middlemen that tend to delay those appointments. Booking a service directly with the person that will be completing your desired task fosters a more seamless and personal experience. Further, Jop guarantees you'll be paired with carefully vetted and background-checked candidates.
Customers are able to tap a screen and connect with a professional in their city, whether they are seeking an expert in trimming mustaches, repairing faucets, walking dogs, teaching guitar, or making a mean margarita. For users, the transaction is very simple: find any service on the easy-to-use interface, pick a Jopper, book instantly, and chat directly. Once booked, Joppers arrive at the customer's doorstep, ready to work.
What really sets Jop apart from other on-demand apps is their mutually beneficial economic model and sharing philosophy, where people can get compensated with what they deserve by doing what they love. Community ratings and reviews generated by users govern the network, while prices without company overhead are attractive on both sides of the marketplace. Frichet and Lombardo take a much lower cut per transaction, compared to the general on-demand space, resulting in better earnings for Joppers and better prices for users. Joppers are also eligible to earn company equity and shares, based on their level of activity and their performance on the platform, taking into account ratings, referrals, and number of services completed. The co-founders felt that allowing their employees to have a slice of this new business was imperative to the company's overall mission. Ultimately, happy workers provide better service.
With Jop, talented individuals don't have to stick to one just one task. They get paid for doing what they love on their own time, while benefiting from performing well within a company that values their skillset. Jop is the new way to work, and alternatively, the one stop shop to streamline your busy life.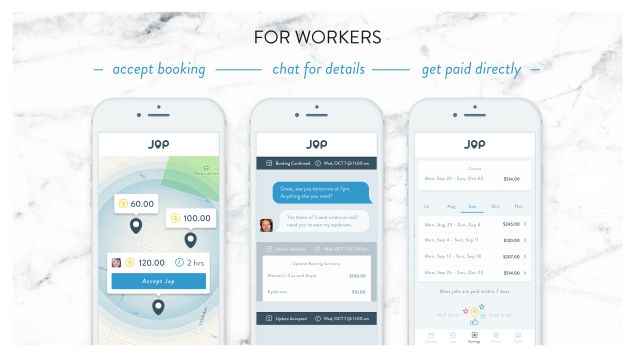 We sat down with co-founder Canel Frichet who helped us further delve into the Jop universe:
Will Jop add a service if it doesn't already exist, but is requested by a user?
We think it's important to cater to our city and empower skilled creatives with a platform to allow them to expand their businesses. If a customer or Jopper has a great idea for an additional service to offer, we consider a few things before adding it to the platform: Will this bring joy and excitement to other people's lives? Is this service something that makes sense for a platform like ours and is in line with our company's mission, "People helping people?" Do we think this is a service that people would book if we offered it? If the answer is yes to all of the above, then we work hard to add the additional offers and market it to both sides of the marketplace. The most recent service we added upon-request is the ability to order multiple manicures from the same Jopper. This makes it easy for someone to gift manicures to employees at an office or [for] girlfriends to enjoy a day of pampering, all at the same time.
Have you ever used a Jopper for any personal requests?
Yes! Tons. With the improvement of smart phone cameras, high quality professional photography has become an underrated, under-valued service. Nowadays you only think to hire a photographer for things like weddings and special events, but we think there's demand in the moments in between. We've hired a photographer to do head shots for employees in offices in NYC, to capture shots for our blog and social media, and for small marketing projects that require custom creative. We've also used errand runners for anything from delivering roses to special friends on Valentine's Day to picking up and dropping off wine to an event we were hosting. And as a busy working mom, I also get waxing specialists and hairstylists to come to my home and perform services privately and conveniently.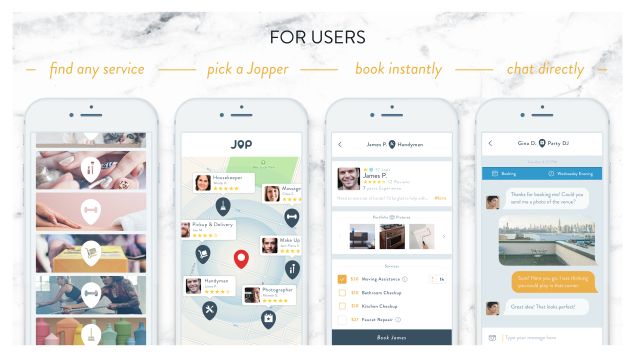 What's the craziest service that Jop offers?
We have incredibly talented people on Jop that are experts in their craft. One Jopper is a graduate from Berklee College of Music, one of the top music conservatories in the country. He offers music performances in the entertainment category which means you can hire him for $70 an hour for your next rooftop event or work happy hour. We think it's pretty crazy to be able to hire a top musician in NYC, whose musical knowledge ranges from Brazilian to reggae to jazz, and who has played with some of the greats in our time.
Which markets do you foresee being the most successful and what are your expansion plans?
We chose to launch in NYC because we knew the expectation was already there. It's also a city that comes with the sentiment of "if it works here, it can work anywhere." We feel that if we can meet the expectations of New Yorkers, when it comes to service, technology and expertise, then we can replicate that formula for any city and customize it on a local level. The plan is to provide Jop's services to all major cities in the US, eliminating the need for multiple apps for different needs. We aim to be the only app needed for city dwellers to access what they need, from the most-skilled professionals, in an efficient way.