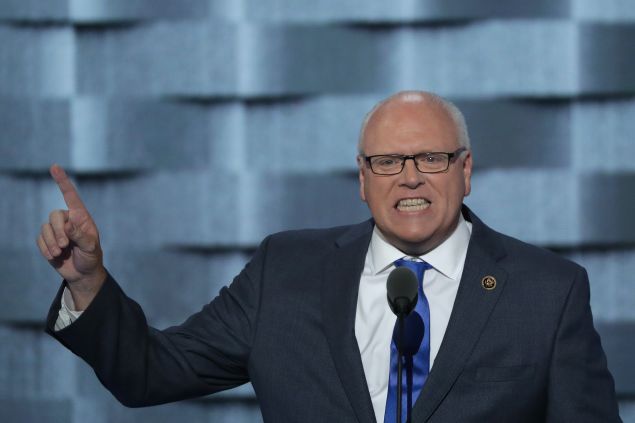 Queens Congressman Joseph Crowley, chairman of the House Democratic Caucus, knocked President Donald Trump's Secretary of the Department of Homeland Security as "very dismissive" of his immigrant constituents' concerns over the administration's aggressive campaign of arrest and expulsion of foreign nationals.
Earlier this month, Crowley and his fellow House Democrats sent a letter to DHS Secretary Gen. John Kelly formally requesting a briefing on Trump's immigration policies for members of the caucus. The missive complained that members of the House Democratic Caucus, and particularly the Congressional Hispanic Caucus, have requested meetings with the Trump administration—notably from ICE—but that only a small group of lawmakers received a briefing.
Speaking via Skype from Washington to a town hall in Queens, the fourth-ranked Democrat in Congress said that Kelly did not make a genuine effort to understand the needs and concerns of his and other members' constituents.
"To say the least, I along with my colleagues were not impressed by the way in which he approached that meeting itself," he said. "He was very dismissive of many of the interests that we brought before him on behalf our constituency."
Trump has issued executive orders subjecting any foreign national accused of any crime to detention and deportation, dramatically expanding the priorities of former President Barack Obama, who ordered DHS's Immigration and Customs Enforcement division to focus its energies on violent offenders. But reports have also arisen of ICE officers taking undocumented immigrants they encounter incidentally during their operations into custody, even if those in question have committed no violation other than residing in the country illegally.
Crowley vowed last night that he and his colleagues will continue to push for more details from Kelly and the Trump administration about the immigration policies are being carried out.
"We're going to continue to press them on the issue of…who's eligible now for deportation if they get caught in any sweeps that ICE is conducting," Crowley said.
A DHS spokesman said that Kelly has met with groups of House Democrats and Republicans and will soon meet with senators from both parties and that he has also held several meetings with individual members of Congress and is "committed to an open dialogue."
"Secretary Kelly spent an hour last Friday with members of the House Democratic Caucus to answer their questions and hear their concerns," the spokesman said in an emailed statement. "There were some points of agreement and some areas where they differed. However, disagreement does not equal dismissiveness."
He also said that ICE conducts targeted enforcement operations and does not engage in "sweeps," saying that the priorities for enforcement are "clearly laid out" in Trump's executive order and in Kelly's February 20 implementation memo.
Congressman also told attendees that he was "very, very concerned about our country today and its present state," and argued that immigrants make vital contributions to the local and national economies. And he said he feels a personal connection to the issue given his own Irish immigrant heritage.
"I feel very passionately about this issue, about immigration reform," he said.
Crowley—whose Bronx-Queens district includes some of the country's largest Korean-, Colombian- and Indian-American communities—was scheduled to co-host an event on immigration with Queens Assemblyman Francisco Moya last night at St. Leo's Catholic Academy in Corona. But he wound up remaining in the nation's capital after Speaker Paul Ryan delayed the vote on the American Healthcare Act, the replacement program for the Affordable Care Act.
This story has been updated to include a statement from a spokesman for the Department of Homeland Security.