"The amazing thing about La Perla is we do lingerie, nightwear and sleepwear, so we can encompass your entire life. From the time you wake up in your pajamas, go to the office wearing our suits, to evening wear and then back to your nighty, we encompass it all," La Perla's creative director Julia Haart explained, while curled up in a round leather booth in the Lamb's Club. The designer was wearing a red zip-up hoodie and an insanely high pair of heeled boots of her own design.
It was a chilly February morning, directly following the designer's Fall/Winter 2017 runway extravaganza, where Naomi Campbell donned a silky nighty, Lindsey Wixson walked in a bright purple bralette, Sasha Pivovarova rocked a plaid skirt suit, and Kendall Jenner closed the show in a nearly see-through gown. The models lounged on the couches, chairs and balconies, in a number of different rooms of the "La Perla Manor" set, before descending a grand staircase and strutting the runway. Taking place on the first day of New York Fashion Week, this grand gesture was an impressive way to start off the season.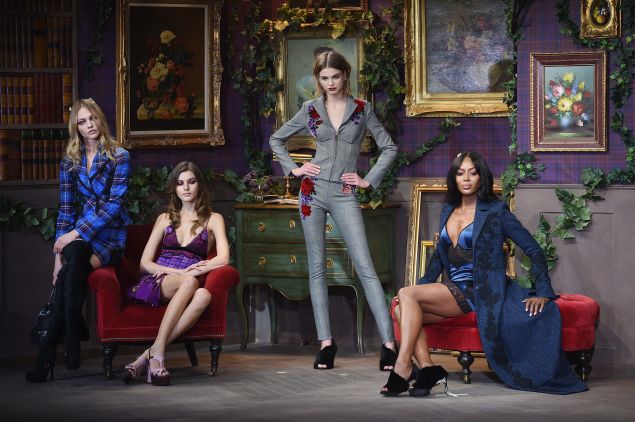 "I asked the casting agent Piergiorgio [Del Moro] for diversity. I do not want to see 40 white girls, that's not the world we live in and that's not the people I want to sell to. I want to dress every woman. I also wanted women with personality. Don't just give me beautiful women; give me sexy, fun, confident, strong women!" she explained.
Perhaps Vogue said it best in their runway review. "She is presumably catering to those women that might tune into the Victoria's Secret show (as it happens, a number of her Fall cast are also Angels) but would never actually buy Victoria's Secret—all La Perla, all the way," they wrote. Surely, the Victoria's Secret formula is there: world-class models, an over-the-top set and plenty of lacy lingerie. But there was more.
"I am very honored, it's very lovely," Haart replied, when asked about the comparison. "The only thing is that Victoria's Secret is a lingerie show, mine was a ready-to-wear show, so that's comparing apples and oranges. We may have come from a lingerie background but we have taken it to the next level."
And it's true. La Perla is a go-to for sexy lace bras and barely there underwear with luxury price tags, but they also offer slinky evening gowns and blazers with wireless bra cups built in. Not only do you factor in your clothing size with a La Perla ready-to-wear purchase, but your bra size is considered, too. Have you ever bought a jacket in a size 38 cup AB? Or a shirt in a 44 cup CD?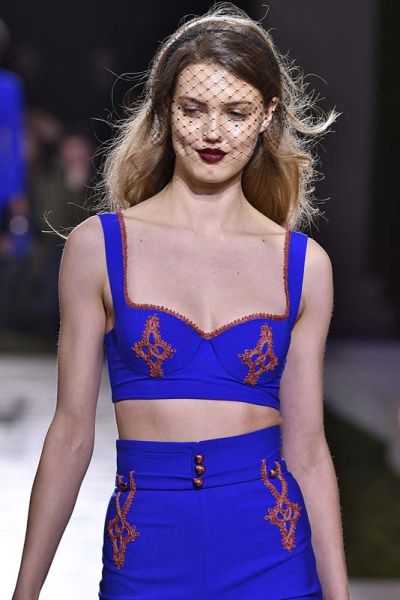 However, the starring roles belong to the fabrics used by the company, these firm foundations are truly something to marvel over. Haart has incorporated stretch into nearly every material, offering a silk dress with 10 percent Elastane that is wrinkle-resistant. She has also developed a fine stretch-lace that actually moves with the body. Haart wants women to feel as comfortable in their clothing as they feel in their lingerie. She doesn't believe that women should have to choose between looking good and feeling comfortable.
"All of my materials have stretch, so you can literally kickbox in everything," she semi-joked. "Not that you're necessarily going to want to kickbox in an evening gown, but if the mood instructs you…"
***
Appointed to the creative director role in August 2016, it is clear that the buxom but petite Haart knows a thing or two about finding flattering clothing to fit her frame. She had actually worked with the brand before this past summer; advising the team on two accessories collaborations, starting with the Fall/Winter 2016 season.
"I had my own shoe line, so I first started making shoes for La Perla, as a collaboration. Then it was 'Julia can you design handbags?' And 'Julia can you design men's shoes?' Eventually, 'Can you help with the collection?' And here we are."
Since being installed in this top creative role, Haart has cemented her status as a power player. In December, she co-hosted a celebration for a Goop pop-up in Santa Monica. Gwyneth Paltrow showed up to the dinner in a black corset suit and leggings from La Perla (Ms. P also made a rare front row appearance at the brand's February fashion show).
La Perla also co-sponsored Harper's Bazaar's Los Angeles celebration of the 150 Most Fashionable Women in January 2017, where Haart appeared on the red carpet sandwiched between Kendall Jenner and Liu Wen (who, if you recall, both walked in recent fashion shows for Victoria's Secret and La Perla). These two models also starred in the latest La Perla ad campaign, donning suits in celestial prints, dresses decorated with sultry lace and corset details; they shared the campaign with Isabeli Fontana. Shot by Steven Klein and artistically directed by Fabien Baron, this was Haart's inaugural campaign for the brand. The theme behind the shoot? "The liberation of every woman from the need to suffer for beauty," of course. Despite the clothing, the ads still offer a little something for the lingerie fans faithful to the brand since its inception in 1954.
Also promoting the ready-to-wear range was the brand's new Milan flagship, which opened this past fashion week. Located on via Montenapoleone, the new marble-clad store doubled in size, spanning 2,583 square feet over two floors. Haart admitted that the moving to a bigger store was necessary for accommodating her expanded clothing collections. This is understandable when you realize her Fall/Winter 2017 collection contained a whopping 225 pieces.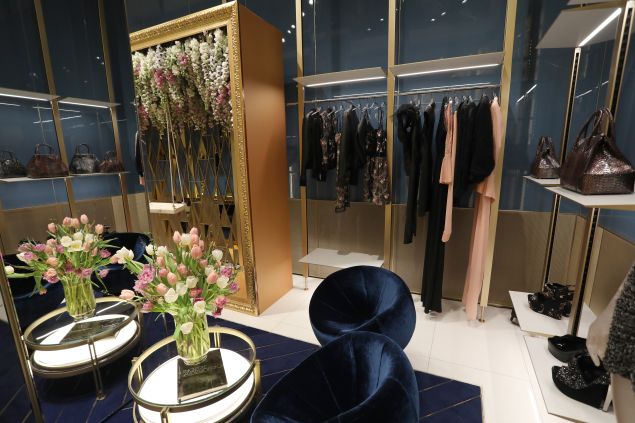 ***
"Everyone keeps asking me 'Who is the La Perla woman?' And I hate that question so much. Who am I to determine what a woman should look like?" Haart expressed in exasperation, back in New York. She went on to explain that she is not precious about how say, a stylist might dress an actress in her designs, many of which are simple tailored staples. She is unconcerned if her looks are paired with other brands, she just wants the La Perla pieces to look good. Haart has set out to dress every woman, to help them embrace their curves and the make them feel comfortable.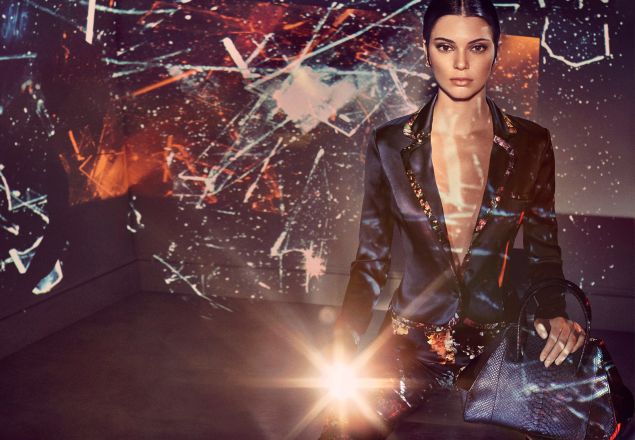 "I want to make women feel more confident with themselves," she said. "I want them to look in the mirror and say damn I look fine. That's my only job.