In keeping with modern film's most annoying trend, Warner Bros.' Justice League released a teaser for a full-length trailer coming this Saturday. The short, 15-second video focuses primarily on Jason Momoa's Aquaman and honestly, he looks pretty spectacular: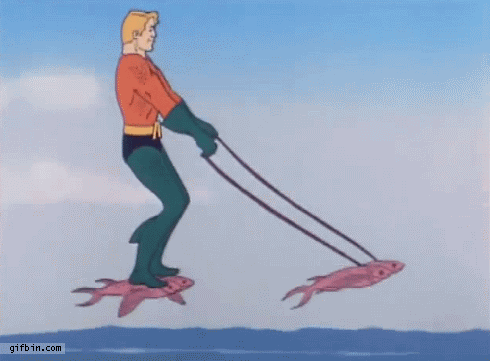 Sorry, sorry *cough* and honestly, he looks pretty spectacular:
[protected-iframe id="7da8331f9ac273c349b80b37dc4dd2df-35584880-59143305″ info="https://vid.me/e/bhyn?stats=1″ width="854″ height="476″ frameborder="0″ scrolling="no"]
The brevity of the clip coupled with Aquaman's signature symbol at the start may hint we'll be getting more, character-specific teasers in the lead-up to Saturday. Some suggestions: 10 unbroken seconds of Ben Affleck staring off into the distance on the Live By Night press tour, AND THEN. Or Henry Cavill casually reading a newspaper in his living room because Superman totally died in Dawn of Justice, AND THEN.
Saturday's trailer comes at the shakiest of times for Warner Bros.' DC Extended Universe. Suicide Squad–which, I remind you, had a dope trailer–arrived amid a cacophony of terrible reviews, Jared Leto croaks, and the worst Now That's What I Call Music soundtrack in years. Justice League director Zack Snyder is already persona non grata in the comic book world for turning Superman into a surly teenager. Batman doesn't want to be Batman. Wonder Woman is trying to do what Wonder Woman always does–save all these other idiots' asses–but all anyone cares about is whether or not an Amazon would have armpit hair.
But, again, as far as 15-second clips where Batman throws Aquaman a trident go, this looks cool…as does the official Justice League poster Snyder dropped on his Twitter: