It's been two days since Warner Bros. released the non-teaser trailer for Justice League, which means I've had two days to A) Digest our first full-length look at Zack Snyder's DC Comics team-up B) Live with 'Come Together'-as-covered-by-your-high-school-rock-band stuck in my head. Right up front, it's important to get one thing out of the way: This, right here, is a great trailer.
[youtube https://www.youtube.com/watch?v=3cxixDgHUYw]
Which is exactly the issue, isn't it? Big studios, surprise surprise, have a ton of money and can hire marketing teams that are, surprise surprise, incredible at their jobs. The Fate of the Furious is two hours and sixteen minutes long, which is roughly two hours and 13 minutes longer than I'd like to watch Vin Diesel and The Rock flex at each other, but the trailer for that movie is such an effective, jam-packed little slice of oddball action awesomeness I hope it wins Best Picture by itself. The trailer for Suicide Squad was SO good, DC just had the marketing team turn the whole movie into history's second-worst music video starring Jared Leto's Joker (this is the first). Basically, the lesson here has become, more and more, great trailers ≠ great movies.
Enter The Justice League, a prime example of the capital-letter Epic trailer. It works, man. It worked on me. Turns out the modern-day equivalent of Pavlov's bell causing a dog to drool is the sound of a trailer dropping, someone whispering some vague nonsense like "Shall we?" and then a LOUD GUITAR RIFF wailing back in. Extra-dope cool points if, at some point, the noise of a machine gun matches up with the sound of the drums. At this point, it's not even a conscious decision. I blacked out and woke up with a Fandango pre-order. It just looks…cool, ya know?
But the charge against Zack Snyder has never been that he can't plan, frame and shoot something that is visually impressive. Sucker Punch manages some insane set-pieces even while being one of the most offensively dumb things put to film. Watchmen is, if nothing else, as faithful an adaptation you can hope for outside of actually turning the comics' pages real fast like a flip-book. Even Batman vs. Superman occasionally awestruck the eye into believing movies don't actually need storylines to exist. Zack Snyder as a filmmaker is a Cool Trailer in human form. I'm pretty sure the man dreams exclusively in slow-motion kicks.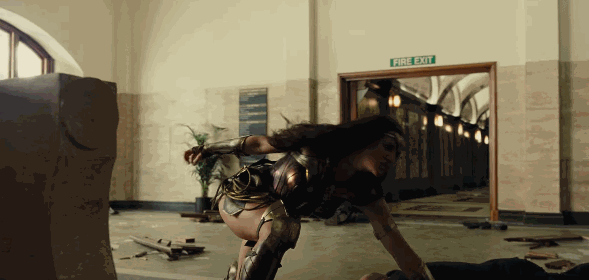 Where Snyder–and writers David Goyer (Batman v. Superman) and Chris Terrio (Justice League)–fall so consistently short is in clarity and a basic understanding of what makes these characters likable, much less relatable. These are the guys that turned Superman into Earth's Mopiest Hero, Batman into a murderer, Lois Lane into a helpless buffoon and Jimmy Olsen into an uncredited war photographer who gets shot in the face. If you want a perfect visual representation of the way Snyder and Co. view these characters, look at the design for Ray Fisher's Cyborg. The actor-to-CGI ratio is so absurd, DC might as well have hired Andy Serkis. It's almost as if Snyder could erase any shred of humanity these heroes have in favor of BadAss looking SFX, he would. The reason Aquaman is the stand-out here is due to the decision to present him as "What if Jason Momoa was just Aquaman IRL?"
In Snyder's case, the problem with "clarity" is two-fold, both a storytelling issue and, well, literally being unable to tell what is happening. The trailer confirms Justice League will be wash in Snyder's trademark color-tone, Janitor Bucket Water Grey, and though DC clearly took the "lighten up" critique seriously–there are several genuine laugh lines–Snyder still isn't sure how to literally light an action scene by anything other than explosions. Three-quarters of the trailer seem to be filmed on discarded Prometheus sets.
As for story, it's hard to tell, which in itself is a problem. For all its impressive bombast, this trailer doesn't paint a story outside of the biggest, loudest superhero scavenger hunt in history (there are Parademons galore, but mostly as battle fodder). In the most appropriate twist ever told, most of the story has to be concealed because of the creative box Zack Snyder put on himself. The trailer for a big-screen Justice League, the largest non-comic-book thing DC has ever done, can't show SUPERMAN in order to maintain an on-screen death not a soul on Earth believes will last. It is endlessly hilarious to me that this movie had to change its tagline from "Unite the Seven" to "Unite the League" because someone important didn't think the audience would notice Batman + Wonder Woman + Aquaman + Cyborg + The Flash = 5.
Speaking of The Flash (played by ball o' charm Ezra Miller), every point in this piece can be summed up by these four seconds: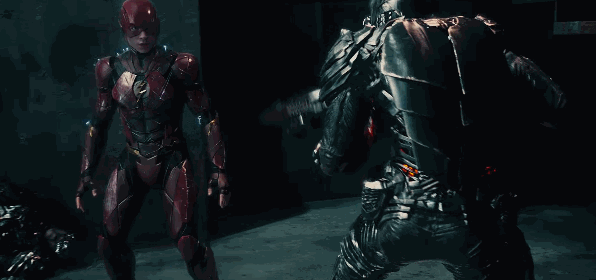 It's a shot I like to describe as Trailer Made: quick, awesome, exciting and near-incomprehensible all at once. In short, I don't know what it is but I think I want to spend money on it. Honestly, Warner Bros. should just transfer Zack Snyder over to their marketing department, where he can live out his days as the greatest director of 3-minute trailers to ever live.