"If there's one thing you publish about this interview," Justin Bartha says, turning away from the camera (much to the chagrin of the photographer) and back to me, "the one takeaway, is that that everyone should watch HyperNormalisation."
And so, to you, dear reader, I say, you should watch HyperNormalisation, a 2016 BBC documentary by British filmmaker Adam Curtis about the terrifying intersection between politics and technology. It's nearly three hours long, fully available on YouTube, and you'll want to talk about nothing else for about two weeks straight.
Only in part due to his excellent documentary recommendations, one gets the sense upon meeting him that Justin Bartha would make an excellent dinner guest. He speaks effusively about politics, social media, fame, all without an ounce of condescension or the sort of self-importance one might expect from a very good-looking, successful man who knows far more about British filmmakers than you do. But even more pronounced is how Bartha can't help but look at your face while the two of you are speaking (again, to a photographer's chagrin), never once giving off that all-too-ubiquitous impression of someone just dying to check their phone.
Bartha grew up in Michigan, a student at a "big public high school" who figured out he wanted to become an actor because he couldn't quite make it as a sports star. "As with most suburban kids, I was trying to be an athlete but I wasn't very good, and then reality caught up with me.
"I feel like I was always the underdog. I was definitely never the star of the high school musical. I almost got the lead once," Bartha recounts. "We did Merrily We Roll Along, this brilliant, flawed Sondheim musical, and remember I auditioned for the lead part over and over because the star kid kept screwing up his audition, and I was somehow doing better than he was, but they kept on auditioning until I screwed up and he got the part and I got the supporting role." His first Hollywood lesson. "And then that sustained for most of my career," he laughs.
Best known for his roles in two National Treasure films and three Hangover's (in which he played the perennially missing Doug), Bartha returns to the screen in CBS's newest streaming legal drama, The Good Fight, a spin-off of The Good Wife.
"When I heard they were going to do a streaming version of the show starring Christine Baranski, who was always my favorite character in The Good Wife and one of my favorite actresses—I mean, what an opportunity," Bartha said.
With a career that's spanned from television to films to Broadway and then back again, Bartha says he feels happiest in flux. "I feel at home searching, and doing something different as much as possible, I get pretty restless doing the same thing. I think the more I stay in one place the more uncomfortable I feel."
He's drawn to projects, then, that give him something interesting to explore, like the ambitious but short-lived Ryan Murphy show, The New Normal, in which Bartha played half of a gay couple becoming parents with the help of a surrogate mother.
"I think a lot worked and a lot didn't work," Bartha said of the 2013 show. "I think some of that show tackled social issues in a broad sense that then made the show, at times feel preachy, or that it was concentrating on issues instead of character. What we got really right was showing a loving relationship between a gay couple and how even when a gay couple seems to have it all, there was still bias and homophobia in the world, and there's still a lot to navigate and we still have a long way to go when it comes to equality.
"We've had gay characters having relationships on television for a long time, but at that moment, it felt really good, personally—my only brother is gay and he struggled with his sexuality his whole life. And Ryan Murphy is, I think, a genius. Ryan is one of the greatest creators in television history, and it was an honor to do anything with him." 
With The Good Fight, Bartha jumped not only at the chance to work with The Good Wife creators Robert and Michelle King, but at the opportunity to flex his interest in politics and the law.
 The show follows Baranski's Diane Lockhart, who joins a new law firm along with fellow Good Wife alum Lucca Quinn after a family friend turns out to be the next Bernie Madoff and wipes her savings. The show exists arm-in-arm with the real world—the first episode opens with a shot of Lockhart in wide-eyed terror watching the inauguration of Donald Trump on TV.
"I think about politics all the time," Bartha said. "I read about it way too much and I have, for years." Bartha is most definitely a reader. Currently on his bedside table? Sapiens, by Yuval Noah Harari; and On Immunity by Eula Bliss, an examination of the fear of vaccinations. "That's an issue where it's based in science, it's the truth, and yet it's still a part of our conversation. If we can't agree on vaccines, it's very hard to have a conversation about anything."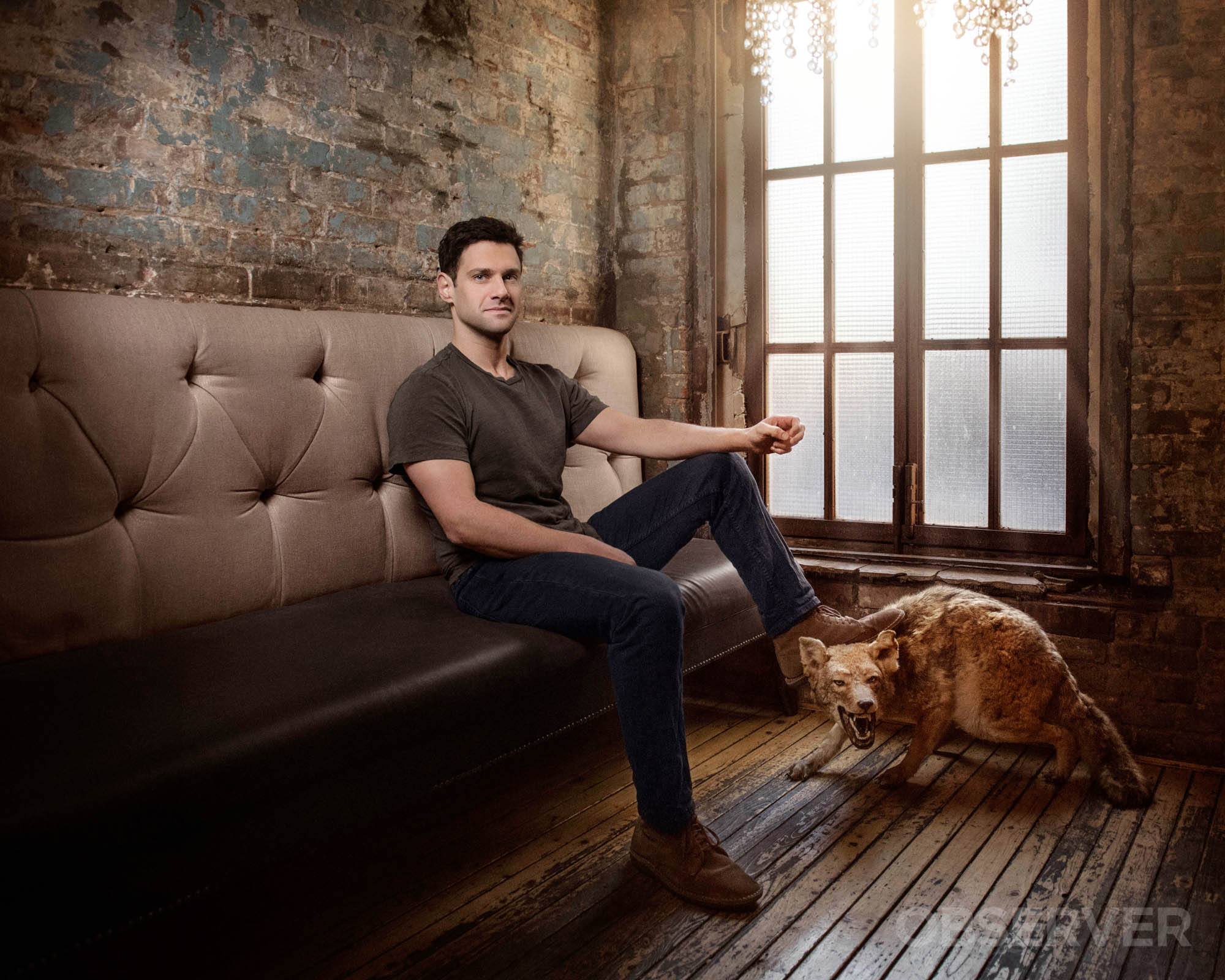 Bartha is just as thoughtful when our discussion shifts to the nature of fame. "I think fame has become the American drug," he says. "I've been working now for a long time, and when you first get fame, it's awesome, it's amazing. It definitely has its perks. But as you get older, as you have a family, at a certain point you hit a wall and realize that navigating the world with it is actually pretty confusing and difficult."
Fame, he promises, was never something he sought, rather just the inevitable byproduct of starring in films alongside Nicholas Cage and Bradley Cooper, and having those goddam blue eyes. "I'm from the Midwest, I have no entertainment background—it's not something that I ever thought about really growing up," Bartha says. "But you see how fame has evolved in the last twenty years. Fame means something completely different than it used to. It's used, mostly, for extreme evil. You see what's happening in politics—that's the reality show aspect of fame when it's switched. It's become this blob that's overtaken all of us."
Bartha does not have a Twitter account, and he's never been on Facebook. I make a shocked look. "I always get that shocked look!" he says. "I almost feel willfully ignorant about those things because I'm probably afraid of them. I'm an easily distractible person. My interests can span a lot of things. If I had Twitter and Facebook, I would always be on my phone. I'm already always on my phone and I don't have those things so how could I add more? If I added them, I'd never see my family."
Bartha does not leave the photoshoot until he's certain that I've written down the Adam Curtis documentary I should watch. "And The Century of the Self," he adds. After I watched HyperNormalisation, I should definitely watch The Century of the Self, a documentary series also by Curtis.
I feel like a middlebrow hack for changing the subject to a possible National Treasure 3, but I still have to. "They've always worked on a script!" Bartha says. "The answer is, ask Disney."