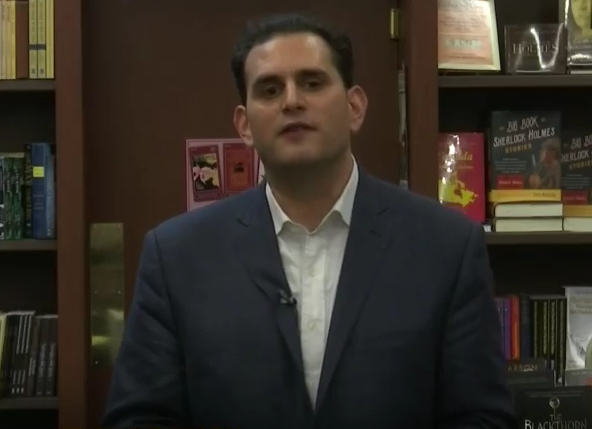 Updated March 3, 2017 10:00 AM with statement from Deutsch
The new book Pill City by Kevin Deutsch is about two teenage Baltimore gang members, "Brick" and "Wax," who set up a drug delivery service and marketplace on the Dark Web. The blurbs for this story of two young drug lords describe it as "harrowing," "shocking" and reminiscent of David Simon's TV show The Wire.
There's only one problem: Simon, among many others, claims that Deutsch's story isn't true.
The questions raised about Pill City have opened a larger investigation into Deutsch, a 35-year-old journalist who worked for Newsday and the New York Daily News and also freelanced for the New York Times. All of these outlets are now reviewing the stories Deutsch has written for them.
It all started last month, when the Baltimore Sun reported that city police and health officials, along with the Drug Enforcement Administration, could find no evidence that the operation described in Pill City ever existed.
Deutsch told the Sun that he had to change the names of all the criminals and law enforcement officials he spoke with to protect their anonymity. He also said that he couldn't provide information to corroborate his story.
"If government is attacking my reporting, I view that as a badge of honor," Deutsch told the Sun. "I don't get my news from press releases."
As part of its investigation, the Sun also reviewed a December story Deutsch wrote for the New York Times about 220 people who died on Long Island after overdosing on the synthetic opioid fentanyl. The Sun told the Times that it was unable to locate two of Deutsch's sources for the scoop.
After conducting its own independent investigation, the Times also could not confirm the existence of either "Jeffrey Sheridan," purportedly an addiction counselor whose nephew died an overdose, or "Andrew Giordano," another overdose victim. The paper added a lengthy editor's note to the online version of the article and also removed the sections featuring those two sources.
Deutsch again defended his reporting—he told the nonprofit watchdog iMediaEthics that his interviews with the two men had "sensitive ground rules." Even so, the Times released a statement saying it didn't plan to offer him further work.
"The truth is sticky and lies crumble."
But the dominoes kept falling—in mid-February, Newsday announced that it was reviewing Deutsch's work over the four years he worked there (2012-2016). At the same time, iMediaEthics also launched an investigation.
y could not locate certain individuals I quoted
Today iMediaEthics reported that it had been unable to locate at least two of the individuals Deutsch quoted. Both stories were filed after the June 2016 Pulse nightclub shooting in Orlando: In one, he quotes "Eric Baumer," who allegedly worked with gunman Omar Mateen at the private security company G4S. Nobody by that name ever worked for the company.
In the other, Deutsch includes comments from Aahil Khan, a supposed classmate and childhood friend of Mateen's at Martin County High School in Stuart, Florida. But the district told iMediaEthics that nobody by Khan's name had ever attended school there. Furthermore, Martin County keeps a list of district media inquiries and Deutsch's name isn't on the list.
Given this new information, the Daily News told iMediaEthics that it will also review all 572 stories Deutsch wrote as a criminal justice reporter there between 2011 and 2012.
Rhonda Roland Shearer, editor in chief and publisher of iMediaEthics, told the Observer that the questions about Deutsch's reporting (especially the Times editor's note) raised "alarm bells" for her, prompting the site to investigate.
"Editors everywhere must hold the line," Shearer said in an email. "The truth is sticky and lies crumble."
Deutsch maintained his innocence in a statement to the Observer. He also said he was "cooperating fully" with reviews of his work.
"For me, journalistic ethics are sacrosanct," he said. "To suggest that I would violate journalistic ethics in any sense is wrong. Journalism is my life. I stand behind every word I've written."