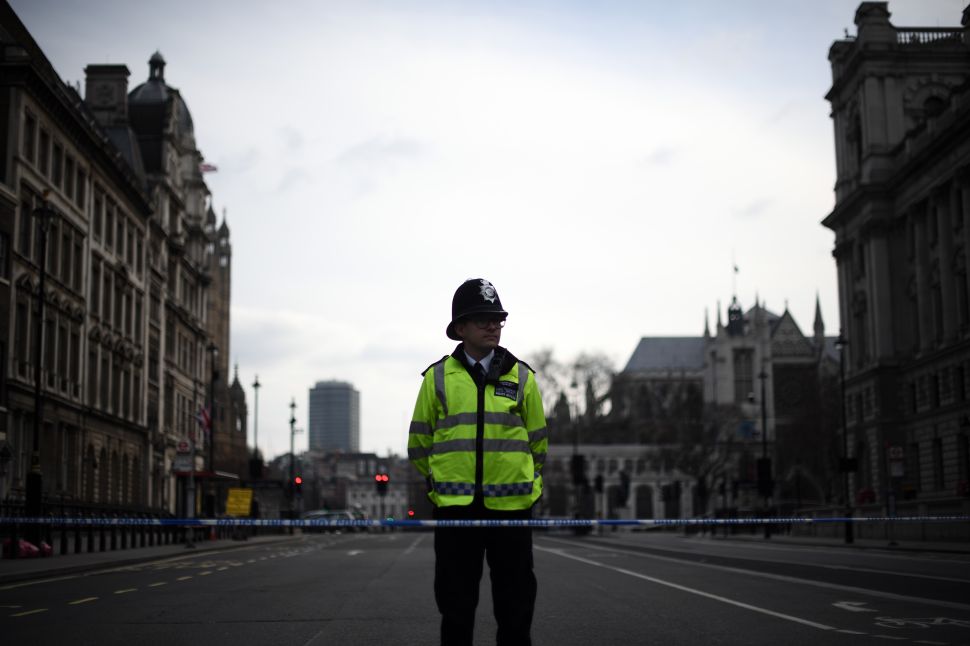 It's difficult to imagine a more powerful symbolic target for terrorists than the "Mother of Parliaments" on the Thames in the heart of London. For Islamist radicals who seek to destroy our Western way of life, the building which inspired so many democratic systems around the world represents a tempting target indeed.
Thus, it became one yesterday, just after 2:30 in the afternoon, as a car barreled across Westminster Bridge, running over bystanders along the way, only to stop at the gates of Parliament. The driver emerged with a knife, stabbed a policeman, then was himself taken out by another policeman with a gun. It was soon over, leaving four people dead, including the attacker.
A 48-year-old policeman, Keith Palmer, succumbed to the stab wounds he sustained while attempting to stop the murderer. Two innocents died of the wounds they received when they were run over by the attacker's car. Aysha Frade, 43, was a London schoolteacher with a family, including two children, in Spain. Utahan Kurt Cochran, a 54-year-old engineer, was in Europe celebrating his 25th wedding anniversary; his wife Melissa was wounded in the attack and remains hospitalized with serious injuries. She is among the 29 victims injured, seven of whom are in critical condition.
The incident included its share of 21st century pathos. Radek Sikorski, Poland's former prime minister, witnessed the car running over innocents—the horrible aftermath of which he captured on phone-video and posted to his Twitter account. One Conservative member of Parliament attempted in vain to save the life of the wounded policeman, administering first aid to the dying man. Tobias Elwood, a former officer in the British Army whose brother was murdered in the 2002 jihadist attack in Bali, has been hailed as a hero for his role in the drama.
The British government was slow to identify the dead attacker, though police were quick to brand the incident as an act of terrorism. During the delay, overeager social media mavens fingered Abu Izzadeen, a notorious British radical, as the deceased terrorist. Born in London in 1975 as Trevor Brooks, he is indeed a convicted terrorist and a highly public Islamist extremist—but Izzadeen's lawyer soon explained that his client was in prison and quite alive.
Today London authorities announced that the terrorist was 52-year-old Khalid Masood, a native-born Briton and petty criminal with a raft of convictions between 1983 and 2003 for offenses ranging from assault, to possession of drugs and offensive weapons, plus disturbing public order. Masood possessed several aliases and was known to the police, though was not considered a threat to national security. "Masood was not the subject of any current investigations and there was no prior intelligence about his intent to mount a terrorist attack," the Metropolitan Police explained.
That Masood may have been more a Known Wolf than a Lone Wolf is indicated by a series of police raids on six residences in London and Birmingham after the attack, resulting in eight arrests. Nevertheless, British authorities have hinted that the killer was more likely inspired by online jihadism, a wannabe, than any sort of hardcore terrorist.
Predictably, the Islamic State proclaimed Masood as their "soldier" in an online announcement, just as they hailed Omar Mateen, the jihad-inspired Orlando murderer of 49 innocents last June—despite ISIS having never given him any orders to kill anyone. It says something that the Islamic State has been reduced to hailing every murderous Muslim malcontent in the West as their own.
Just as predictably, Prime Minister Teresa May announced that while the attack on Parliament was unquestionably terrorism, it would be wrong to pronounce it an act of "Islamic terrorism," though she did explain that the term "Islamist terrorism" did fit the crime. This important distinction has eluded the Trump White House, to its detriment. Prime Minister May added that Masood was known to the security services as a radical, but was regarded as "a peripheral figure" and "not part of the current intelligence picture."
Cynics might note that Masood was a peripheral figure in jihadist circles right until he rammed into the gates of Parliament. However, the difficult truth is that British intelligence and law enforcement, though highly proficient at countering terrorism, face an insurmountable problem. Outside a couple dozen people in the United Kingdom who at any point are deemed a sufficiently real terror threat as to warrant 24/7 surveillance by the security services—a costly and manpower-intensive enterprise—there are thousands of people who are known to those services and may present a threat. But the resources to watch them closely are lacking.
Self-starting killers without real ties to international terror groups, particularly ones who rely on do-it-yourself techniques with easily obtainable weapons like cars and knives, are difficult for even the most competent spies and cops to stop before they kill. Across the West, Khalid Masoods are proliferating—angry, unbalanced men who find in Salafi jihadism the salve for their resentments and a much-needed justification for the violence they glorify.
There is good news here. Only a dozen years ago, British jihadists pulled off a complex attack in the heart of London, the notorious 7/7 operation, which murdered 52 innocents—and transformed British counterterrorism. Today it would be exceptionally difficult for terrorists to mount anything of that intricacy or lethality. Instead they are reduced to DIY attacks which kill a only a handful of people. This war is far from over, yet this is progress of an important sort.
John Schindler is a security expert and former National Security Agency analyst and counterintelligence officer. A specialist in espionage and terrorism, he's also been a Navy officer and a War College professor. He's published four books and is on Twitter at @20committee.