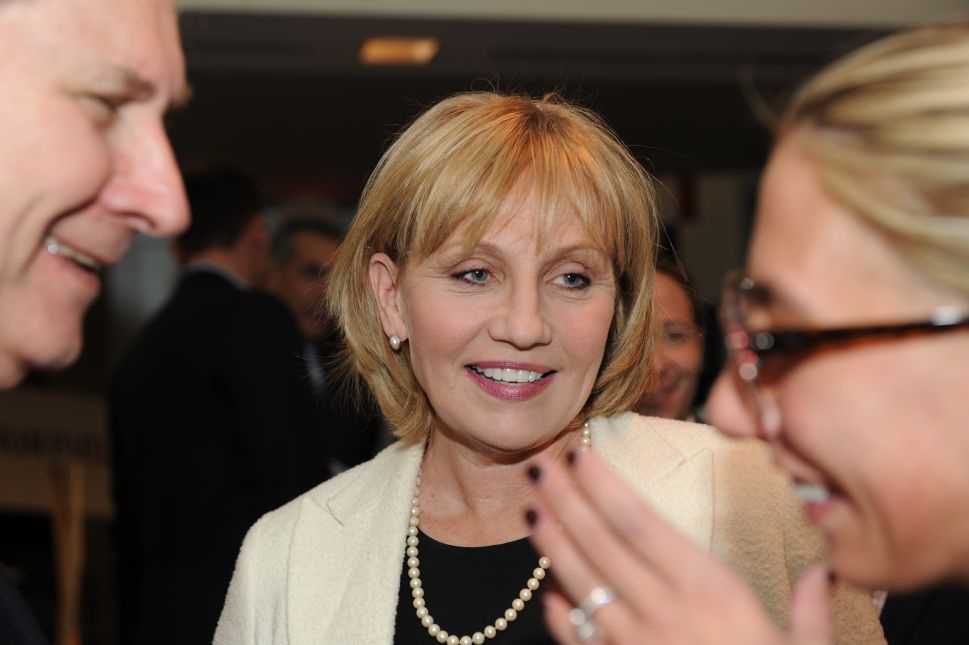 One of the characteristics of a compelling sporting event is how often the lead changes. By that measure, the GOP primary for governor has made for a gripping contest, with Lt. Gov.
Kim Guadagno and Assemblyman Jack Ciattarelli seemingly alternating wins on a daily basis throughout the screening season. He takes Somerset then she grabs Ocean then he wins Burlington while she's winning Cumberland and Monmouth, and so on, capped with his big wins in Union and Essex and hers in Bergen.
But there's one important storyline here where the lead hasn't changed at all. Kim Guadagno is way ahead in money raised. And with matching funds about to be awarded, that gap might be growing.
Candidates have until April 3 to qualify for New Jersey's generous matching funds program. PolitickerNJ can exclusively report that the campaign of Kim Guadagno  is about to receive over $830,000 after having qualified for the match. Her chief rival, Ciattarelli, has not yet met the threshold, according to insiders on both campaigns.
Some background on how the program works will help make clear the stakes here.
ELEC sets a threshold of $430,000 that campaigns have to raise from eligible donors—ie, not including contributions or loans from the candidate to his own campaign—to be considered for the match. Campaigns that can demonstrate that they have raised and plan to spend that $430,000 in the primary can qualify for 2:1 matching funds for money raised beyond that threshold.
Thus, a campaign that has raised a total of $500,000 and gets approved by ELEC can get as much as $140,000 in state money to spend on campaign expenses, since the difference between $500,000 and $430,000 is $70,000 and the state gives up to $2 for every dollar. Campaigns can receive up to $4 million for the primary alone from this system, which is in place as a check on the unlimited spending power of a super-rich self-funder, such as Jon Corzine in 2009.
PolitickerNJ can report that ELEC has approved the Guadagno campaign to receive over $830,000 in public matching funds and will be dispersing that money to the campaign early next week.
So far, Ciattarelli has not hit $430,000—if he fails to get to that mark, she could outspend him 3:1 on money raised going forward, since every dollar she raises could get $2 from the state while his $1 has to stand on its own.
As PolitickerNJ reported early this month, Guadagno had passed the threshold, as have Democrats Jim Johnson and John Wisniewski. It has been reported that Ciattarelli intends to qualify for the program and he's still got a week to do so. But if he only just gets to that mark, it means that the candidates begin the crucial final two month stretch separated by a large margin, which will allow her to dominate the FoxNews spots that all GOP candidates try to scoop up during a primary.
A wildcard here is that Ciattarelli is a successful businessman—he has owned several medical publishing journals—who could conceivably plow some of his own money into this race. It's unknown exactly how rich he is—and plenty of wealthy candidates don't love to spend their own money. But if he feels like the wind is at his back, it's not hard to picture a few hundred grand finding its way onto the airwaves via a self-donation.
Meanwhile, Team Guadagno is pleased with its position.
"As of today, we have the line in the majority of counties in New Jersey, and we have been approved to receive over $830,000 in public matching funds, which will be disbursed by ELEC early next week," Guadagno campaign manager David Huguenel told PolitickerNJ. He said the matching funds will allow his candidate to "take on the Democrat money machine fueled by Phil Murphy's Goldman Sachs cash."
If it's odd to hear a Republican operative eager to get hands on state money– funded by the taxpayers, incidentally—and knocking investment banks like a Bernie Bro, chalk it up to the topsy turvy times in which we live.
The candidate who spends the most does not always win. But one thing is for sure in politics—it's easier to win with money than without it.