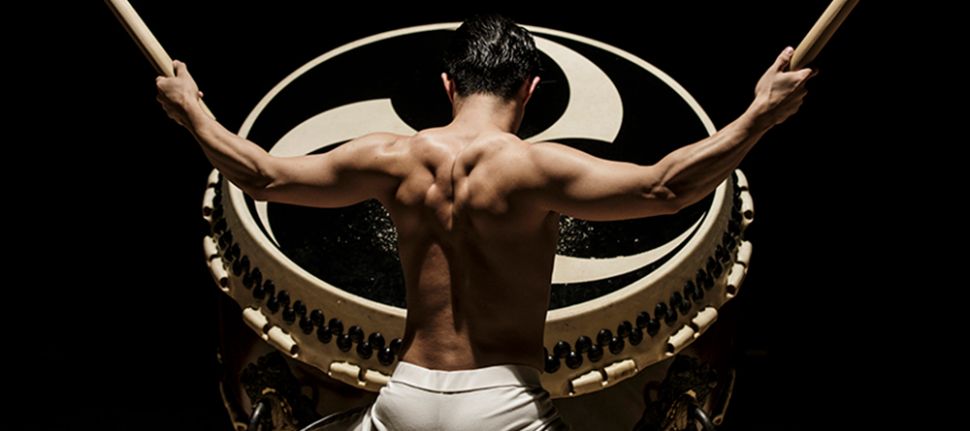 Sado, Japan, is not an easy trip. After a 14-hour flight to Tokyo, you'll have to hop a two-hour bullet train ride followed by a two-and-a-half-hour ferry trip to get there. But on this isolated island in Niigata Prefecture, among the crested ibis, a troupe perfects the Japanese art of Taiko drumming as Sado's gift to the world.
Sado's most famous export is Kodo, a Taiko performance troupe that has integrated the traditional wadaiko drum with worldly instruments and visceral, athletic displays of synchronicity since they debuted at the Berliner Philharmonie in 1981. Last year marked Kodo's 35th anniversary, and as the troupe continues leaving Sado to tour the world for two-thirds of the year, its repertoire remains ever evolving.
Tonight marks Kodo's return to BAM for the New York premiere of Dadan, a show originally conceived in 2009 that has since become Kodo's only performance to evolve and change over the years. It's Kodo's first NY production since 2015's Mystery, and performances run nightly through March 4.
"It's said that the sound of a Taiko drum is like the sound of your mother's womb when a child is inside. So it's said that the Taiko drum sound is very primal to anybody, you don't have to be Japanese."
"I started Taiko in college because my brother played, and I always thought it was boring," recalls Yui Kawamoto, the company manager for Kodo. "Taiko was too traditional and wasn't hip or anything. But when he invited me to see a performance of his, hearing the sound of a drum was very impactful for me. I didn't even care if it was too traditional or not, I just wanted to be involved in that moment."
So Kawamoto decided to take up Taiko at UCLA, the States' first collegiate Taiko program of what would become several. "It had a lot of history and culture to it as well. They promote that Taiko is not something you need to be Japanese for, you can be anybody who relates to the sound of a drum.
"Taiko drum is a Japanese instrument, but it has a very universal sound to it. If you look at the drum itself, the body is made by a tree, carved out. And the head of the drum is often cowskin or horseskin. So the majority of the instrument is used by a living item, and it's said that the sound of a Taiko drum is like the sound of your mother's womb when a child is inside. So it's said that the Taiko drum sound is very primal to anybody, you don't have to be Japanese."
Kodo's practice of spending a third of each year on Sado, perfecting their repertoire before bringing it around the world, speaks to the universal power of Taiko drumming—it affects you on a body level. But the troupe's focus on infusing modernity into their craft was bolstered further by famed Kabuki actor Tamasaburo Bando, who served as Artistic Director for the troupe until late last year but retains the title for all shows conceived during his tenure.
"Because he is not a musician per se, it is very difficult for Tamasaburo Bando to write a song from scratch," star company member Yuta Sumiyoshi tells me through Kawamoto's translation. "So what is good to work with Tamasaburo, to bring him pieces and portions and rhythms so he can put it together. I often bring in portions of the piece, which is why I'm able to work with him on a lot of compositions.
"I was playing Western drums for one of the productions we had a couple of years ago, and that production gave me a broader view of the act of hitting a drum. It doesn't have to be Japanese or Western. Through that broader view I was able to come back to this production feeling that, whether or not I'm hitting a Taiko drum or a Timpani, it gave me a broader range of what I can do just by the act of hitting."
"After joining Kodo I have learned how a single hit can move an audience's mind."
Since Tamasaburo Bando started working with the troupe, he helped open up new ideas that they had never thought of before.
"At first it was difficult to change up those ideas that we have held for about 30 years," says lead company member Masayuki Sakamoto with Kawamoto's translation, "and ever since his new ideas came in I was able to reflect that onto the performers and the performances itself, on how to coach our performances in a whole new direction."
After explaining how Bando's influence affected his own compositions, Sakomoto recalls his approach to the piece "Color," which appears in Dadan 2017.
"Kodo has a very signature piece called 'Monochrome,' which was written by Maki Ishii, a very famous Japanese composer," he says. "That features the small drums by sitting on the edge of the stage as well. It's a very similar piece to color, instrument wise. "Monochrome" is a very serious piece, it has a version where you play with the orchestra. I wanted to try something different by playing with the same structure and elements, making something fun and comical to be incorporated into Dadan."
Bando's aesthetic choices, like doing away with the traditional Fundoshi loincloth said to promote strength and endurance for the performers, further reflect a troupe that defies any Western projections of Japan as an insular culture unwilling to modernize. But they also encapsulate the multiculturalism of Sado itself, which incorporates the drum into almost all of its festivals and communal ceremonies, including Kodo's annual Earth Celebration on the island.
[youtube https://www.youtube.com/watch?v=OFmuVxAbdno]
"Sado, historically, was a major point of access for a lot of trade in Japan, as well as a lot of stops for Samurai," explains Sakamoto. "With that said, Sado island is said to be a smaller version of the entire culture of Japan, where a lot of cultures intermix within the island. By being on such an island with such rich culture, I feel that we are able to learn a lot by just living there. Having that cultural and natural feel of Sado island into our bodies, that can reflect on our performances worldwide."
Sumiyoshi, who has studied Taiko since the second grade, notes that the traditional style of Taiko drumming known in the region, Ondeko, loosely translates to "demon drumming."
"The Ondeko exists on all parts of the island, so each community has their own type of 'demon drumming,' per se. It's a combination of Taiko drumming and dancing, and because every community has its own choreography and music for this drumming, its said that the people on Sado have grown up listening to Taiko their whole life. We respect that we're putting our headquarters in an island with such culture. I love the rhythms from traditional 'demon drumming' and use it in my own compositions."
Sumiyoshi recalls his early years, focusing more on the speed of his playing than the focus of making each hit resonate. "As an amateur, I did not really think about the performance of one single hit," he says. "I focused on fast playing, how fast I could move my arms and so on. After joining Kodo I have learned how a single hit can move an audience's mind."
A whole collegiate circuit around Taiko has propped up Stateside over the last several years, thanks in no small part to Kodo's popularity. And as a woman in a traditionally male-dominated practice, Kawamoto gives Kodo some credit for the fact that females make up a larger population of American Taiko players than males.
"I don't know if that's the reason, but it may be one of the reasons that the North American Taiko community is very female dominant. There are way more females playing Taiko than males, and I do believe our Kodo females onstage are role models for female Taiko players around the United States," she says. "The production that we're touring with right now only features male performers, and after every performance people ask me where the female drummers are, because they want to see them."
Kodo expects its next 35 years to only further expand and infuse its traditions with modern aesthetic presentations and compositions. But giving back to the island's Kodo Village remains an integral part of the troupe's DNA, too.
"My father is from Sado, so I guess it was a whole coincidence that I'm working for Kodo right now," says Kawamoto. "My family has been in the U.S. for over 30 years and they never thought of anybody in our family moving back to Japan for a career, much less going back to Sado Island to work for a Taiko troupe. So it was a pleasant surprise."
Kodo performs Dadan at BAM tonight through Sunday, with performances nightly at 7:30 p.m. Tickets can be purchased here.