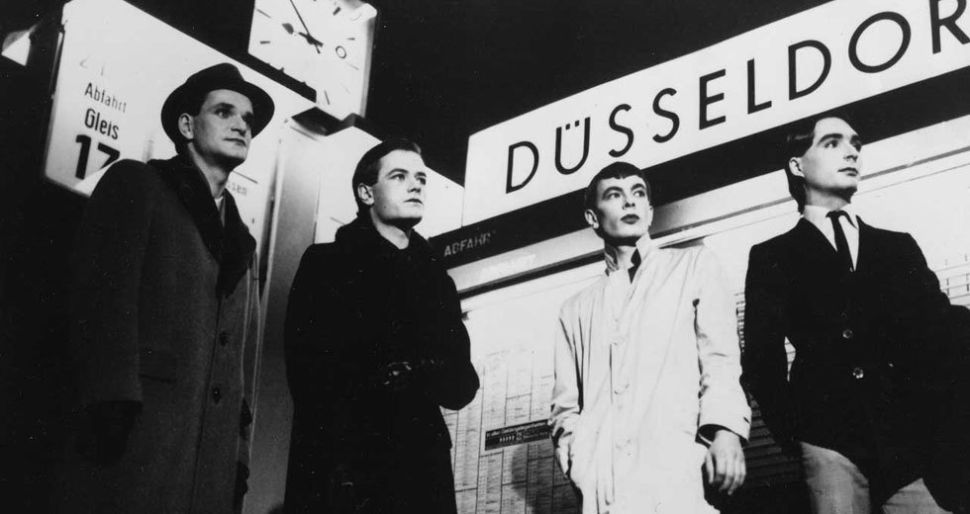 Trans-Europe Express by Kraftwerk turns 40 this month. It is the greatest album by the second most influential band of all time.
Trans-Europe Express is an extraordinary mixture of enchanting, accessible pop and precisely realized concept and composition. It's as sugary as the Archies, as carefully wrought as Quadrophenia, as inventive as Robert Oppenheimer, and nearly as influential as the Beatles.
It is also a product of its time.
I feel terrible about this, but I want you to recall the day after September 11, 2001.
I want you to visualize Lower Manhattan as it was on that day: a smoking, skeletal district fogged by death, a pile of asymmetrical ruins stripped of joy and the bustle of commerce. The whole southern edge of the island was reduced to curls of smoke, the silence of wordless shock, and howls of animal mourning.
Now, imagine if it wasn't just a fraction of your city that was left smoldering, gap-toothed, and piled with the crushed and the dead, but your entire city. Imagine if every block in every section of your town was trampled by enemy giants and made into charcoal by the fires of science, war, and dogma.
Then: imagine if it wasn't just your city, but every city in your country.
Imagine if every city in your country was a disordered pile of bricks and metal and flesh, the chimneys and church steeples replaced by fingers of brick and pipe. Imagine being a child in such a country. Your toy stores, your food markets, your schoolrooms, each and every one of them streaked with the blood of the maimed and the dead.
This was Germany after World War II. This is where the men who made Kraftwerk came into the world.
Even if you were born a year or two after the last bomb fell and the last fire was extinguished, the people who raised you, bathed you, spanked you, and praised you knew terror as surely as they knew your face. And as soon as you had memory, as soon as you had words to attach to objects or history, you knew that not only were your parents survivors, but you knew they had also been the targets of death.
Perhaps they had even been the merchants of death.
Every moment of your young life, every moment your eyes were open, you saw the guilty, you saw the bruised, the beaten, the burnt, the raped.
What kind of popular music would come out of this landscape?
What would the Beach Boys have sounded like if they were born in smashed Berlin, Germany, and not Hawthorne, Calif.? What would the Ramones have sounded like if they attended nursery school in smoking Dusseldorf, and not Forest Hills, Queens? What would the Beatles have sounded like if they had been raised by the losers and not the winners, if they carried the guilt of Buchenwald Concentration Camp, and not the silliness of Butlins Holiday Camp?
Kraftwerk were the children of destruction, seeking not evolution, but resurrection.
[youtube https://www.youtube.com/watch?v=i7i83yoQSo0&w=560&h=315]
In America and the U.K. in the 1960s, young people may have felt socially obligated to rebel against their elders—in West Germany you were morally compelled to rebel.
In the United States, although young people created political action groups that were in pronounced opposition to the status quo (the Weathermen, the Black Panthers, the Students for a Democratic Society, et cetera), by and large the music of that generation was adamantly conformist; even when it sneered a little bit or turned up the volume, it was structurally and harmonically the same stuff Bing Crosby or Pat Boone had made (with a few lyrical tweaks, Rudy Valee could have sung "Light My Fire").
But in West Germany, the sound of electric rock music equaled the aggression and adventure of youth's political energy, fueled by a generation's desire to annihilate the past.
For all of their extraordinary poppiness—Trans-Europe Express is as hook-filled as any album of its time—Kraftwerk not only dispensed with the structure of the past, they also eliminated the instruments of the past. Even if they are sweeter to the ears than the rumbling, percolating punk jazz of Can, the clenched white light speed art of Faust, or the metronomic minimalism of Neu!, Kraftwerk is the most rebellious of all of the Krautrock bands, because they achieved the wish of an entire generation of war-born Germans: The desire to eradicate the past.
In so many ways, Trans Europa Express (henceforth, I am going to use the original German title of the album, which dispenses with the hyphen) is virtually perfect.
Like another near-flawless work of revolution, the eponymous and historic Ramones debut album, Trans Europa Express used the most minimal elements to maximum pop effect. It is passionately reductionist pop, yet absolutely gigantic sounding; almost nothing is all that's necessary. Like Ramones, these qualities make Trans Europa Express absolutely inimitable.
Trans Europa Express isn't just a collection of songs; it's also a composition and a concept. This is evident in the album's use of leitmotifs, a trick also employed by the Who (on Tommy and Quadrophenia), the Fabs (on Sgt. Peppers), the Moody Blues, Pink Floyd, et cetera; which is to say that even if each song and each bar of Trans Europa Express is rife with hooks, prime melodies, and secondary and tertiary melodies, Trans Europa Express is also designed to work as an entire piece.
For instance, the primary riff to the song "Trans Europa Express" surfaces about five and a half minutes into the album opener "Europa Endloss"; this sort of repetition happens time and time again throughout the LP, and many of the album's themes and melodies are either foreshadowed or repeated. So is something larger at work here? Is Trans Europa Express a concept album?
The short answer is yes. It celebrates a Europe of past ideals and modern invention (hence songs saluting Versailles' Hall of Mirrors and Franz Schubert, and the title track), and a Europe impassive to the horror of war ("Europe Endless" and, more cynically, "Showroom Dummies"). Likewise, it's certainly not an accident that three Kraftwerk albums in a row honor, right there in their titles, inventions of Continental Europe: Autobahn, Radioactivity, and Trans Europa Express.
But when you strip Trans Europa Express of all its conceptual and historical baggage, you still have a stunning and affecting pop record. Like the Ramones or the earliest tinny and saccharine flashes of surf music, or even the bittersweet bubblegum of The Association, Trans Europa Express is so absolutely pure in its pop as to be virtually childlike.
Kraftwerk are the complete package as so very, very few rock-era artists ever have been, and Trans Europa Express, their sixth studio album, displays the band at the height of their powers, at the apogee of their mixture of radicalism and accessibility.
1975's Radioactivity is an absolute joy to listen to, but it contains moments of Cage-esque experimentation with text, silence, noise, and found effects.
Autobahn, released in 1974, may contain Kraftwerk's greatest and most important song (the original version of "Autobahn" is one of the fundamental scene-changing musical moments of our era), but it showcases a band still trying to balance their earlier avant-garde focus with their new pop mission.
And the album that followed Trans Europa Express, 1978's The Man Machine, is just a shade too self-aware (the revolutionaries now know they look good in Ché berets, and are conscious of the world imitating them).
In Kraftwerk's long career, Trans Europa Express is the group's most consistent, least self-conscious, and most enjoyable album. Their only album nearly as consistent and engaging is 2003's Tour De France.
I suggest listening to Trans Europa Express in its original German.
[youtube https://www.youtube.com/watch?v=JKHfSwoALYE&w=560&h=315]
I had long become accustomed to the idea that Kraftwerk's vocals were deliberately frigid, awkward (at times almost comically so), and robotic and uncomfortable (even when there was no intended robotic or vocoder effect); but in German, the vocals on Trans Europa Express are whispery, fluid, almost graceful, and have a nearly Chanson-like effect. Also, in German, "Europe"—that is, "Europa"—is a three-syllable word, and not the harder-edged two-syllable angle it is in English. This changes a lot, especially as it affects the title track of the album.
Also, due to circa 1977 imperfections in sequencing and synth technology, the album is not the slide-rule straight, computer-perfected work that would later typify synth-based pop and electronic dance music. Rhythms occasionally burp or hiccup and melodic lines that later would have been sequenced or repeated via automation are actually played in real time. These tiny flaws create a subtle but very real psychological effect: you're not hypnotized by dull repetition; you're aware you're listening to a band. This is human music, and we are engaged accordingly.
Trans Europa Express leaves giant footprints in multiple places. Its influence on new wave and post-punk is enormous, almost incomprehensible, and the entire 1970s/'80s synthwave movement sprung up directly in its shadow. Also, every single time you hear a pulsing synthetic beat in a pop song, be aware that Kraftwerk did it first, and today's pop acts (very) frequently use sounds virtually unchanged from the boots'n'pants farting bass thump Kraftwerk pioneered when Gerald Ford and Jimmy Carter were president.
Since I am not an authority on rap or urban music, I will not comment—rather, I will not comment much—on the profound influence Trans Europa Express had when its rhythms and synth lines were adapted by rap and urban music acts. The list of acts that sampled Kraftwerk, or used re-recorded melodic and rhythmic elements appropriated from Kraftwerk, is enormous.[i]
Kraftwerk's anti-identity—that is, the provocative image that was deliberately the antithesis of the cult of personality that was an essential part of our experiential interaction with rock and pop—has made Kraftwerk appear to be a robotic oddity, but they are not. They are one of our very greatest bands, and Trans-Europa Express is likely their most essential, typical, and thoroughly enjoyable album.
One last thing—I can't end this piece without noting that Kraftwerk, one of the two most important acts in pop rock history, are not in the Rock and Roll Hall of Fame. I guess that regardless of everything they have done, Kraftwerk is not as important or as pioneering as Hall and Oates.
Thank you to Alex Maiolo, John Neilson, Justin Joffe and Alec Cumming for assistance with this piece.
[youtube https://www.youtube.com/watch?v=41CFmUZsBr4&w=560&h=315]
[i] One of the most unexpected appropriations of Kraftwerk's work can be found on Pink Floyd's "Time" (1973), which has a section that is virtually identical to a segment from the song "Kling Klang," off Kraftwerk's semi-suppressed Kraftwerk 2 album, released in 1972. These bits are so similar that it's very, very difficult to believe that Floyd weren't aware of the then-relatively-obscure Kraftwerk.
It's worth noting what we mean by "semi-suppressed." Kraftwerk have never re-released, in any form, their first two utterly fascinating "pre-synth" albums, Kraftwerk (1970) and Kraftwerk 2 (nor have they re-released their third album, 1973's transitional Ralf und Florian).
Kraftwerk and Kraftwerk 2 explore elements of music concrete, free jazz, proto-Stockhausen-isms and Cage-isms, "found" sound, and a drone-based Krautrock familiar to any fans of Neu!, Faust, or Cluster. Both Kraftwerk and Kraftwerk 2 are deeply worthwhile, even if they bear relatively little resemblance to the synth-based band that began to come into focus around the time of 1973's Ralf und Florian (and which achieved transcendence on 1974's Autobahn). However, Kraftwerk have not included their first three records on any boxed set or compilation of their work.