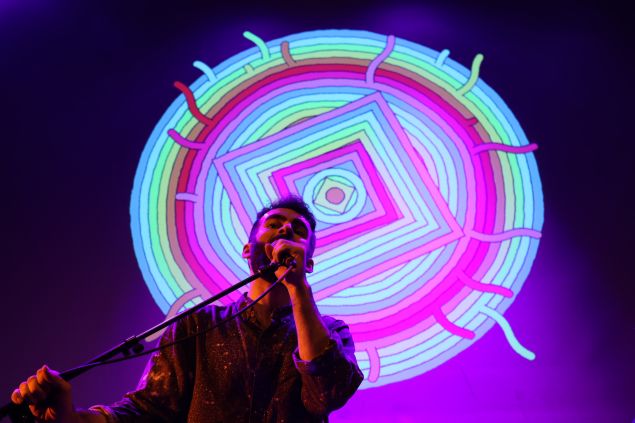 When memories of your past loop back to connect with your present, you know you're on the right path. Such was my initial relationship to the work of multi-instrumentalist Adam Schatz. Upon discovering that Schatz played sax on tunes by Vampire Weekend, Those Darlins, Quilt, and Sleigh Bells, wrote arrangements for Man Man, and co-produced the city's Winter Jazzfest, I realized I'd been hearing him play music for years.
But running concurrently to all of the great work he's done for others, Schatz's own project Landlady has provided an outlet for his cross-genre affections to conceive and germinate a new sound ever since he first released his debut, Keeping To Yourself, from his Bed-Stuy basement in 2011.
Those sounds, ranging from the irony-laced pop balladry to polyrhythmic grooves, fall most closely under the meaningless umbrella of "prog pop," a micro-genre that Schatz tells me is ultimately a function of necessity in the media industry. But fans who pack Landlady shows aren't coming out for a shared love of Schatz's influences or even the tremendous animations of Jesse Jacobs, which adorn the cover of their fantastic new album The World Is a Loud Place and exist as a video to accompany each track on the record.
Landlady's fans are there for the special headspace that Schatz's music places them in: a buoyant and cool nod to that strange otherness we all feel when we're outside of ourselves or our bodies, whether we're traveling east through Colorado or wondering what stories from our lives the contents of our stomach will tell after we pass away.
Schatz and I spoke over the phone recently while Landlady continued down the West Coast on tour, which brings them home to Brooklyn for a triumphant hometown reunion on Wednesday, March 8 at Silent Barn. We talked about college radio, what organizing shows taught him about his own work, and the importance of baking bread.
[bandcamp width=100% height=120 album=2543692462 size=large bgcol=ffffff linkcol=0687f5 tracklist=false artwork=small]
How's the Schatzophone doing on the road?
What do you mean?
Isn't that what you call your horn?
It was actually not the name of the horn but the name of the double-tiered pedalboard thing I would use, which a silly person named for me. There's a little bit of inside baseball for ya.
I don't know if you were linked up with them yet, but I saw Man Man at Brandeis in what must've been like 2006, when Six Demon Bag came out.
That was when I saw them for the first time also, that tour, at P.A.'s Lounge in Somerville. How about that?
So you have a Boston area code, are you from there?
I grew up in Newton. First time I ever heard myself on the radio without trying to was [Emerson College's] WERS! They played my high school band, I was just cruising through the dial, I was on the radio and just freaked out.
"The way I try to make music, and do everything, is this core question of, 'What makes this different, what makes this unique, what makes this personal?' And that gives people something to feed off of."—Adam Schatz
College radio's in trouble right now, and CMJ is potentially going under. They didn't publish their charts for a few weeks, which doesn't bode well.
No, I know, because we've actually been getting a lot of play from a radio dude who's been keeping me informed of that. I knew that the Marathon wasn't happening, which is fine, because that's a stupid thing to begin with. But people are worried that this is actually sign of things not being O.K…
Yeah, and also a larger comment on the fact that there are no other infrastructures able to exist in the current direction that big media is moving these days. What it says on a larger scale is terrifying. The big three media companies are now the big three tech companies, and music is content, media slurry.
I just did a thing with this XRAY radio station, that's totally community based and been around for a couple of years. That stuff might not go away, it just might become even more independent than it already is. Which is O.K., they're just gonna run in opposite directions from each other.
You've also helped book and produce Darcy James Argue's Secret Society. I did a story on him and the other folks involved in Real Enemies a couple of BAM Next Wave seasons ago. I don't think the conspiratory beating heart of that show would be nearly as impactful were it not presented as this tremendously fresh performative context, with the doomsday clock and the 12-tone arrangements. How can we be ambitious about new types of performances like these and destroy genre walls in smaller spaces or DIY spaces?
I always think of it pretty simply. I make music I wanna hear, I put together shows that I think people deserve to see. With that comes the obvious implication that everything shouldn't sound the same, and there should be consideration. I mean if you're at a show where people really take the extra step to make sure the audience is considerate in terms of their point of view, in terms of feeling huge and connected, sometimes it's as easy as just figuring out what times bands go on and making sure you don't fall south, or there's a presence of horns or vocals to fill it out.
At the Silent Barn show I'm psyched because Monsters of Brooklyn are playing, and they're this teenage rap collective who actually work out of the Silent Barn. The way I try to make music, and do everything, is this core question of, "What makes this different, what makes this unique, what makes this personal?" And that gives people something to feed off of. Then you don't have to overthink it. You check in with yourself and ask, "Am I hitting that goal? Does it feel believable?" Really just developing muscle memory, so eventually everything you do can come that way.
There's an incubator spirit there, too, right? There's an implication of an incubator as an environment where people can come together and kind of perform/rehearse to try out new things. How do we make space to have those exchanges?
At the end of the day, it's just people playing with their friends, for the most part. A lot of scenes are called "the scene" after the fact, and a lot of things kind of look that way. In the moment it's just a lot of people trying to do their thing, people becoming friends and playing with each other. And there's a purity to that. Even the Silent Barn thing is really—I've known those dudes forever. But I don't play there very often, I don't hang out there very often. I definitely wouldn't consider myself a part of their thing, and it's not because I'm not welcome, it's just not how my life has played out.
So if anything I was psyched to do our release show at House of Yes, it's a big nightclub presentation event. And I'd like to do something at the end of the tour where I could just blow it out in a more DIY setting. We'll still try to control the variables, still try to bring our own sound guy, still go the extra mile; people who've been to shows at Silent Barn before can still feel like they're a part of something different.
"A lifestyle of doing more than one thing with regularity kind of kicks routine in the back of the head."
House of Yes is a great example because they retrofitted all that old shit, the circus wiring and stuff, but it seems like they built the new space in mind for all kinds of multidisciplinary shit. My first time there was for your show, but I got the vibe that they thought things out with a similar intention to a place like National Sawdust when they build their room with projection mapping capabilities for video.
If you do that sort of thing you find out pretty quick, because word travels that this place opened up. And if it doesn't, you bring your own set-up. No one ever tells you you can't do anything. The people who make the stuff are always at the forefront, so you're just gonna throw your own party until someone gives you a place to do it.
I know the article is seven years old now, but how does it feel to be called an agitator by Ben Ratliff? Since that article was written genres have blended together so much more.
I think that was really just a literary way of saying I was doing something different. I was young, also, and in the jazz world anytime a young person is doing anything it appears to be sort of a mindblower, because it's treated like such an old person's world. That actually got me pretty far back then. The one way my presence is still felt in that scene, I co-produce The Winter Jazzfest every year and in one of my roles at that festival, I'll always get up and say something before a show.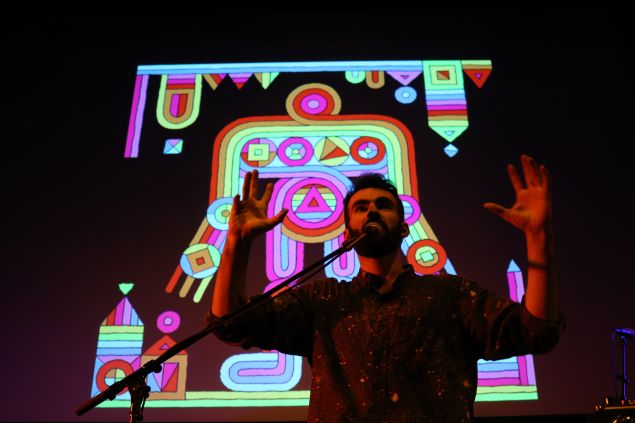 Contextualize it.
Yeah, contextualize it, but also, I'm an emotional dude, so I can speak emotively to get people excited about what's coming. Sometimes you need to just pop the bubble a little bit. It's nice to remember this isn't just a product/consumer relationship between a performer and an audience, but it's actually music that's gonna happen in a way that will never happen again, and that's thrilling.
How dependent are you on routine on the road? How do you make space for yourself in those moments when you feel your emotional response to something starts to project or get away from you? How do you keep on the path?
At home I'm really bad with routine, because I've never been able to develop a good one, and I also do so many different things. A lot of that stuff works very well in the daytime, so waking up early feels really, really good. But every so often you have stuff that happens late at night, playing shows or DJing or going out to see friends. And that fucks everything up, because you're in bed at four and then what are you gonna do, wake up at eight? A lifestyle of doing more than one thing with regularity kind of kicks routine in the back of the head.
But at home the only routine I get behind is cooking, making food, anything like that. It's really anchored me, it's pretty goal-oriented and there's a light at the end of the tunnel. I've been baking a lot of bread over the past year. That's been a really good anchor because it takes a long time, you can do other things at the same time.
"Challah's actually an even quicker bread than the sourdoughs."
That's always what I've admired about challah. The braiding process always had an artisanal element to it, a mark of craft I guess.
It does. Challah's actually an even quicker bread than the sourdoughs.
So I was hanging with Sinkane a few weeks ago when he showed me his record collection, and he pulled out Randy Newman's 12 Songs. I asked him if he'd heard Landlady and he said, "Oh dude, he's a huge Randy Newman fan!"
You gotta be.
I've always been fascinating with those early Newman records, and I hear him in your music. I also hear the other things that may have inspired you, I think? The polyrhythms remind me of Man Man, the complex arrangements of some of your more avant-garde composer friends, the swing of jazz brass…how do you swallow all these influences and know what will affect you in the songwriting process?
You don't, and for me none of it's on purpose, which is really helpful. Every time after a show someone comes up to you and says three things that they think you sound like, and one of them is usually King Crimson or something that's really off the mark in terms of what we listen to. It took me a minute to figure out how to respond to that. People find the elements that they think are viable and then they say what they are.
[youtube https://www.youtube.com/watch?v=uH_zkhAqEZI]
But the reality is, we're all kind of coming from the same place. So if someone compares us to King Crimson or Yes or something that we've never really listened to at all, I can say they're not of influence, but I can also say that we share a sense of adventure at the core. That's what people see the connection as, and that's great.
Once you start having a conversation about the meaning of the work, the genre falls away. And we're living in a post-genre society in many ways. There's a lot of cross-pollination going on at music festivals and stuff.
Yeah, there's always gonna be waves and fads in terms of journalism and marketing. You can't live without that stuff, and it's actually been a challenge for us because even if we had to make belief, there's not anything to really say about it. But it does mean that when people really take the time to listen and write about it, they are forced to write thoughtfully, because you can't just quickly compare. Which is nice.
For me, I don't know, maybe it's just luck that when I started writing songs at a young age I was never trying to write like someone else I liked, or do a direct 1 to 1 comparison. It was always that music made me feel good, and the things I listened to did get swallowed up and it comes out in this way.
But you're also talking about reclaiming your own story. You want the press and the marketing, those channels are helpful, but you also want to have control over your own narrative. What advice would you give to a young artist who both wants the promotion that comes from having a professional publicist and going through the grind, but also wants to keep personal agency over their work and not let it get too far away form them, who may not want to be in a Nescafé commercial?
I would really enjoy being in a Nescafé commercial, I think. That's one of the safer ones. I don't know, at the end of the day there's a bit of a "who cares?" reality to it. If people listen and come to the shows, if you know how to get them directly in those moments, the way its presented is a bit meaningless. If the way its presented actually influences how people hear your songs and puts a shade on it that you don't want, that you think interferes, that's when it actually becomes a problem. I don't think that's happened with us. As long as you make things that you're proud of and confident in, you're going to do it. You just can't go in thinking it's a smart business choice.
You've said that this is the first record you made where strangers or people outside of your immediate circle of friends knew who Landlady were. How does that feel? There's a vulnerability implicit in putting music out to people you don't know. How does the reception feel so far?
It feels really, really good. The album had been done for nearly a year before it came out, so there was that expectant feeling of insanity where you just want people to hear the thing so you can personally move on, or do the work to play shows and get it in front of people. I don't mind that it took time now that we're actually out there and people come to the shows, say how much they love the thing and how much they listen to it. The writing that has come out on it has all been pretty special and connected and spot on. You can sigh a breath of relief and have confirmation that you did a good thing, and that immediately makes you think about what the next thing's gonna be.
[youtube https://www.youtube.com/watch?v=f_NXf3usZ7s]
Did promoting jazz shows give you any strategies or wisdom about how to promote and share your work with Landlady?
All this stuff kind of happened at the same time, where as I organized things for other people I've always made my own stuff and tried to put it out there. I guess it's good practice doing things for other people? But even then, I never called myself a promoter, because I only worked with stuff I really liked. I was an organizer, and I still try to think of it that way. So it's always a learning curve, adjusting to the way the world changes, and it's just about connecting the dots. I try to think about things in bigger picture ways when I can. That's never really changed.
That word choice is very important. A colleague told me that he doesn't call himself a "curator" because the word implies that nobody else can do what he does, that nobody else can book shows. How you define yourself in that role is very important.
It is, but I also think you can take the credit sometimes. You put years and years into getting better at something and you value your own taste, your own community. For me, the most valuable thing in my life is all the great people that I know, and I just try to do things where I can be creative with presenting that to the world.
If you were to be exhumed tomorrow, what story would your cadaver tell to the medical examiners?
Oh boy, probably a lot of starting and stopping. Well, I don't know…right now, a lot of bread and girl scout cookies.