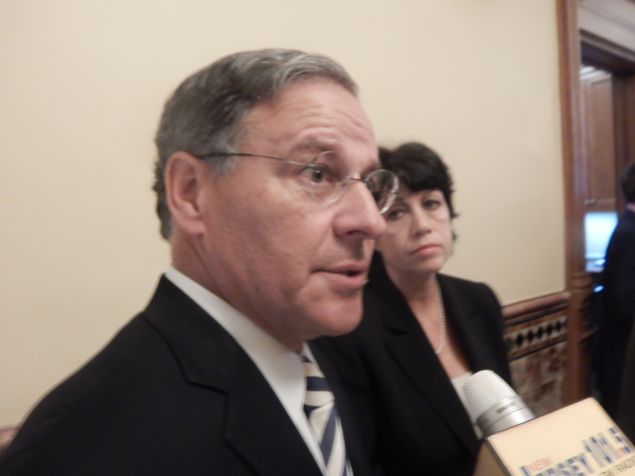 Support for a bill that would require presidential candidates to release five previous years of tax returns to get on the ballot in New Jersey got final approval from the state legislature Thursday, and support for the measure fell along partisan lines. The bill, a reaction to President Donald Trump's refusal to take the conventional but not mandated step of releasing detailed tax records during the campaign and afterwards, will likely face a veto from Republican governor Chris Christie.
Democratic sponsor Assemblyman John McKeon argued for the bill on the Assembly floor, with Republican Minority Leader Jon Bramnick calling for an amendment to include state legislative and gubernatorial candidates before the vote. 
"There's much that a voter could learn," McKeon said. "There's much that could happen with the vetting of a presidential candidate through the press and other sources that can confirm the information that comes from those returns."
The bill would also prohibit New Jersey's Electoral College electors from voting for candidates who fail to file their returns. Though Trump's 2005 tax return surfaced this week, the former real estate developer has declined to make more recent tax returns public amid FBI probes into former members of his campaign's financial ties to Russia.
Bramnick characterized McKeon's bill as an exercise in partisanship, arguing that a proposal without a political motivation would require all of the state's political candidates to be equally as transparent about their incomes.
"In this house there is no requirement for us to disclose our tax returns," he said in a statement after the vote. "If transparency and income taxes were the issue, the majority would have passed a bill in the past decade and a half requiring all of us to show our income. This bill has political overtones and is clearly one we on this side of the aisle do not support."
Though Democrats have strong majorities in both the Assembly and State Senate, an override of Christie's likely veto would face long odds. The Senate has successfully moved to override Christie only once since he took office in 2010, an attempt that failed in the Assembly.