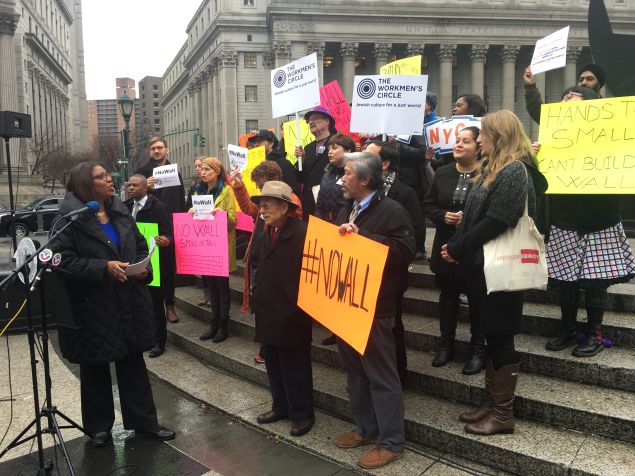 Public Advocate Letitia James unveiled a plan today to block New York City business and pension dollars for companies that help President Donald Trump construct a wall along the Mexican border.
A little over a week ago, U.S. Customs and Border Protection announced that by mid-April, it would begin giving out contracts for the barricade—and, yesterday, Customs and Border Protection opened the bidding process for companies to participate in the realization of one of Trump's signature campaign promises.The Public Advocate, a liberal Brooklyn Democrat, said at a rally in Lower Manhattan today that she will introduce legislation in the City Council to deny companies that participate in building the barrier contracts with New York City government, including for infrastructure construction, maintenance and management.
"A wall that is fundamentally discriminatory, xenophobic, racist and un-American," James said, alluding to the recent rash of bias incidents that has afflicted New York City and the nation. "Over the past few weeks, we've stood together to protest this wall and this administration's other divisive politics and hateful politics and their policy at a time when we are seeing record numbers of hate crimes not only across this country but in our dear city."
James also said that as a trustee of the New York City Employee Retirement System, the city's largest pension system, she would put forward a formal motion to create a standard divestment process from companies that participate in building the wall. When the Public Advocate called out "Do we want a wall?" and "Do we need a wall?," advocates in attendance yelled, "No!"
In January, Trump signed executive orders calling for the hiring of several thousand new border guards and Immigration and Customs Enforcement officials, expanding deportation priorities to include any person charged with a crime, federal funding cuts to so-called "sanctuary cities" and the construction of a wall along the Mexican border. The Queens-born businessman inaugurated his campaign for the presidency in June 2015 with a promise to construct "a great wall" along the country's southern border to prevent what he claimed were rapists and drug dealers from entering the country.
James said that she is currently reaching out to all of the members of the Council, as well as Speaker Melissa Mark-Viverito, to get a majority of members on board with the legislation. The bill would expand the "responsible bidder" provision in the city procurement law, which defines which private entities have sufficient integrity to do business with the municipal government.
James, as well as advocates in attendance, said that any company that participates in the construction of the wall will likely face protests, negative publicity and potential litigation.
"Federalism demands that we stand up and we resist efforts that, again, are counter to our values and to our principles as Americans and as New Yorkers," she added. "Again, this is a sanctuary city and we're prepared to represent the interests of immigrants, the interests of refugees and marginalized and vulnerable populations and that is my objective."
James was also joined by the New York Immigration Coalition—which held a press conference yesterday blasting Trump's new Muslim travel ban and has organized a number of actions against his executive orders—Catholic Charities, Legal Services, LatinoJustice PRLDEF, United African Congress, Immigration Equality and Workmen's Circle.
Carlene Pinto, the NYIC's immigration campaign manager, urged New Yorkers to "pay very close attention to every alternative fact" that's put out by the Trump administration.
"To all New Yorkers, we need you to stand up and we need you to choose a side," Pinto said. "Whether you'll stand with New Yorkers, with the ideals of our Statue of Liberty in our harbor, with the ideals of inclusivity and justice for all or whether you'll stand in front of the Trump Tower chanting Make America Great filled with hatred and xenophobia."
Dr. Mohammed Nurhussein, the national chairman of the United African Congress, said that he would have been "culturally poorer" if it were not for the contributions of immigrants such as Mexican and American guitarist Carlos Santana. He also noted that the late Apple founder Steve Jobs' biological father, Abdulfattah "John" Jandali, was a Syrian Muslim immigrant. 
"This wall—based on a bigotry as its rationale—should not be allowed to stand," Nurhussein said. "Just as the Muslim ban was unconstitutional based on religious lines, this one is discrimination on ethnic lines and so we are here to protest, to oppose the wall."
Mayor Bill de Blasio and city Comptroller Scott Stringer have largely resisted calls to boycott or divest from certain businesses—for instance, the banks financing the controversial Dakota Access Pipeline—on the grounds of extreme technical and financial difficulty.