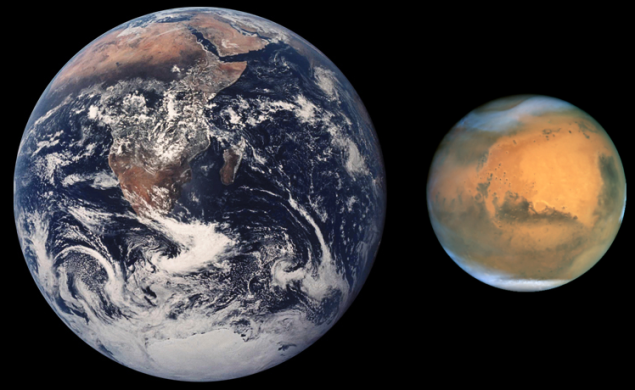 Scientists at University College London (UCL) have discovered a 4.2 billion-year-old fossil which gives convincing evidence that organisms once lived, and could again live, on Mars. Their research was co-funded by NASA and published in the journal Nature.
The microscopic bacteria, which is hundreds of millions of years older than existing specimens, were discovered in the Nuvvuagittuq Supracrustal Belt- a formation in Quebec which contains some of the oldest sedimentary rocks in the world.
These tiny life forms (they are smaller than the width of a human hair) were likely housed in the oceans which covered the early planet and reached temperatures of 140 degrees Fahrenheit. They are similar to iron-oxidizing bacteria found near hydrothermal vents today.
Prior to the UCL discovery, the oldest microfossils reported were found in Western Australia and dated as 3.4 billion years old, leading scientists to speculate that life probably started around 3.7 billion years ago. But the new finding suggests that life forms existed as early as 4.5 billion years ago, just 100 million years after Earth formed.
"This discovery helps us piece together the history of our planet and the remarkable life on it, and will help to identify traces of life elsewhere in the universe," Dr. Dominic Papineau, a professor of geochemistry and astrobiology at UCL, said in a statement.
"Early Mars and early Earth are very similar places, so we may expect to find life on both planets."
Not surprisingly, the first place in the universe where the team wants to look is Mars. They believe organisms like the Quebec rock could have evolved on Mars, which still had oceans and an atmosphere billions of years ago. The planet was eventually bombarded by comets, which scientists surmise is what brought the building blocks of life to Earth.
The UCL team believes that looking for fossils on the Red Planet is the best chance of finding evidence of alien life.
"Early Mars and early Earth are very similar places, so we may expect to find life on both planets at this time," doctoral student and lead author Matthew Dodd told The Telegraph.
If samples from Mars confirmed this theory, that could even indicate that humans evolved from Martian microorganisms—this theory is known as panspermia.
Dodd cautioned space enthusiasts not to get too excited, however.
"If we do future sample returns from Mars and we don't find evidence of life, then Earth might have been a very special exception, and life may just have arisen on Earth," he said.