Louis Tomlinson is listing his Calabasas home as a $40,000 a month rental.
Trulia
All of the fireplaces have limestone mantles.
Trulia
Tomlinson reportedly paid $10 million for the home less than two years ago.
Trulia
A very chic game room.
Trulia
The property encompasses five acres.
Trulia
The meditation teahouse, we presume.
Trulia
There's also a koi pond outside.
Trulia
The outdoor area includes a mosaic pool, spa and waterfall.
Trulia
One of five bedrooms in the main house.
Trulia
Where's the vineyard?
Trulia
The outdoor living area.
Trulia
Just wondering if he's ever played a One Direction movie in here.
Trulia
The indoor kitchen is nice, too.
Trulia
Tomlinson reportedly bought the home for the mother of his child.
Trulia
A rather excessive amount of gym equipment.
Trulia
The two-level library.
Trulia
Tomlinson also owns an additional house in Los Angeles, as well as one in England.
Trulia
Custom chandeliers throughout.
Trulia
A pool table and foosball table.
Trulia
There is also a guard house and two guest homes.
Trulia
A very luxe bathroom.
Trulia
It's been a tumultuous week, to say the least, for One Direction singer Louis Tomlinson. (As a refresher, the band is currently on hiatus, but they might be reuniting.) The 25-year-old was arrested earlier this week for allegedly assaulting a photographer at the airport, who reportedly got too aggressive with Tomlinson and his girlfriend, Eleanor Calder.
Some relaxation time at his surprisingly very zen Calabasas retreat seems like it'd be a good idea, but alas, Tomlinson has opted to list the compound as a rental, according to Trulia. Apologies in advance to any especially eager One Direction fans who are eager to reside in Tomlinson's abode—it's not cheap to live like a British pop star; the home is asking $40,000 per month.
Tomlinson, who has a one-year-old son, Freddie, with ex-girlfriend Briana Jungwirth, bought the home in December 2015 for about $10 million, per Trulia, despite contrary reports that fellow One Direction member Liam Payne who owns the home.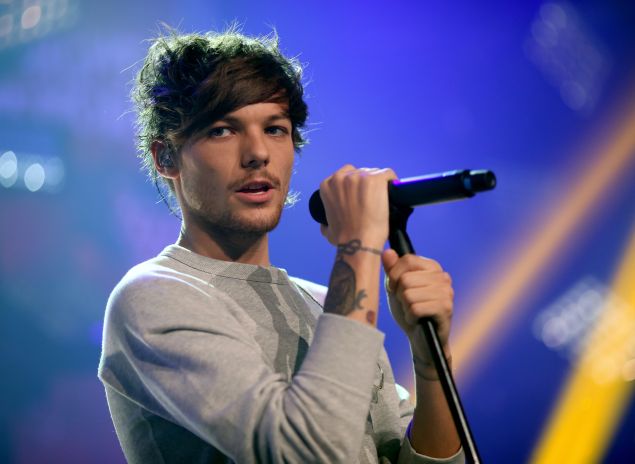 The 5-acre gated Spanish compound includes a 9,659-square-foot main house that is totally renovated, per the listing held by Christopher Dyson at The Agency. The five-bedroom, eight-bathroom manse has walnut floors, alder wood beam ceilings and custom chandeliers throughout, as well as five fireplaces with carved limestone mantles and custom tile.
It's a surprisingly mature and sophisticated home for the young star, complete with a cushy home theater, game room, wine cellar and a wood-paneled two-story library. There's also an outdoor living room with a kitchen and barbecue.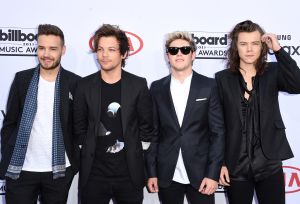 Aside from the main house, there are two guest houses, a guard house (those One Direction fans get rather enthusiastic) and a "meditation teahouse," which we still think Tomlinson should make use of, following that airport skirmish.
The resort-style mosaic pool and spa is surrounded by limestone patios, and don't forget about the crucial koi pond, waterfall or "organic gardens."
One of our personal favorite features, though, is the vineyard. Perhaps when One Direction reunites, they come together to pick grapes, before filing into the meditation teahouse to enjoy a nice glass of vino.