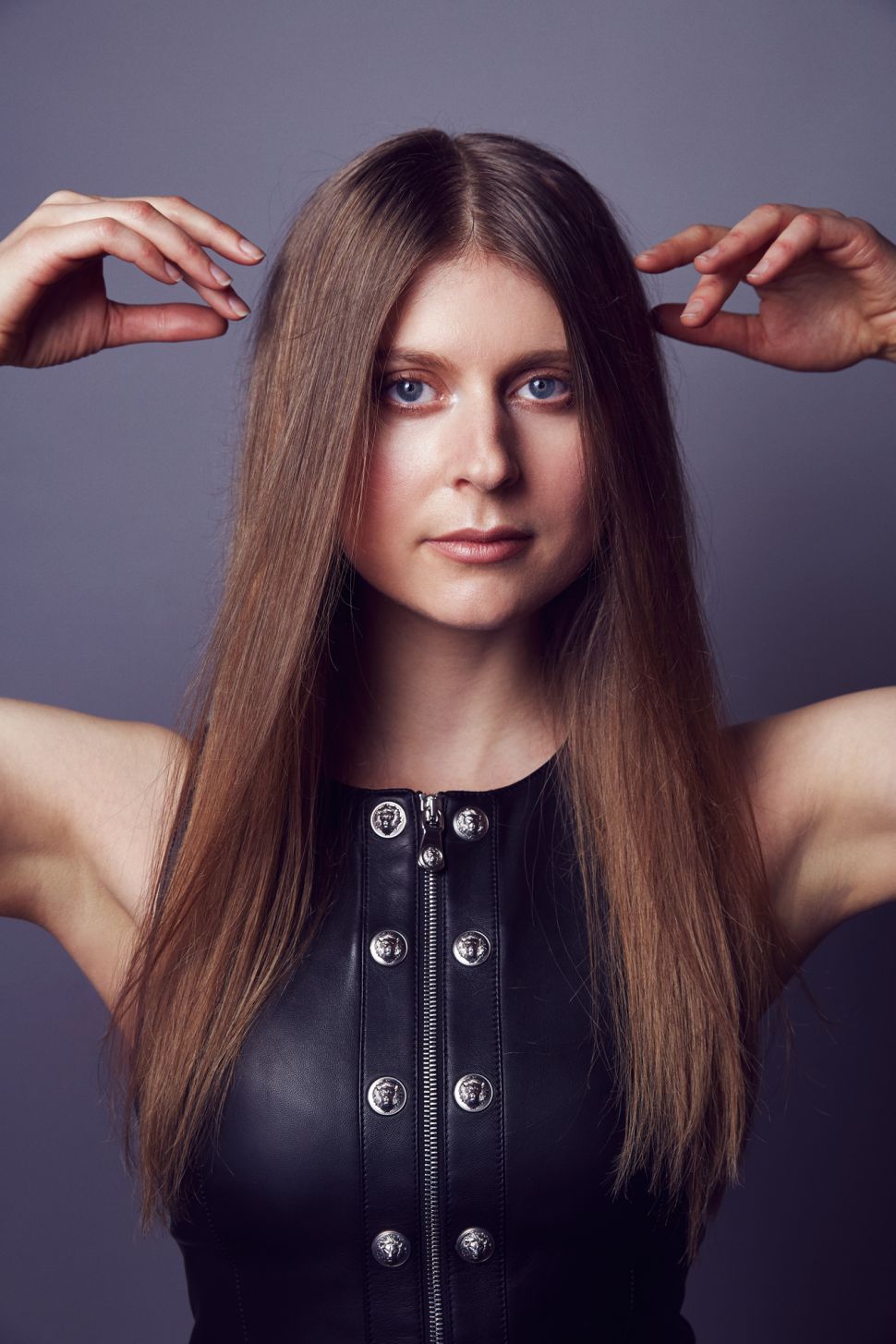 Toronto composer, producer, and multi-instrumentalist Lydia Ainsworth demonstrates a studied care and intention in her work that goes deeper than anyone thought pop music ever could.
But well before Ainsworth found herself nominated for a Juno award, collaborating with one of Toronto's most esteemed choreographers and touring the world, she devoted herself to an arts education.
Coming from a musical family, Ainsworth eventually taught herself cello on an instrument that her arts school let her bring home, going on to study composition at Montreal's McGill University, earn her master's in film composition at NYU and go on to score films for her friends before eventually isolating herself to work on her debut, 2014's Right From Real.
While I never understood my parent's insistence that I take up the violin at age four, a strong musical education at a young age profoundly affected my developing brain. In dialogue with the various voices of a full orchestra at my public school, my instrument had to project with the precise intentions of the score and the conductor. How a bowing technique or sudden dynamic change added to the whole piece taught me to consider intention in all creative pursuits, and once you learn to work with intention, your inspirations take root. I wouldn't have learned to think critically about art had I not spent all those years in public school music programs, and in conversation with Ainsworth I quickly learn she feels the same.
Ainsworth's second LP, Darling of the Afterglow, arrives today as a testament to those intentions, to the merits of approaching music as a craft and understanding the emotions that elevate work to exist beyond ephemera.
It's wisdom from the places where her synthetic programming and beats meet the warmth of her cello, piano and other analog voices. "The Road" opens with sweeping sincerity and regal, new age chord progressions as Ainsworth admits she's "channeling a velvet smile." Mirrors shape the form of her trajectory as hawks and thunder are evoked. Elsewhere in the cryptic, surreal "Afterglow," the Queen of Angels is made of stone and Ainsworth intones, "to play it safe is not to play at all."
Though the late playwright Edward Albee once said that "women in deep woe often mix their metaphors," he never met Ainsworth, who thoughtfully considers the litany of visualizations and the widescreen gaze that comes from having cinematic eye.
These are the realms where metaphors mix with intention and forethought, and images amount to the rarest triumph of pop music—the ability to evoke sincere feeling.
[youtube https://www.youtube.com/watch?v=XwzTtAks7aU]
Hey, how are you? It's a nice day outside, I see a lot of blue. Since I work from home I'm looking at it from indoors, but I'll probably go for a walk later.
I'm in the exact same position, yes! I'm in Toronto, and we have blue skies as well. It's been a while. The past few days have been pretty nice here.
[I let her know of my reporter's bias, as a classically trained violinist who no longer plays, to reject the discipline and sterility of playing a piece to perfection that's sought in most orchestral performance.]
Kinda just wanted to lay that on you so if it sounds like I'm projecting you can call me out on it.
No, that's fine! I kind of have a similar bias myself. Yeah, I grew up playing cello in school, but I was never great. And I went to an arts high school where there were excellent players, top, amazing instrumentalists that went on to do amazing things, they're still playing in orchestras. I was never serious about it, but I loved being around those players, and that's how I actually started writing music, because I would write for them. It was just so pleasurable to hear it played by such amazing players. [Laughs]
Composition aside, how did being present in the communal setting of an orchestra affect your approach to music?
It did begin with me sitting in the back of the orchestra playing cello, miming my way through the parts, but absorbing these incredible pieces—we were playing Ravel and Debussy, just amazing stuff. And I always wanted to write for a big group of players, so I ended up studying film scoring. That's really how I started programming, recording and writing music, for other players. Gradually using my voice in those scores, more in a textural, pointillistic, abstract kind of way.
Eventually I needed more material because people were asking me to play at their parties and I didn't really have any songs, so I started to write some songs and went from there. I've always loved to sing, but I don't know if I had the confidence at that time to imagine myself singing on a stage.
Well your lyrics are very visceral—the heat on the back of your palm, there's a red-orange sun at one point. That's the language of film, of the description in a screenplay. Recording for a visual or aesthetic medium seems to require a different set of tools that have to translate into tone and texture and countermelodies.
It all stems from emotion, and how I want to express that emotion, that's the most important part of writing a song or piece of music. It just so happens that now I'm writing in the song medium, but it's the same thing in film as well.
How does dream yoga play into this?
[Laughs] Dream yoga, maybe not so much in this album, but I was reading a book about dream yoga for my last album, how your dreams can affect your karma in everyday life. So it was about how to be in charge of the choices that you take in your dreams.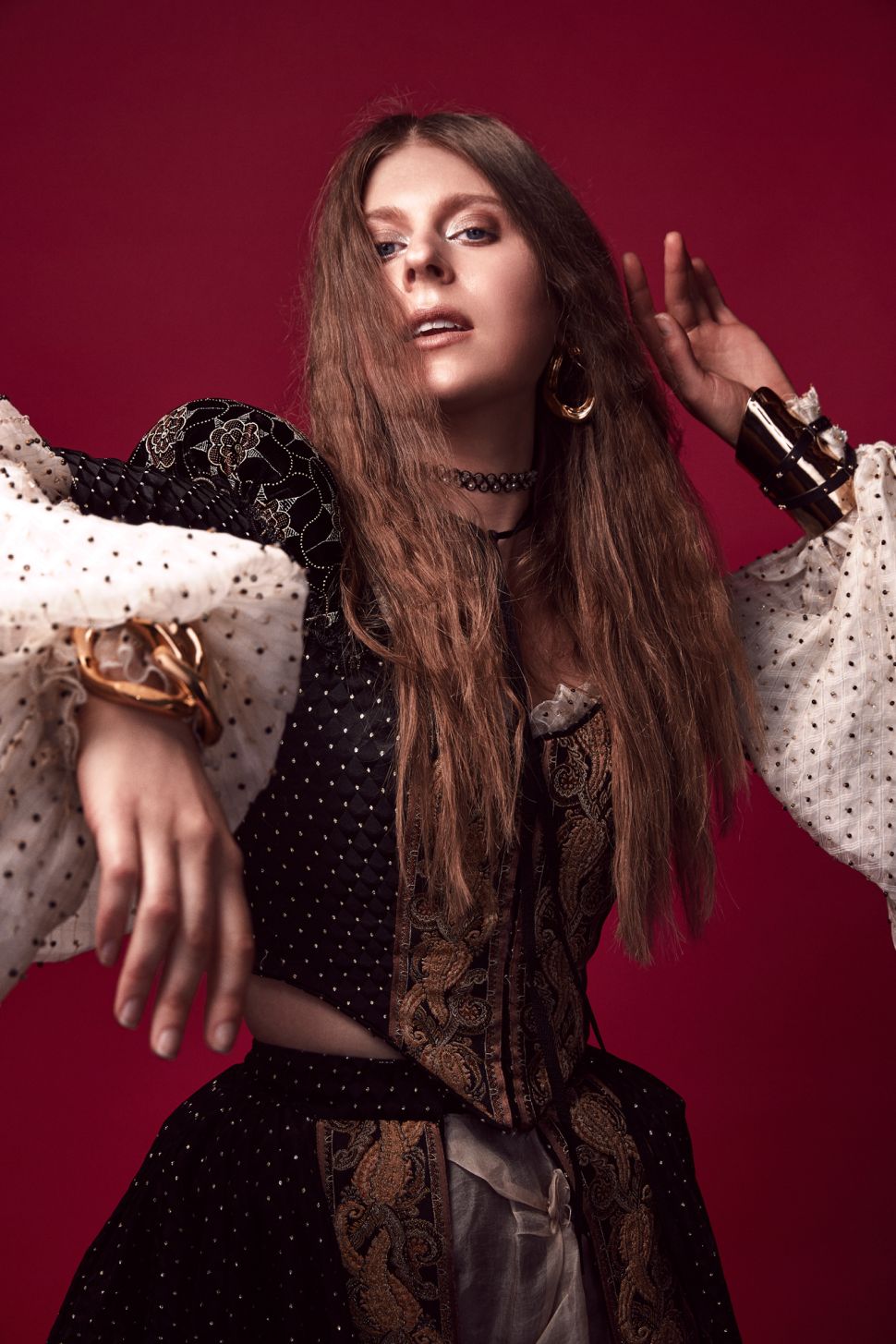 You're the daughter of a composer.
Yeah, I was always surrounded by music growing up. My dad's a musician and composer, we grew up with a piano and he would play. He worked outside of the house, but every now and then I'd see what he was working on, he'd let me play with his samples and all the equipment. That was really something I always wanted to be doing based on those little experiences, and getting to just see what he was doing was inspiring.
Some of your influences, like Meredith Monk, presented their work in so many different mediums. Cinematic qualities of your songs aside, is that something you're considering? What are your loftiest, craziest dreams for how you present your work?
Loftiest, craziest? Yeah! I would love to write operas, I would love to collaborate with contemporary dance companies, would love to do something multimedia with tons of different cross-pollination of arts involved, it'd be a dream.
Are you thinking about narrative or trying to tell a story through sound?
I'm inspired by certain themes that seem to present themselves a lot—loneliness, isolation. Maybe looking into ways to communicate with other people, and the internal dialogue that we have with ourselves. The way one edits and censors themselves in the struggle to be understood.
A lot of lyrics in your songs sound like things the singer's thinking in their head but not vocalizing. Maybe that's what I'm responding to.
Yeah, each song is a chance to explore those topics, whether that's through taking on another character or heightening the surreal landscape of an emotional experience I had.
With regard to your process, you've said that you start with keys and then move onto programming, then bring it back to the real world by incorporating live elements later. There's this evergreen debate in electronic music about gesture and physical prowess in live performance. Are they working, are they sweating? How do you present it in the live setting and keep that?
The physicality that you're talking about is important. On my last record, I toured a lot with strings, and would write out string parts that almost looked like…I wanted, visually, to see that choreographed – bow arm in the chorus, just to heighten the visual aspects of the song. I'm gonna have a drummer and a bass player this time around, and hopefully some dancers to join as well.
The bass is a very prominent presence on this record. How will the dancers work into it?
Well, I actually just shot some live videos and they feature two dancers. I don't know if you've seen "Afterglow", but that has dancers too, and he also did "The Road." It's the same choreographer that I've been working with, Iain Rowe. He's based in Toronto, he's been great. He and I are working on new material.
[youtube https://www.youtube.com/watch?v=QbjkBXoNyUQ]
When music is paired with dance here in New York it almost has to come from some grant or nonprofit commission, because realizing that takes money.
Yeah, how it worked out for me was I'd been producing the videos and applying for Canadian grants to produce them. So I looked online to find a choreographer here, and he teaches at the National Ballet of Canada. And I went through a list of everyone at the National Ballet of Canada, and went through on Facebook to see who we might have similar friends with. We just happened to have some mutual friends because he went to NYU and I went to NYU. So yeah, I messaged him and we had all the same tastes. It's been a really great match.
Bulgarian throat singing comes up in your repertoire, and there was a time when it became a world music fascination on late night television. What about it spoke to you so?
Well the way that they sing is so unique, the harmonic structures, they grind against each other in a way that produces these overtones that really affect you in a bodily way, you feel it through your body. That's really what stunned me, and the three-part harmonies to the big choirs, and the force with which they're singing. Their vocal prowess is inspiring. In that sense, it just inspires me to sing in a way that's powerful. And touring a lot for the past few years after the record came out, I took some of that inspiration. I remember practicing a lot in New York, much to the chagrin of neighbors. [Laughs]
"We heard a woman dying in there!"
Literally, "Are you O.K., do we need to call the police?!" But yeah, exploring that vocal terrain gave me more confidence in my singing style.
Why did you leave New York instead of trying to root yourself in the music community here? Why was it time to go home?
It was time to go home because every year I kept having to move further and further out into Bushwick. At that point I didn't want to have to deal with this anymore. I love New York but it is a grind, and at that point in my life I'd had enough of the grind. I needed to tour and it just didn't make sense to be there at that time.
"I'm very grateful to have grown up in Canada—from the public school system, I got to take home a cello that the school gave me. My art high school was also a public school, so all the music education in my youth was provided by the government, which was incredible."
I'm thinking of Canada often now that our National Endowment for The Arts and the future for arts funding across the U.S. is uncertain, it must feel like a tremendous blessing that the Canadian government helps fund albums. Can  you give me any insight into how the process works?
I'm very grateful to have grown up in Canada—from the public school system, I got to take home a cello that the school gave me. My art high school was also a public school, so all the music education in my youth was provided by the government, which was incredible. So it is sad when you hear about budget cuts, it's unimaginable to have less funding and kids not being able to access that kind of education. But for the grants, it's not a lot of money that I'm getting. Most of them give a lot of money to artists who are already established, which is kind of a drag.
Counterintuitive in a way.
Counterintuitive, yeah, that's kind of the name of the game right now. The Ontario Arts Council gave me some money to record, so I recorded everything here in Toronto with Toronto musicians, which was amazing. Mixed everything here, mastered everything here. That's amazing, and there's an organization called MuchFACT that gives money for music videos. So the music video from "The Road" was founded with a small grant from MuchFACT.
There's this looming question among artists in a digital industry of whether or not they they own their work. The same way I publish a piece and don't necessarily own the rights to distribute it, an artist might have no control of the context that their work is presented in.
Yeah, it's a tricky balance because its difficult to release something on your own if you don't have a team in place, and if you don't have the resources already to push your music or get it out there in the best way. I guess I feel lucky that I'm with Arbutus and Bella Union. I never feel like I'm in a position where my music is put out there in a way that I don't want. We talk about everything together. It's a healthy relationship.